Student Competes Nationally to Fund Business Venture
by Amy K. Lavender
Student Competes Nationally to Fund Business Venture William is a diabetic, and his product is specifically targeted to help other diabetics with a common condition called Diabetic Peripheral Neuropathy, more commonly known simply as neuropathy or DPN. In diabetics, neuropathy – or nerve pain – is caused by the degeneration of nerves, which is in turn caused by the presence of excess sugar in the blood stream.
"Nerve damage is the main cause of all complications for diabetics," William said. "There are 29 million people in the U.S. with diabetes, and 20 million of them suffer from DPN. Because of DPN, there are 146,000 limb amputations each year in the U.S. alone, and 50,000 deaths as a result of kidney failure."
William is no stranger to these facts. In fact, he's intimately familiar with them, having suffered from DPN himself for a number of years.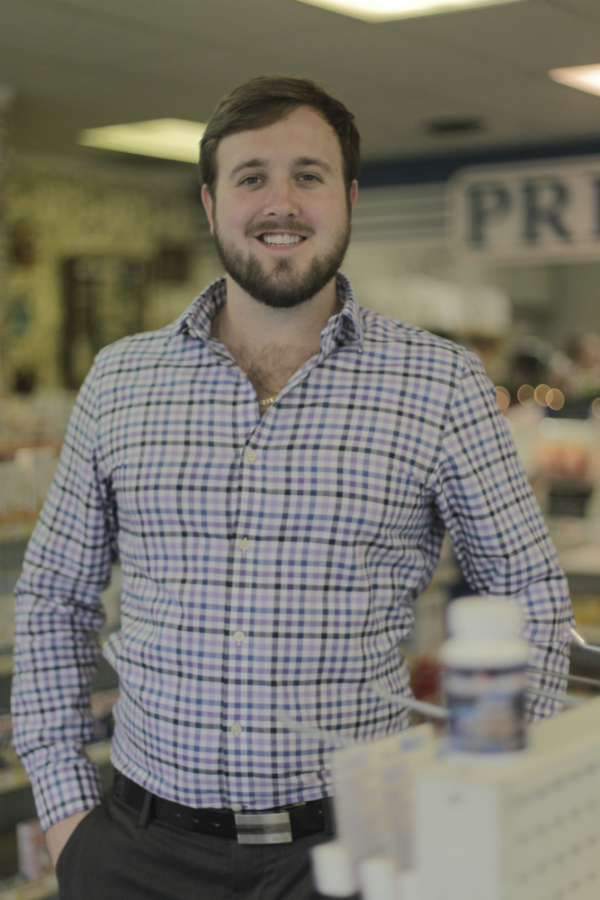 "I had neuropathy, and it was bad enough that I had a handicap tag because it hurt just to walk," William recalled. "I tried some prescriptions, and they just had horrible side effects: weight gain, constant dizziness, brain fog. So I started researching and trying stuff on myself."
William had found some ingredients that helped him that were listed under the Generally Recognized As Safe (GRAS) category by the FDA. So gradually, over the course of four years, William developed a dietary supplement that addressed his pain by addressing the actual cause of the nerve damage.
"This isn't just a pain pill," William said. "It treats the root cause of the problem, which is the transfer of too much sugar into the blood stream and not enough calcium and salt. My product allows for salt and calcium to transfer into the blood stream at the same rate as the sugar."
Once William had the formula right, it was time to find funding – which is where the TYE University competition comes in. On April 18, William represented UWG and his company, VasoCorp, placed second in the statewide competition that welcomes Georgia university students to propose their business plans and compete for start-up funds. Just before this competition, William had been in Nebraska, where his product, NeuropAWAY, placed fourth in the world in that student-based competition.
However, on May 7, he'll be in Texas competing on a global scale with some of the most promising entrepreneurs in the world representing his Carrollton-based business.
"This is like the Super Bowl of business plan competitions," William said. "It's based on whether your business is a real business as well as its feasibility and the likelihood of your product to make it to market. I think we have a real chance to win since my product is already on the market."
He admits he may have a leg up, but that doesn't mean he couldn't use the funds to improve his business.
"If I win, the grand prize is $75,000. I can use that to hold my own clinical trials so that doctors can write NeuropAWAY as a prescription, and I could buy a $35,000 capsule-filling machine that would allow me to make 500 bottles an hour. Right now, I can only fill about 10 to 15 bottles an hour."
William isn't the only one who has faith in his abilities and his product. UWG's Rick Sigman, a business consultant at the University of Georgia Small Business Development Center housed at UWG, says he knows William is going places.
"William has worked very hard and has several follow-up products to bring to market. I have no doubt he will be a successful business owner," he said.
William is currently working toward his Bachelor of Business Administration at UWG's Richards College of Business. Afterwards, he plans to obtain his master's before fully launching his business.
"I plan on staying at UWG and getting my MBA here because they have a really great program," William said.
In the meantime, he is working away, filling capsules and getting ready to make his first big shipment to 16 independently owned pharmacies in the Atlanta area.
"I've got 16 pharmacies signed up for displays," William said. "I'm literally waiting on capsules to get here so I can fill their orders. Plus, we're getting picked up by Food Depot, so that will be 35 more cases. That capsule machine would come in real handy."
To find out more about William's product, go to www.neuropaway.com. To learn how you can help him with his business venture, call the Small Business Development Center at 678-839-5082.
Posted on May 7, 2015
Experience of a Lifetime: Experiential Learning Prepares Students for Careers in Mass Communications
by Gerri Marroquin
The mass communications department at the University of West Georgia was awarded the 2016 Regents' Teaching Excellence Award last spring for its excellent display of strong commitment to teaching and student success.
UWG's mass communications department prioritizes to provide its students with resources to succeed. Outside of the classroom, students are able to expand their experience through various student media, such as bluestone, The West Georgian, The WOLF Internet Radio, and WUTV.
Mass communications students are encouraged to take advantage of the resources provided to them. Current students and recent graduates from the mass communications department have shared their experiences and how the available student media has prepared them for their future.
Taylor Sarratt: bluestone
Taylor Sarratt '16 experienced bluestone student public relations firm her last semester at UWG.
"In bluestone, we were able to create material for our clients, and I fell in love with the process because we were able to use our knowledge and put it into action," Taylor said.
In her semester in bluestone, Taylor and her classmates worked with two clients, one being Open Hands, a Christian ministry in Carrollton. Students worked together to research the clients' competitive market and create items such as brochures and one-pagers. The major aspect of the course is developing and implementing a communications plan for the clients so they can reach their audience in an effective manner.
bluestone also allowed Taylor and her classmates to further strengthen their developed skills. Working for the clients, Taylor was able to focus on the writing portions of the work, whereas other students who flourished in other fields were able to focus solely on their interests or expertise areas.
"It was really neat to see everyone in his or her element," Taylor said. "I was able to learn about other fields without having the pressure of mastering that specific field."
Because of bluestone, Taylor was able to figure out what she did and did not want to do in her public relations career. For new students in the bluestone course, Taylor has this piece of advice:
"Make your connections. The clients you are working with are wanting your services so make them know your name and how hard you work."
Kate Croxton: The West Georgian
Kate Croxton has been a part of The West Georgian staff since her junior year. She serves as the assistant copy editor and will continue to hold the title until graduation in December.
"I am very proud to be part of the paper, and of its growing potential," Kate said. "Every experience has taught me something new and left a mark on me that I will carry on with me."
Since joining The West Georgian, Kate has received a rough idea of how newspapers work and has a good idea of what her career as a journalist will consist of. Kate also holds an internship position with The Gwinnett Daily Post, which she credits The West Georgian for.
"Some students find out that their ideal career isn't so ideal, and I'm grateful that I've been lucky enough to experience my future career first hand and still love it and not feel nervous about it," she said.
Kate's career at The West Georgian has been influenced by her convergence journalism concentration. She states that the classes she has taken have taught her how to interview, obtain research, write and edit articles, and use American Psychological Association (APA) style.
After graduation in December, Kate plans on applying to a broad range of newspapers throughout the Southeast, ideally working for the Atlanta Journal-Constitution and staying home near her family.
"My five year career plan is to have my own beat and my career path laid out while I also manage to travel and explore the world around me," she said. "I have thought about doing travel blogs or writing internationally for papers so I can have the best of both worlds."
Chase Johnson: The WOLF Internet Radio
Chase Johnson, whose concentration is in digital media and telecommunications, has been a part of The WOLF Internet Radio since the first day of his freshmen year.
"My first day I was at the station for six hours," Chase said. "I liked the overall vibe because it felt like family. The reason I am a student at UWG is because of The WOLF Internet Radio."
The WOLF has given Chase the opportunities to grow individually and on campus. He worked as an orientation leader for two years, a residential peer mentor, an athletic ambassador, and in film and video production for the university.
"When I get behind the microphone and put my radio voice on, I'm not the person people see on the day-to-day basis," he said. "I'm able to overcome my shyness and be who I feel like I am, a confident individual."
At the station, Chase works in programming. However, he plans on taking a different route for his future career. He has been debating on either film or radio. If he pursues a career in film, he would like to work in cinematography or directing; in radio, he would like to pursue a career in radio promotions or on-air work.
"I'm a very multi-faceted person so I just want to be sure that I can do everything," Chase said. "That's the type of person I am."
Chase has won the Award of Excellence for Digital Media and Telecommunications and the Professional Development Award, both given by the mass communications department.
Michael Lewis: WUTV
Michael Lewis has been a part of WUTV since the spring of 2014. While taking Sonya Barnes' Introduction to TV Production class, she approached Michael about volunteering with the station as an anchor.
"I didn't even know that I was interested in TV production until I went in and found it interesting," Michael said. "The more I got involved with the station the more I realized that it was really exciting."
Along with recommending Michael to be involved with WUTV, Sonya also recommended him for an internship position with WAKA news station. After Media Day 2016 in the spring, Michael accepted the internship offer.
"I'm able to build on my skills and bring experience back to West Georgia of how actual news is done because while we do news at WUTV, it's not an official hard news network, and I can't wait to experience that every single day," he said.
At WUTV, Michael has the freedom of choosing his own stories on campus and setting up his own interviews, which also gives him the necessary knowledge to work in the real world. He's able to pursue stories in new innovative ways and has control on how they are told.
Michael believes that WUTV is different because the station has its own broadcasting area, the technical capabilities, and equipment.
"For us going live on the air, it pushes us to do our jobs better because we have to be tight and ready for the actual newscast. This prepares us for the future where you would have to be that way for the actual job," Michael said.
Michael credits the professors, such as Dr. Camilla Grant and Deon Kay, in the mass communications department for his experiences.
"All of the professors that I have encountered have done their best to help, and make sure I'm getting the most out of the university," he said. "Everything is so hands on, and they go above and beyond to make sure their students are where they need to be."
After graduating from West Georgia, Michael dreams of pursuing a career in television production in news or entertainment.
Stanley Grant Helps Pay for UWG Safety Upgrades
When Dr. Kyle Marrero became president of the University of West Georgia (UWG), he made it abundantly clear that having an actively engaged and connected leadership and student population was a top priority. Safety and security were important components of this strategic initiative and are now part of an overarching mindset and philosophy — a calculated, top-down approach that envelops all aspects of the institution and is reflected in the processes, procedures and standards embraced by the university.
Security technology is, of course, critical to UWG. However, the university also takes a personal approach that embeds a security culture into all campus community representatives, emanating from the president and other campus leadership, to the chief of police and director of residence life, faculty, staff, students and even members of the off-campus community.
"Everything we do is designed to create a safe environment to help students succeed," says Marrero. "Today, college and universities nationwide are dealing with some of the most challenging times in our history in terms of threats to safety. By working alongside those on our campus and in our communities, we are overcoming those challenges through innovative thinking and shared strength."
As such, the university takes a holistic approach to how it deals with some of the challenges of protecting its expansive campus. There are no gates or other outward signs of safety and security, but it's there; from the outside in and inside out — all arising from a single goal of creating an environment where learning can be the focus and safety can create peace of mind.
Keeping this in mind, security decisions are not limited to exclusive personnel or police. Instead, all stakeholders are involved — such as faculty, staff, students, parents and local community leaders — in a proactive, comprehensive plan that allows students to focus on their education. Knowing that policies and procedures are developed, refined and in place helps mitigate a variety of security scenarios that could develop.
UWG Students Engage, Participate in Safety Efforts
A good example of the school's overall philosophy is UWG's engaged student body. A focus on security education starts before students even begin classes. University police officers lead sessions during freshman orientation that provide information ranging from policies and procedures to basic protective measures students can adopt.
That education continues once students are on campus as officers make regular appearances in various classes, such as UWG 1101, to cover safety tips (residence hall safety, using the buddy system, etc.) that encourage students to do their part in making the campus more secure. Additionally, officers provide active-shooter training to any group of faculty or staff, and any class if their professor requests it.
Students are also encouraged to download UWG's custom Wolf Guardian app and sign up for Wolf Alert notifications on their phones. This app turns any smartphone into a panic button and will send that person's profile and GPS location to dispatch. All students, faculty and staff automatically receive Wolf Alert emails that come directly from UWG police when there is an imminent threat to the campus, a serious weather advisory or even crime in a nearby area that is popular with students.
There's also a student safety patrol operating seven days a week, as well as a buddy escort program administered through the UWG campus police department. The student-led campus safety walk involves Student Government Association (SGA) members who make a punch list of areas that may need addressing. That list could encompass simple things like pruning trees that are blocking lights on pathways to pinpointing campus locations that might benefit from the addition of technology, such as cameras or access control.
Brittany Goff, vice president of student life for UWG's SGA, organized the most recent safety walk, and she believes the group helps students voice their safety concerns to administrators.
"Students definitely think about security, but they often don't have a way to express their concerns or they don't know who to go to," Goff says. "That's why I love being in student government, because I get to be that voice for them. I get student input all the time, and they have great ideas. They just need a way to get those ideas to the right people.
Security Technology Helps with Emergency Response
While not all safety initiatives are student-led, at UWG they are definitely student-focused.
"Another initiative we are extremely proud of is our one-call system," states Stephen Whitlock, who is UWG's director of housing and residence life. "With this system, there is one number for students to call 24/7 in the event of an emergency that dispatches staff through radio communications, [improving] response time exponentially."
There are also daily safety patrols of resident halls and an escort program to accompany students to halls or parking areas after hours.
"We know safety and security has to be real-time, proactive and spawn greater awareness," Whitlock adds. "We are a big campus, so we have to use technology to make sure we have extra eyes. But safety and security aren't just cameras and night watches. It's a comprehensive, proactive plan to do the right thing and make sure our students are safe."
Assisting the university with its comprehensive security strategies is Stanley Security, which works closely with UWG stakeholders to be certain sufficient plans are in place and that the deployed technology and partnerships yield ongoing successes, says Kyle Gordon, Stanley's vice president of campus solutions.
"It's exciting to see a university like UWG and the partnerships that campus leadership promotes within their community, as well as with us as their security integrator," Gordon says. "It's refreshing to see how engaged the students and faculty are on security measures, and that's making a difference like we've not seen before."
Marrero says the university focuses on communication and preparation so everyone on campus knows what to do during an emergency.
"As a university president, this can be the defining moment of the institution, and we have to be ready for it every day," he says. "We are incredibly proud of the work we have done, but we are in continuous improvement mode. We know technology changes, and we want to ensure we have best practices in place and rely on the professionals to help us achieve our goals."
Upgraded Security Equipment Delivers Efficiencies
Leading the security installations and development of standards for the implementation of technology at UWG is Campus Police Chief Tom Mackel. The school has a variety of security technologies in place and continues to upgrade solutions with newer access control and surveillance.
When Mackel started at the university in 1991, however, the systems in place were outdated and inefficient.
"Our previous surveillance system had multiple platforms, which were cumbersome since our 911 dispatchers had to log out of one system and then log into another to view the feeds from different cameras around campus," he says. "And when I first came on board, no one had cell phones, so the blue-light emergency stations were installed and stationed at various locations around campus, which allowed anyone on campus to call 911 whether they were in a building or not. But that technology is now 20 years old."
Over the years, and with the support of UWG, Mackel has embarked on a mission to improve safety at the university. He first created the standard on how to address crime prevention on campus and how to protect each of the different facilities on campus, which led to the installation of upgraded and more efficient equipment.
Some of the current security infrastructure includes Best electromechanical locks, which allow for detailed transaction histories, assisting in investigations and determining peak traffic times; Stanley Wi-Q wireless locks, which allow university police to identify users, track stolen ID cards and change access clearance more efficiently; alarm intrusion detection; the continued proliferation of surveillance cameras and current standardization on the Avigilon video management system, which began several years ago and makes viewing feeds more efficient; centralized Lenel access control software, making installation and repairs easier; and newer LED lighting, which improves visibility for identifying suspects and vehicles. UWG also has a fiber optic infrastructure it leverages for its networked security, which allows campus police to utilize live feeds and add as many cameras as the institution needs.
Grants Pay for More Security Cameras, Other Improvements
The safety and security plan, as well as the technology implementation, are ongoing. Mackel adds that some of the money UWG was awarded from a Stanley Security grant will be used to install more surveillance cameras at a major university thoroughfare.
"The dollars will be instrumental in giving us extra eyes across the campus," he says. "We know safety and security have to be proactive and generate greater awareness. We are a large campus, so we have to use technology to make sure we have that extra set of eyes."
Students say they are excited about the upgrades.
"The video cameras are definitely a good idea because they can capture what really happens," says senior Ariel McBride. "I'm a commuter student, and I have one class that ends at 8 p.m. The lampposts are really important to me because walking in the dark through the parking lots can be scary."
Sophomore Landon Carver agrees that more cameras and more light would be a welcome addition to campus.
"I think [installing more lights] would be really helpful to improve safety measures," he says. "I feel like there aren't enough lampposts. I have a lot of classes that end at night, and it's really dark."
Although security may not seem like an obvious priority for a university, Dr. Marrero says it's an integral part of the work faculty and staff do behind the scenes to ensure UWG achieves its primary objective: student success.
"We are proud of our safety and security track record and our students who have had their lives transformed by quality instruction, engaging in campus activities, graduating and going on to lead productive lives," Marrero says. "We do everything to ensure they can learn and prosper here; it's a critical, distinctive part of what we do and the philosophy and credo at UWG, and we want to continue on this path."
This article originally ran in Campus Safety magazine and on www.campussafetymagazine.com