UWG Wolves,
Greetings from UWG. My name is Dr. David Jenks, and I currently serve as Interim Provost at the University of West Georgia. Along with faculty and staff from across campus, our team has been working hard over the summer to prepare for the start of the fall semester. If you are a returning student, we have missed you and are looking forward to seeing you back on campus. If you are a new student, welcome to West Georgia! We are thrilled you will be joining us in the fall and look forward to meeting you in person.
The COVID-19 pandemic has changed many of the ways that we learn, work, and socialize across the country. Universities like UWG have had to change as well. Below are some of the essential details about what the academic schedule and classroom experience will look like in the fall, but, first, there are two essential things you should know.
First, our highest priority is keeping you and everyone else at UWG safe. In doing so, UWG will follow the same guidelines from the University System of Georgia (USG) that will be in place for all public colleges and universities in Georgia. Students, faculty, and staff will be expected to follow the best practices recommended by state public health officials and the CDC to mitigate the spread of COVID-19.
Second, we have worked hard to make sure we are ready to offer a great in-person, on-campus student experience in ways that promote everyone's health and safety. That means you can expect to return to a campus that is completely open for you to experience and explore, where academic support will be available in multiple formats to support your learning. If conditions in the state around the pandemic change over the course of the fall, UWG is already prepared to adjust the learning environment so that your learning and success are not interrupted. With these principles in mind, the following are answers to questions you may have.
When will fall classes begin and end?
UWG has modified the Fall 2020 academic calendar in preparation for the upcoming semester, prioritizing the health and safety of students, faculty, and staff.
Classes will begin on Wednesday, August 12 as originally scheduled. However, Fall Break and the first three days of Thanksgiving Break (Nov. 23-25) will be used as instructional days. This will allow for regular instruction to conclude on Wednesday, Nov. 25. Final exams will be administered remotely so that students do not have to return to campus after Thanksgiving break unless they choose to do so. Campus will remain open. The revised academic calendar can be found here:
What will classes be like in the fall?
Like many other universities, UWG has developed a dual modality delivery structure for every face-to-face class on campus. These changes will allow you to have access to in-person teaching and mentoring from faculty in a physical classroom setting while maintaining social distancing guidelines.
Classes That Meet Two Times A Week
For example, if you are taking a class that meets twice a week—meeting on Mondays and Wednesdays or on Tuesdays and Thursdays—you will be assigned to attend one of the two class meetings per week: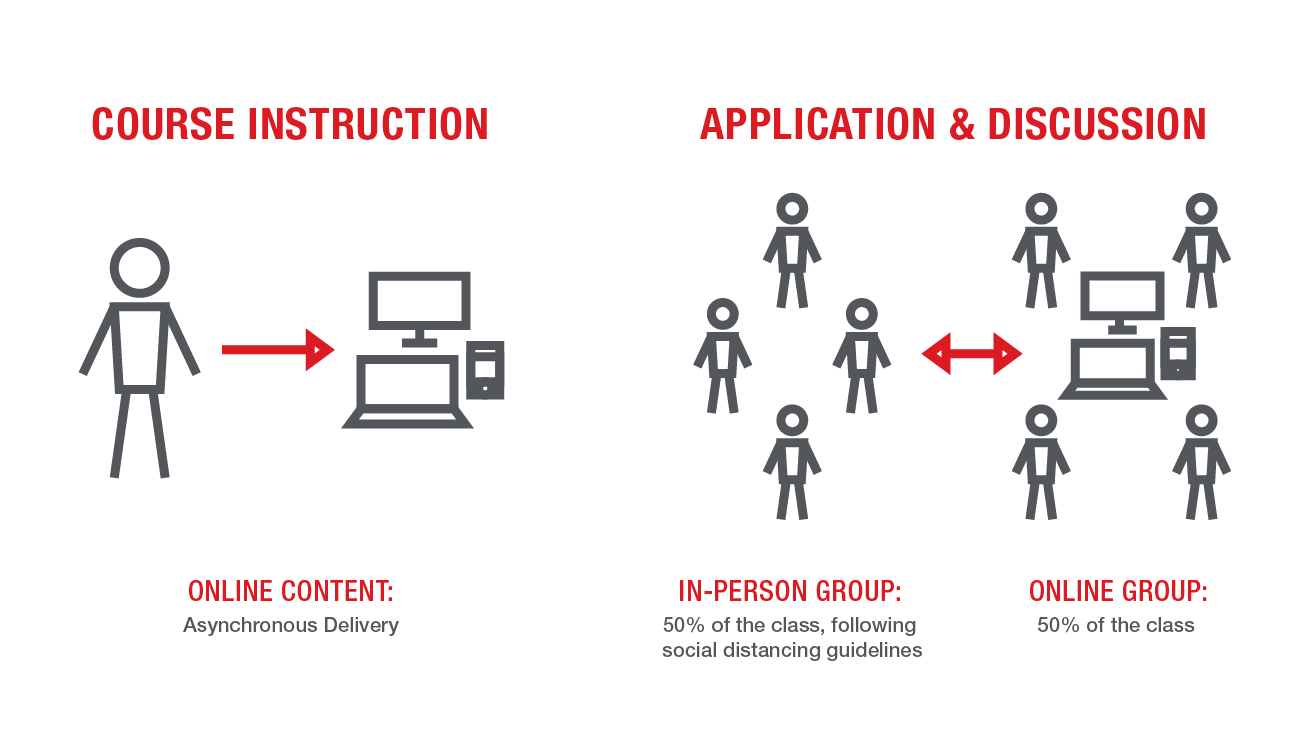 Image Description: The above image illustrates in-person attendance for a class that meets twice per week. The left side of the image illustrates the delivery of course content online. The right side of the image illustrates the even split of the course roster, in which one half of the class will attend classes in person one day of the week and the other half of the class will attend in person on the other day of the week that the class meets.
All course content will be accessible online via CourseDen, UWG's online learning platform.
Classes That Meet Three Times A Week
For a course that meets three days a week (Mondays, Wednesdays, and Fridays), you will be assigned to attend one of those days each week for the whole semester, and you'll participate in the course content for the rest of the week.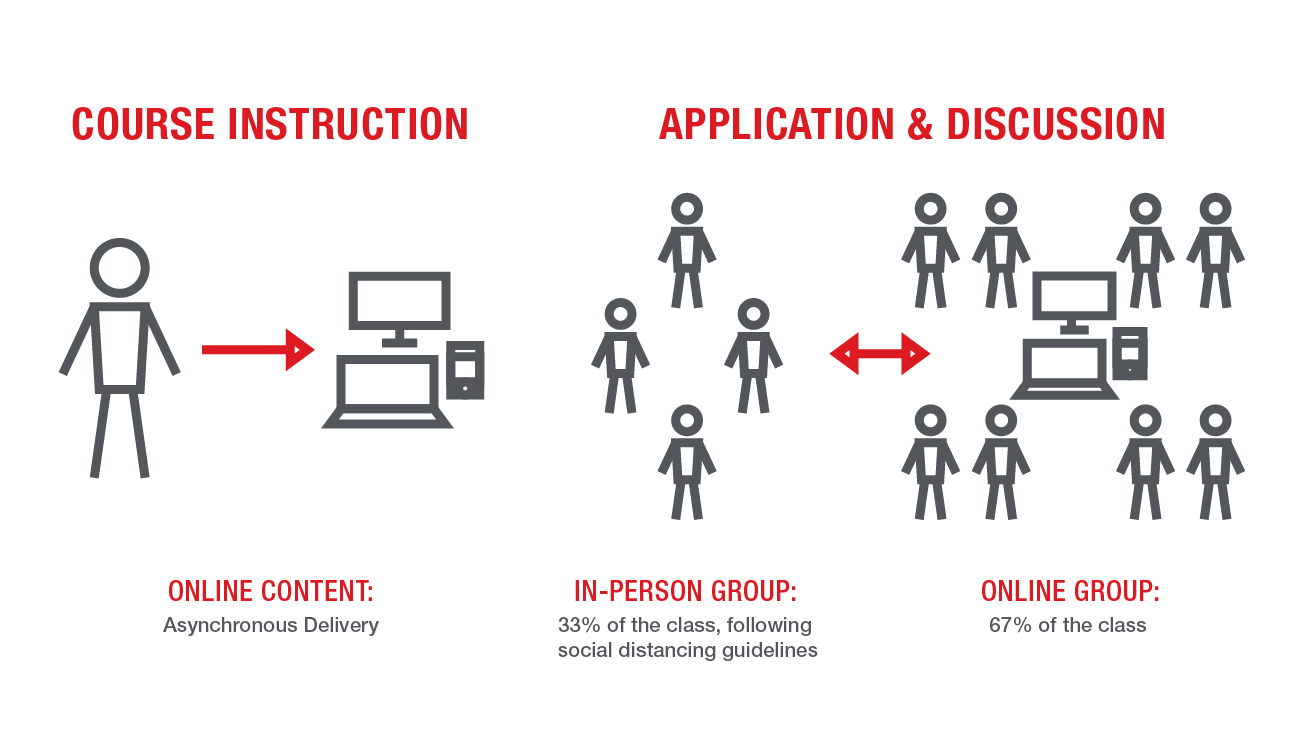 Image Description: The above image illustrates the setup for a class that meets three times per week. The left side of the image illustrates the delivery of course content online. The right side of the image illustrates the splitting of the course roster into thirds. The first third will attend classes in person on Mondays, the second third will attend on Wednesdays, and the final third will attend on Fridays.
Classes That Meet Once A Week
If the course meets only once per week, students will attend the course in alternate weeks. You will not miss any instruction, since all course content will be available online. Seating in classrooms will be assigned to maintain these social distancing guidelines. This will also mean that you will not be able to attend multiple class meetings in a week. However, faculty and academic support staff will be available virtually as well in-person to support your learning.
Online courses will remain as scheduled. There will be some exceptions to dual modality – including practicum courses in the Tanner Health System School of Nursing, the College of Education, and other programs in which field experiences or practicums are required. Check with your instructor or program if you have any questions.
Will social distancing be practiced in classrooms to keep everyone safe?
Yes, social distancing in the classroom will be implemented by reducing the number of students in class on any given day through the instructional model described above.
Will anyone be required to wear a mask?
Face coverings will be required in all in-person classes on campus. Effective July 15, 2020, USG institutions, including UWG, will require all faculty, staff, students, and visitors to wear an appropriate face covering while inside any campus facilities/buildings where six feet of social distancing may not always be possible, including all classrooms. Reasonable accommodations may be made for those who are unable to wear a face covering for documented health reasons.
Will masks be required anywhere else on campus besides classrooms?
Yes, social distancing and masks will also be in effect in other spaces across campus that support academic instruction, including places like the Library, advising, the Center for Academic Success, and academic departments. Students will have opportunities to set up either virtual appointments or arrange in-person meetings as needed on campus to support their learning. Labs and other specialty courses (for example, in Nursing) may have additional requirements for Personal Protective Equipment (PPE). Your program and/or instructor will notify you of these requirements.
How will UWG support student learning and success in classes this fall?
UWG will have in place plenty of instructional support and resources (both with on-campus faculty and staff and online) to support student academic success in every learning environment. We encourage you to call or visit the following:
In closing, I hope you can see that we have been working diligently to make sure UWG is prepared for your return to campus. We realize that the situation on campuses across the state could change. If that happens, we are prepared to provide you with a high-quality, dynamic educational experience. Although all of the details related to campus reopening cannot be described here, you can learn more about what to expect when you return by visiting our Return to Campus FAQs.
You can also look for additional communications from us about classes and what to expect when you return in August.
We miss you at UWG and look forward to your arrival on campus. Although there are challenges before us, we know we will be stronger and better as we face them together. We are here to work with you and assist you along the way!
Sincerely,
Dr. David Jenks
Interim-Provost and Vice President for Academic Affairs
University of West Georgia