1. In order to successfully complete these instructions, your device must be on campus and able to connect to the wireless network.
2. Open the list of wireless networks by selecting "Wi-Fi" from the "Settings" menu. Click "Add Network" located above the list of wireless networks.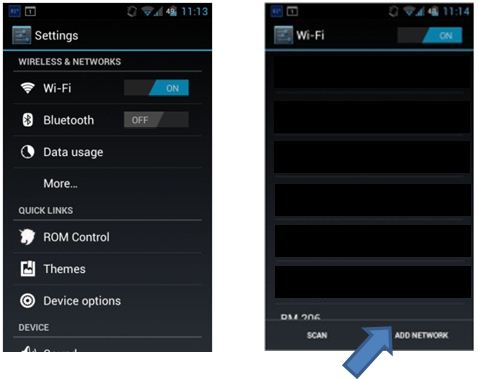 3. After selecting "Add Network", you will be prompted to enter the name of the network along with additional information about the network. Enter "connectWestSEC" in the "Network SSID" field (Note: The Network SSID field is case sensitive. You must enter the network name exactly as it appears). To select the appropriate network security settings, choose "WPA/WPA2 PSK" from the drop-down menu. Click "Save" when finished.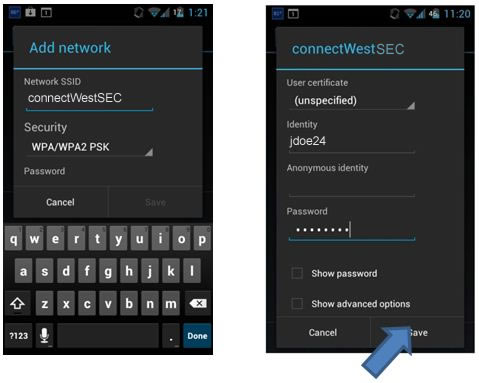 4. After making this selection, "connectWestSEC" will appear on your list of available wireless networks. Click on "connectWestSEC".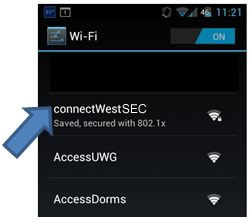 A new window will appear prompting you to enter additional information about connectWestSEC. In the "EAP method" field, select "PEAP" from the drop-down menu. In the field labeled "Phase 2 authentication", select "MSCHAPV2" from the list of options. In the "Identity" field, enter the first portion of your UWG e-mail. For instance, an individual with the email address jdoe24@my.westga.edu would enter jdoe24 as their username.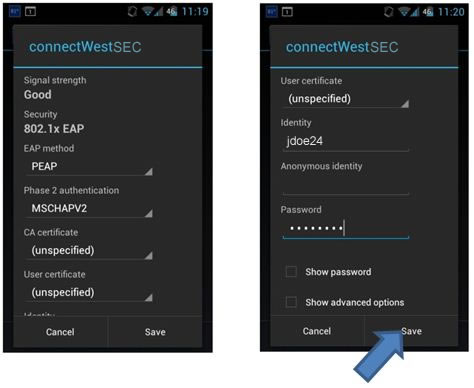 STUDENTS: In the password field, enter the last two digits of your birth year and the last four digits of your SSN (no spaces).
FACULTY and STAFF: In the password field, enter your Windows Domain Account Password.
When finished, click "Connect".
5. Under "Wi-Fi", "connectWestSEC" will now be listed as a network and will join whenever the device is in range.