Kelly Stephens: The Impressionist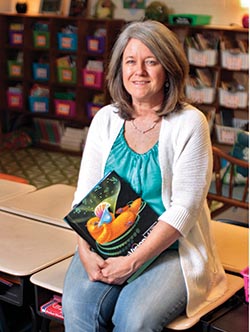 Kelly Stephens makes teaching an art form. The new educator has always enjoyed helping others to connect the dots to see the big picture. Although Kelly was the youngest of five children, she was the first person in her family to attend college, going straight into junior college after high school. When she got married in her second year, however, life forced Kelly to put her college career on hold. Two decades later, her children were grown, and Kelly was ready for a new adventure. She took education classes at the University of West Georgias Newnan campus and finished her teaching degree in 2012. This year, she's leaving a great impression on her very first third-grade class.
"I am thoroughly enjoying being a teacher!" she declares. "When a student tells me that they really love school, or when they come to me with problems or funny stories or tears, those are precious moments. Even with all of the challenges, I wouldn't trade careers with anyone. I love being a teacher! I just love seeing that light bulb turn on when kids finally get something they've been trying to learn."
Kelly was delighted to find out that her home campus was remodeling and moving into the old Newnan hospital. Not only is she excited for future students to attend classes in the beautiful, historic building, but she also thinks UWGs increased presence in downtown Newnan is well deserved.
"I would highly recommend UWGs College of Education to anyone out there who wants to be a teacher, Kelly enthuses. I received a fantastic education. UWG thoroughly prepared me for my first year. I cant wait to begin year two!"