The Composer's Palette: Music Major Talks Inspiration, Creative Flow
Share this page
June 27, 2019
Reading time: 3 minutes, 30 seconds
One of the most famous musical onomatopoeias is Nikolai Rimsky-Korsakov's "Flight of the Bumblebee." You may not know it by name, but its sound is unmistakable. In this interlude, the 19th century Russian composer used stringed instruments to paint a picture of a frantic, jumbled path the insect might take to get to its flower.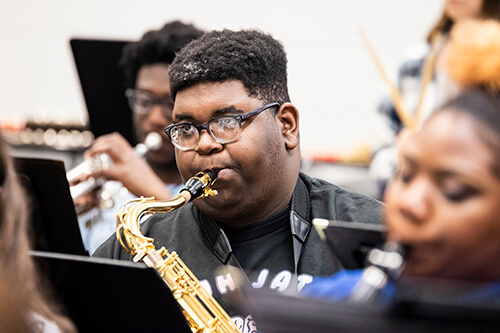 University of West Georgia student Katahj Copley's "Sunshine" has a similar effect. The opening melody of the marimba reflects dawn's first rays of light allowing its warmth to spread throughout the ensemble as it reaches a peak of energy then sets with a relaxed, colorful repose.
While we can't ask Rimsky-Korsakov exactly what inspired him to create "Bumblebee" – well, besides the obvious – we can delve into the modern composer's mindset.
"I believe the easiest way to express what's inside yourself is through music," explained the senior music education and composition major. "When I'm writing, I ask myself what I want the world to see. How much of my soul am I willing to put on a piece of paper?'"
For Copley, "Sunshine" was borne out of darkness. Consumed with other projects and feeling depressed, he struggled to write until inspiration hit mere hours before rehearsal time.
"There was this person who every day would be filled with so much positivity," he beamed. "When she walked in, you could see the room change from a gloomy to bright setting."
Copley's muse shared a quote involving sunshine that resonated with him.
"'Look toward the sunshine so you don't see your shadows,'" he recalled. "I spent the entire day writing out what I wanted sunshine to sound like, and the one thing I really wanted it to sound like was warmth."
As a composer who writes for a variety of ensembles, Copley knew the kind of sounds needed to convey the glow he was aiming for. Different instruments evoke colors, from cool to warm, and the emotions associated with them.
"You find which instruments can fill up a room with a shade of orange and which ones can kind of glide on top with a shade of pink," he explained. "I wanted the feeling of overall happiness, but at the same time there's a little bit darker tones. You can find happiness through the darkest of times, and ever since I wrote it I've been happier. I feel more sunshine."
The UWG Wind Ensemble premiered "Sunshine" in April. It was the second production of Copley's work for the group, which also performed his "Haywire" in 2018. The UWG Saxophone Ensemble and Brass Ensemble debuted Copley's "Spectra" and "Cloudburst" in 2017 and 2018, respectively.
He pointed out it's not an opportunity afforded by music majors at many other universities.

"At West Georgia, you get so many opportunities to shine," Copley said. "I can't name many people who as undergraduate music majors received the chance to have a world premiere by an ensemble. Professors like Dr. Cale Self and Dr. Kevin Hibbard have helped me refine my craft and find my own voice through my writing."

And like his professors, Copley hopes to teach the next generation of musicians about the power of music composition.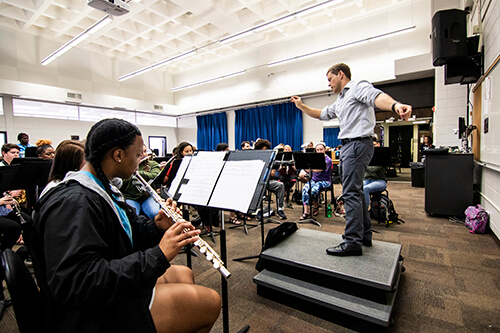 "As a composer, you're given so many different colors," he exclaimed. "You have so many different tools, and you have a blank canvas on which you can paint whatever you want. The power to create something is tremendous, and when you create something, it's not only good for you; it's good for people around you."
Copley also wants to leave a legacy of inspiration to encourage people to strive beyond what they think they can accomplish.
"When you have a dream, be obsessed with that dream and don't stop until it's not a dream anymore," he concluded. "It becomes who you are."
To listen to more of Copley's work, please visit www.katahjcopleymusic.com/.