Gaze into the Future: Dr. Julia Mossbridge speaks at Annual Bill Roll Lecture
The University of West Georgia's psychology department recently hosted Dr. Julia Mossbridge for its annual Bill Roll Lecture. Mossbridge delivered her lecture, "Examining the Long Body in Time: Precognition in Laboratory Experiments" to an eager academic audience.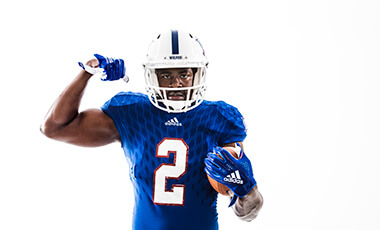 Going the Distance: Fifth-Year Senior Defensive End Takes the Lead on the Field
There's only one time when Chad Price is comfortable being the "bad guy." An away game. The defensive end – who stands 6 feet 4 inches tall and weighs 255 pounds – played as a redshirt freshman for the UWG Wolves. That was four years ago, and now he's playing his final season as a college athlete with a legacy to build.