Building Science from Scratch: Computer Student Awarded for Work on Hackathon
Share this page
Dec. 5, 2018
Reading time: 3 minutes, 25 seconds
Great things happen for those who Go West. University of West Georgia undergraduate Tammy Lee certainly attests to that. This precocious computer science major recently placed third in competition at the Grace Hopper Celebration held in Orlando, Florida.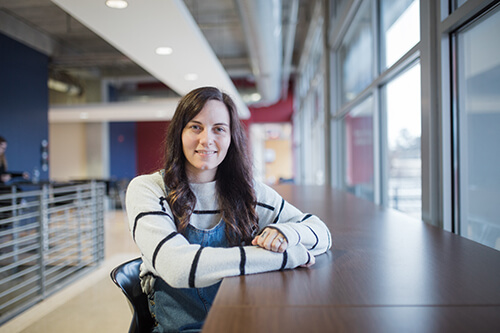 The celebration, hosted by AnitaB.org, is the world's largest gathering of women technologists.
Lee's award-winning project – co-created with UWG classmate and since graduate Kelley Gray – is titled "Scratch Hackathon for Teenagers," and it required something beyond development skills. It required an interest in design, creativity and understanding community need among area teens.
"We researched browser-based editors for use in a teenage hackathon as well as hackathon topics," Lee said. "We settled on using Scratch animation software, where students could create animated scenarios on the topic of suicide and bullying prevention."
This work, in fact, formed the basis of the highly successful UWG Second Annual Hackathon held by the College of Science and Mathematics and the College of Education. Lee and Gray even designed an enhanced approach to using the Scratch software, providing students with enhanced freedom and control in developing their animations.
"Tammy Lee is not only a great technologist, but she is also a very strong communicator," said Dr. Anja Remshagen. "Strong communication skills are important in any endeavor including computer science."
A faculty organizer of the UWG hackathon, Remshagen supported Lee and Gray throughout the creation and implementation of their project. She also instructed Lee in her Web Development and Artificial Intelligence classes.
"Lee is very independent and someone who will always take the initiative," said Remshagen.
A 2006 Villa Rica graduate, Lee traces her interest in computers back to her father's penchant for video games. A born tinkerer, she enjoyed fixing things that would send others straight to customer support. She even found that she liked troubleshooting internet connections problems.
Every bit as creative as she is analytical, Tammy Lee started her college career as an art major before switching to computer science. She had some second thoughts about the change, wondering if she had the skills needed for a highly technical degree. A certain professor encouraged her to press on.
"Dr. Duane Yoder was a huge advocate for me," said Lee.
She described how he called her into his office and implored her to reconsider staying with computer science. Lee called that meeting a critical turning point.
"After that, I'm been entirely committed to my computer science career," she said.
That commitment shows. Lee has since served as a teaching assistant as well as president of Upsilon Pi Epsilon, the first and only nationally recognized honor society in the computing sciences. She has also functioned as president of the Association for Computing Machinery (ACM) and as an intern for both Cosairus Software Engineering and Turner Broadcasting.
Lee attributes these successes and others – such as her recent award at the Grace Hopper Celebration – to opportunities and challenges she found at UWG.
"Classes are smaller than at some larger universities, so we get a lot of one-on-one attention from our professors," explained Lee. "I never feel lost in a sea of students. When I received feedback from a professor, it was always very detailed and personalized."
This individualized setting also helped Lee to develop a sense of comradery with her fellow classmates she doubts she could have found at a larger institution. These factors influenced Lee's learning. Perhaps more significantly, they built on her confidence and willingness to embrace new challenges.
This future-oriented perspective has already worked to her long-term advantage. Months prior to graduation, Lee was scouted for and soon secured a job with Honeywell International, Inc. in Atlanta where she will serve as a front-end software developer.
Excited by the company's investment in energy conservation and sustainability, Lee believes she has found the right fit as she begins her career. She also says that finding such an opportunity so soon has a lot to do with UWG's approach to computer science.
"Other schools are often more theoretical," Lee explained. "West Georgia focuses on applied computer science, which is what I needed for the kind of career I want to start. Add to that the passion the faculty have for teaching, and I highly recommend UWG for others."