Looking Up: ​​UWG's Richards College of Business Hosts 25th Annual Economic Forecast Breakfast
Share this page
Oct. 29, 2021
Reading time: 2 minutes, 59 seconds
The University of West Georgia's Richards College of Business held its 25th annual Economic Forecast Breakfast Tuesday, with business, government and community leaders from the West Georgia region gathering to discuss the local economy and what to expect in the coming year.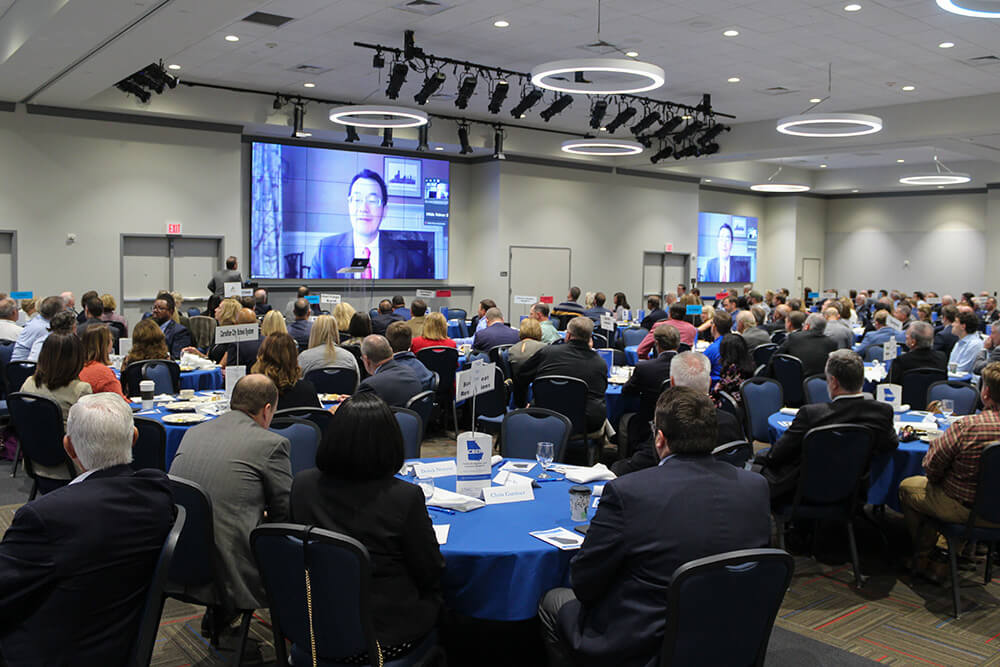 The event, hosted by the college's Center for Business and Economic Research, featured three experts speaking on both the current economic conditions and indicators signifying the potential strengths and weaknesses of the economy in 2022. 
Dr. Christopher Johnson, new dean of the Richards College of Business and a seasoned economics professor, welcomed the audience and said he was happy to see such a wide variety of attendees gathered for the event.
"The connections we make at events like this are critically important to the work we do as an institution of higher education," Johnson said. "I'm excited to gather and have this important conversation."
Dr. Joey Smith, chair of the college's Department of Economics and David A. Johnson Distinguished Scholar, said unemployment claims, which are leading indicators of economic health, have dropped by a large margin since the early months of the pandemic. 
"Unemployment insurance claims are what economists use to detect which way the economy is going, and last year that peaked higher than it ever has in this region - probably anywhere," Smith said. "However, those numbers are back down significantly but not quite to pre-pandemic levels. We still have a little ways to go."
The same thing can be said about unemployment rates, Smith said. 
"The most recent numbers show that almost every county in the region is below where it was when the pandemic started," he said. "We were in a really good place. Not only are we back; we're doing better than we were." 
However, the six-county region, which includes Carroll, Coweta, Douglas, Haralson, Paulding and Polk counties, has lost approximately 6,500 people in the workforce overall since the pandemic began, with Smith citing several reasons, including COVID-19 concerns, retirement and job dissatisfaction.
"This is something that we're going to have to work our way through," Smith said. "There are a lot of different issues that surround this problem, but it's clear the size of our local workforce has shrunk."
Dr. Sally Wallace, professor and dean of the Andrew Young School of Policy Studies at Georgia State University, said good economic discipline during the pandemic led to a much better situation coming out of it. 
"There are a lot of really good things going on," she said. "Georgia is the hallmark for fiscal conservancy, which has helped us a lot getting through this crisis and has put us in a very good position moving forward. This is true, not only at a state level but also among local governments."
Dr. Lawrence Yun, senior vice president of research at the National Association of REALTORS, spoke at the event virtually, sharing that even though things appear to be looking up economically, everything is not back to normal. 
"Supply is tight and prices are increasing," Yun said. "Housing prices are up across the nation because we don't have enough inventory."
However, Yun believes by spring 2022, housing inventory will be up significantly, which should, in turn, bring prices back down. Not only will new builds help to bolster the inventory, but he also forecasted rises in foreclosures due to government economic assistance ending.
Although there are so many positive aspects to the economic recovery, Wallace said the most significant concern is what comes next.  
"We're going through unprecedented changes, and we're not sure where that is going to lead us yet," she said. "I think there are some real glimmers of hope."