UWG's Richards College of Business Achieves SAP Designation for Next-Gen Lab
Share this page
April 19, 2022
Reading time: 2 minutes, 4 seconds
A lab in Roy Richards Sr. Hall at the University of West Georgia has been approved to be an SAP Next-Gen Lab. This honor distinguishes UWG as a technology and innovation hub. UWG's lab is the first approved SAP Next-Gen Lab in Georgia and with this honor, UWG joins the other 15 approved labs in the United States.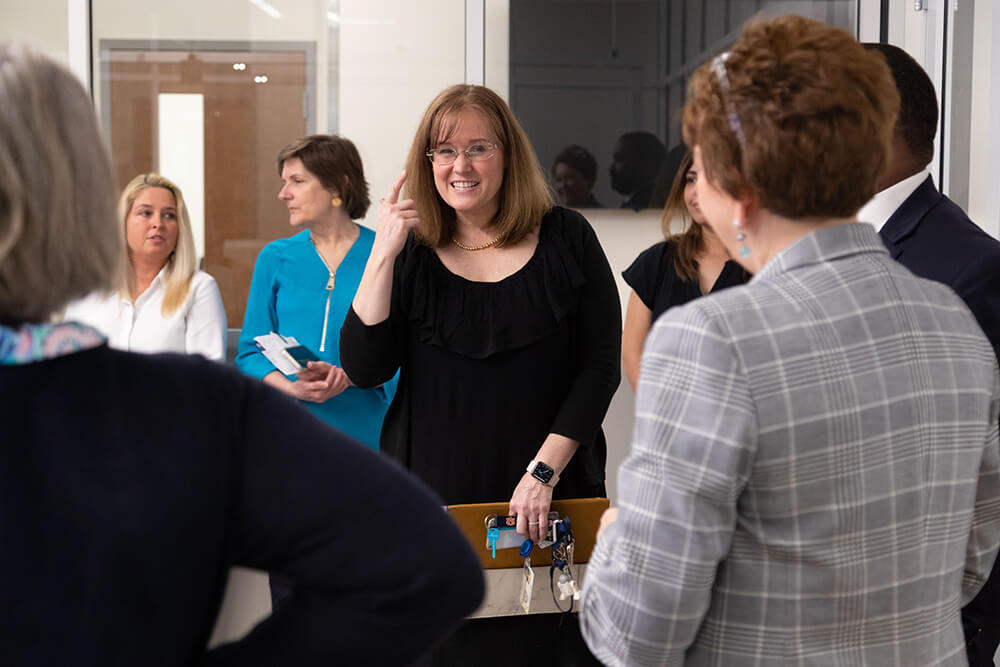 The Management Information Systems (MIS) Lab was officially designated as an SAP Next-Gen Lab in a ribbon-cutting ceremony recently held at UWG, with Director for SAP Next-Gen Colleen Raftery and Heather Matthews, SAP's director for global next-gen programs and university alliances, in attendance.
"Your lab is truly incredible," Raftery said, "and the fact that you have industry partners like Southwire puts you really ahead of the curve."
SAP stands for System Analysis Programming and is an international enterprise resource planning organization that helps businesses worldwide with managing business processes, data processing and the flow of information across businesses. SAP plays a significant role in business transactions, with 78 percent of all business transactions across the world going through an SAP system.
"This honor is recognition of the work that has been done at UWG over the last nine years with partners such as Southwire, Infosys and the European Research Center for Information Systems," said Dr. Jeannie Pridmore, associate professor of MIS in the Richards College of Business. "This designation highlights our program, our students, and opens the door for more industry partners."
UWG is the first university in Georgia to be awarded this designation. For students, this means early access to key training that's highly sought after by employers.
"Most students don't even know what SAP is, but it's such a huge thing that so many companies use," said Martavious Gordon, an MBA student working on his concentration in information technology and networking and cybersecurity. "Now that we have this designation and can learn how to use SAP while in school, we'll be better prepared and more highly sought after when seeking future job opportunities."
Matthews and Raftery stressed the importance of developing skills in SAP to the students and gave tips to students as they continue building their resumes and working toward fulfilling careers in tech.
"The recognition as an SAP Next-Gen lab is a testament to the tremendous efforts of our MIS faculty in equipping students with industry-relevant learning experiences," said Dr. Christopher Johnson, dean of the Richards College of Business. "I am grateful for the partnership with SAP and I look forward to its continued impact on current and future students."
photography by Miranda Daniel