'A Point of Pride': UWG's Women Empowering Women Event Focuses on Women in Technology
Share this page
March 16, 2022
Reading time: 4 minutes, 43 seconds.
In celebration of Women's History Month, the University of West Georgia's Richards College of Business held its annual Women Empowering Women event last week. With the focus on technology, panelists – three of whom were UWG alumnae – included both seasoned leaders in the industry and those in the bloom of their careers.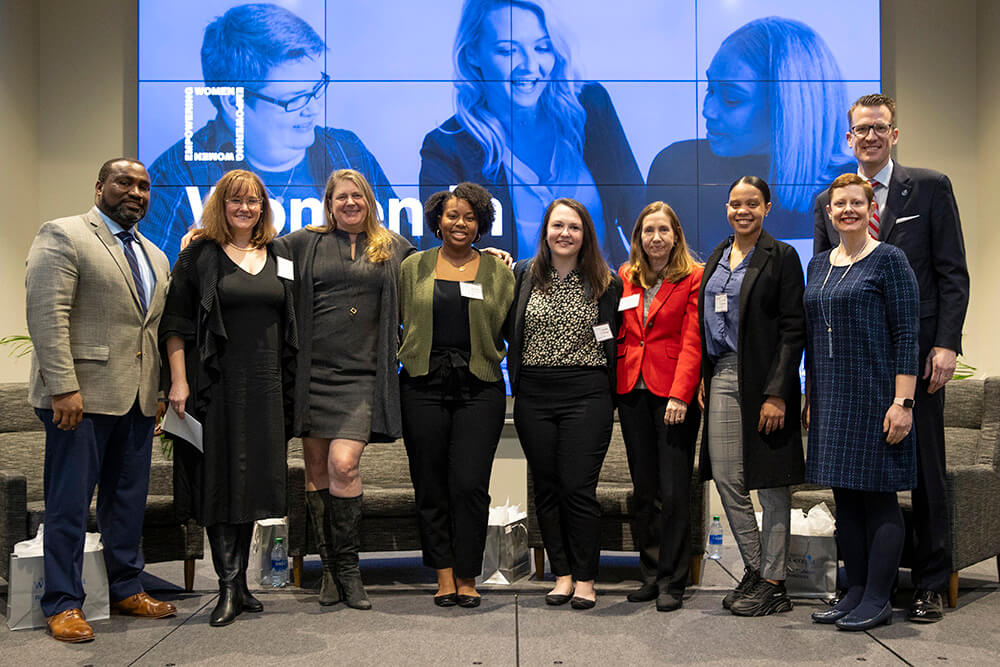 Leading the discussion was Dr. Jeannie Pridmore, professor of management information systems and director of UWG's MBA program. Among her many achievements, she most recently received the University System of Georgia's 2022 Felton Jenkins Jr. Hall of Fame Faculty Award in recognition of her commitment to teaching and student success.
"When I was asked to put the panel together, I first thought about what I wanted to accomplish," she said. "My hope today is to take a deeper dive into the very successful careers of women in technology and learn from them. Because even with society focusing on diversity and working to address issues such as unconscious bias, the tech industry has a long way to go." 
This year's installment – the first one to be held in-person since the pandemic – was also the first such event for Dr. Christopher Johnson, dean of the Richards College of Business, who arrived last July.
"This is my inaugural Women Empowering Women, and I'm excited to be a part of it during Women's History Month," he began. "I recently had an opportunity to watch the movie 'Hidden Figures.' It's a wonderful celebration of unsung heroes at NASA – African American women like Katherine Johnson – who were instrumental in some of the most historical events in this nation. And as I thought about those women in technology, I thought about our theme for today."
UWG President Dr. Brendan Kelly said he couldn't be more excited to sit in on this particular discussion because it highlights one of the great outcomes of the university.
"Nearly 70 percent of our students identify as female, and as a university culture, we empower women to be their true, authentic selves in a supportive community," Kelly said. "We are leveraging that fact to punch above our weight in producing a significant amount of talent in areas where female professionals are not generated enough, such as technology and innovation. Fulfilling that need in the talent pipeline for in-demand industries is a point of pride for our university."
Panelist Kerry Brown, an expert on change and the future of work who went to an all-girls school, said that statistic will foster a sense of security and confidence.
"Being put in places where you believe you can thrive sets you up to believe that," she said. "That is a gift you will take for the rest of your lives. I think for me as a person, that allowed me to walk into a room and think I deserve to be there as much as anyone else."
The importance of community and networking remained as much of a theme during the discussion as technology. Shantel Stennett '19 '20 advised students in the audience to take advantage of the resources available at UWG.
"You want to be on a first-name basis with your professors," she said. "Ensure they know your face and your name because they have connections. If they can help you, they will."
As an undergraduate, Stennett also participated in an externship program with Across Healthcare, brokered by UWG Career Services. 
"Those four days opened the door for me to get my first internship opportunity," she explained. "I was able to be a quality assurance intern and work among software developers and business analysts. I was also a graduate assistant for the management department, working with Dr. Pridmore and others. Those experiences led me to be more confident."
This year's complete lineup of panelists included:
Brown is a strategist and thought leader who helps companies achieve organizational excellence. She is an international speaker and expert adviser on the future of work, change management, learning and workforce adoption, interacting with diverse global occupational cultures and industries, including many Fortune 500 companies. Most recently, she led a global team at SAP focused on transformational change of the customer experience in the cloud.
Colombo is the security and compliance officer for regulated industries at SAP. She holds a master's degree in information systems with a cybersecurity concentration from Georgia State University and CISSP and CCSP certifications from ISC2. She has recently provisionally earned the CAP certification. She helps customers understand how to secure their SAP landscapes using SAP security and partner products along with their existing IT security tools while integrating into their overall enterprise environments.
Dillinger is a data analyst II for Southern Motor Carriers (SMC3) in Peachtree City, where she helps provide data-centric solutions to shippers, carriers, logistic service providers and technology providers. Dillinger graduated from UWG with a bachelor's degree in management information systems in 2017 and an MBA with a concentration in business intelligence and cybersecurity in 2018. After graduation, she was hired at Supply.com as a developer before transitioning into a data analyst role.
Mayhew graduated from UWG in December 2020. She received her bachelor's degree in management information systems and certificate in data analytics. Since graduating, she has worked at The Home Depot as a security engineer under the strategic planning team. In addition, she recently received her security plus certification in December 2021. Mayhew is currently pursuing her graduate degree in cybersecurity.
Stennett was born and raised in Georgia. She is a proud double graduate from UWG and earned her bachelor's degree in management information systems and MBA with a concentration in business intelligence and cybersecurity. 
photography by Julia Mothersole