Howling For Hackathon: UWG Brings Back Annual Coding Competition
Share this page
Feb. 21, 2023
Reading time: 2 minutes, 2 seconds
While most people view "marathons" as competitive events filled with the scuffle of shoes and panting athletes, the word takes on a new meaning for mathematics and computing enthusiasts. The University of West Georgia's annual test of endurance – also known as the Hackathon – is surrounded by clacking keyboards and quiet murmurs of collaboration.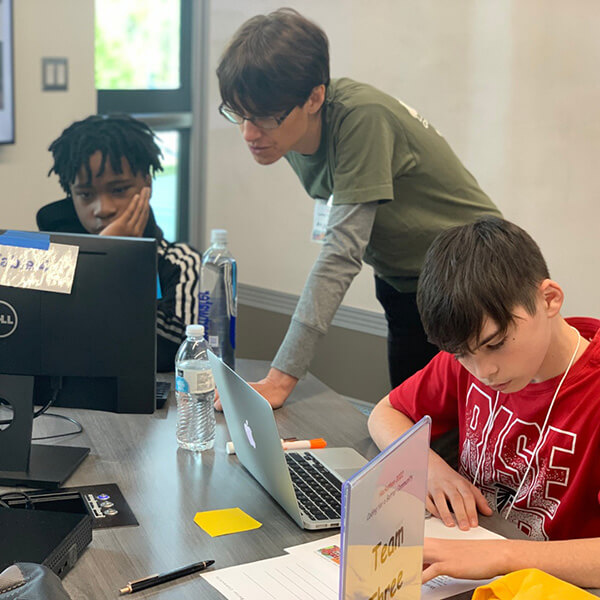 Hackathon is an event open to teens with an interest in coding and web development on Saturday, March 11, at the Biology Building on UWG's campus. At the event, participants will form groups to create applications that solve actual problems presented by individuals in their community.
"When everyone's in the workroom, working away, you can just feel the energy," said Dr. Anja Remshagen, professor of computer science. "It's amazing how much peer mentoring is going on. You have some students who are familiar with coding and some who are completely new to it, so they really help each other out."
The event – open to students from the ages of 13-18 – requires no skilled experience in coding or computing and focuses on creatively developing an application based on a general topic.
"UWG's Hackathon was originally designed to expose young kids in the community to computing," said Remshagen. "The nice part of the event is you develop an app, but you also get all kinds of design expertise. There are some kids who don't really want to code that can look into graphics and designing more."
The Hackathon is also made possible thanks to a local software company and sponsor, GreenCourt Technologies.
"We have a strong community of volunteers," said Remshagen. "We ask faculty from computing and education, current UWG students, and local professionals. This exposes the kids to some of the careers in the field. We also have some Georgia Youth Science and Technology Center teachers attending, so it's great to have this wide variety of mentors."
 
Despite one's expertise, Hackathon is an avenue to establish new connections on campus, step out of your comfort zone or hone your computing skills. 
"We want this to be an open event for anyone who wants to join," said Dr. Jonathan Corley, associate professor of computer science. "Don't feel like you need to be an expert. I tell new students who are nervous about it just to attend the event and see what they can get through. Have fun, try something different and enjoy your time."
For more information, registration details and a tentative schedule, visit www.westga.edu/education/hackathon/.