Aug. 5, 2022
Reading time: 2 minutes, 52 seconds
Calhoun City Schools (CCS) consistently strives to inspire all students to become lifelong learners in the pursuit of excellence. Although the needs of the workforce are ever changing, CCS recognizes that certain characteristics are constant as we develop the next generation of learners. Creativity, innovation and collaboration are three core traits that are essential to the success of an individual entering the workplace.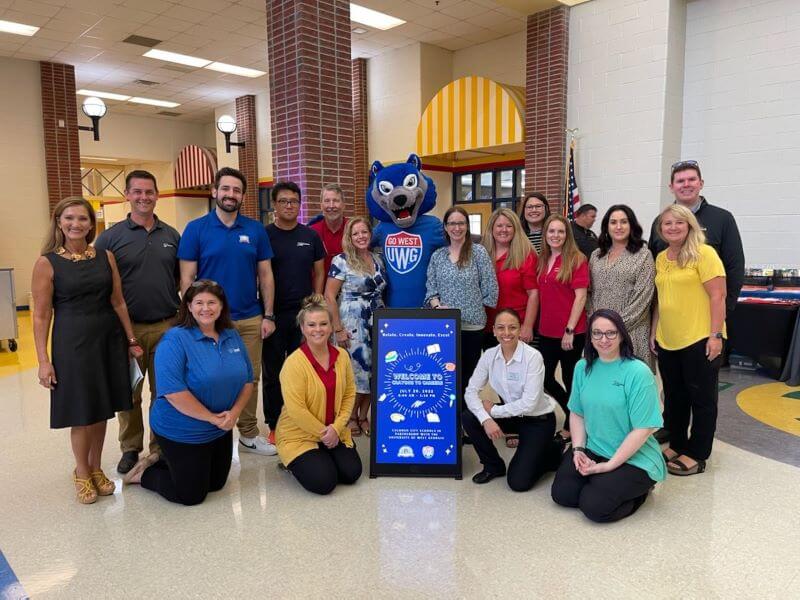 In an effort to cultivate these attributes, Calhoun City Schools has partnered with the University of West Georgia to create innovative hubs within each of their schools. These media, college and career centers are the cross section of STEM, innovation and makerspace initiatives, focused on providing an environment where learning becomes relevant through exposure to resources once unknown. 
Calhoun City Schools engaged UWG to host a launch conference in which UWG instructors led professional development mini-sessions centered around the new technologies purchased by the system. These sessions included virtual/augmented reality, makerspace, robotics and coding, game-based learning, immersive simulations, social-emotional learning, Legos, and the Mobile Innovations Lab. All CCS educators had the opportunity to engage in hands-on learning through this immersive experience. 
"The University of West Georgia is proud to partner with Calhoun City Schools to help meet their professional development and innovation needs," said Dr. Jon Preston, provost and senior vice president for Academic Affairs. "As a public comprehensive university, UWG empowers student success and meets the 21st century needs of business and community partners. Through this program, CCS students have access to the best and most innovative learning experiences available anywhere in the world."
Special guests were on-hand including: Wolfie, the UWG mascot; Dr. Mike Dishman, dean of the College of Education (COE); and the chairs of all six of UWG COE academic departments.
"Georgia's institutions maximize the state's investment in education through purposeful partnerships between P-12 and higher education," offered Dishman.  "We are honored to partner with Calhoun City School District, which is widely recognized as a well-led, innovative and effective school district. I applaud the district's 'Crayons to Careers' initiative and believe it will significantly increase the opportunity of the district's students to realize their best possible futures." 
Also in attendance were district and school-based leadership, actively participating in the learning experience.
"It is a wonderful thing when we see organizations such as UWG come to the aid of public schools in the PK-12 arena," said Dr. Michele Taylor, CCS superintendent. "STEM initiatives can be daunting. However, with the help of UWG, we are embracing these new technologies and learning how to use them in the classrooms across the district."
Students in grades PK-12 are now afforded the opportunity to engage in augmented/virtual reality experiences, participate in the design process and expand their horizons through creative discovery.
In addition to their support with STEM initiatives, UWG has also engaged CCS in the support of teaching as a profession and early childhood education pathways. They plan to provide training in the development of social and emotional learning kits in addition to providing immersive learning opportunities for students in these pathways as we grow the next generation of learners.
Professional development will continue to be provided to all instructional staff in order to support the use of these new technologies throughout the school and across all disciplines. It is the system's belief that to inspire the next generation of learners, students must be moved from crayons to careers with the tools necessary to excel beyond the graduation line.