UWG Takes Over 'The Academic Minute': Professor Speaks on Successful Second Year Experiences for African American Students
Share this page
Dec. 18, 2020
Reading time: 2 minutes, 21 seconds
The first year of college is a time for transition: new academic strategies, new friends and possibly entirely new living arrangements. Research abounds on this topic. But just as crucial is the second year of higher education. 
"Research on students' experiences of their second year on campus has focused on broad concerns, such as declines in academic performance, uncertainty regarding majors and finding purpose," observed Dr. Dena Kniess, associate professor of higher education administration and college student affairs in the University of West Georgia's College of Education. "Limited attention has been given to the second-year experience for underrepresented student populations, specifically African American students."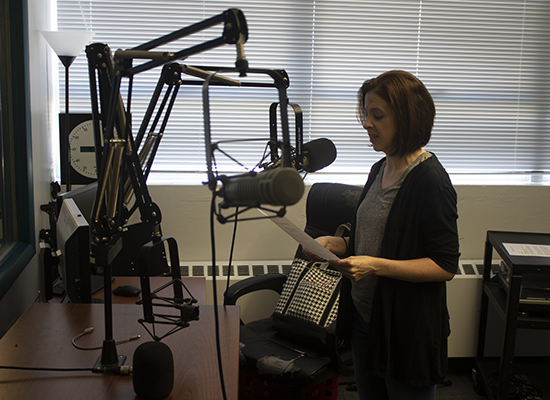 Kniess presented her research to a broad audience earlier today as part of a segment on "The Academic Minute," a collaborative program from WAMC public radio in Albany, New York, and the Association of American Colleges & Universities. "The Academic Minute" is a daily module featuring researchers from colleges and universities around the world, keeping listeners abreast of what's new and exciting in the academy.
Five faculty members from UWG are "taking over" the program this week. To listen to Kniess' segment, visit the program's website.
Kniess was inspired to conduct this research based on her own experience as a first-generation college student trying to navigate the first and second years of college, which she referred to as challenging in terms of college major decisions and identified as a theme in the second-year experience.
"I wanted to focus on the second year of college for underrepresented college students, specifically with regard to race and ethnicity, as prior studies have focused on a predominantly white student population," she explained. "Theories on college student retention have focused on students' ability to integrate into the values and norms of the college environment. For underrepresented college students on predominantly White institutions (PWI), integrating oneself into the college environment implies shedding or leaving behind one's racial and/or ethnic identity to successfully move through college."
For this case study, Kniess identified African American students in their second year of college using Yosso's Community of Cultural Wealth model from 2005. This model examines six forms of cultural capital: aspirational, linguistic, familial, social, navigational and resistant. Overall, students described their second year more positively than their first. 
"Students indicated the importance of peer networks, specifically African American peers, in providing the social capital and peer support to navigate a PWI. Peer mentoring networks and living-learning communities designed for African American students were identified as avenues providing crucial social support as they weighed whether or not to return to this PWI."
Kniess said her future research will follow a similar – but broader – path.
"One of my research interests is college student access as a whole," she concluded. "My future research will still involve success for underrepresented students and campus climate, but it will not focus specifically on the second year."