High-Achieving High-Schoolers Seek New Academic Challenges During Inaugural Georgia Scholars Institute
Aug. 4, 2022
Reading time: 1 minute, 30 seconds
This summer marked the inaugural Georgia Scholars Institute (GSI) at the University of West Georgia, where high-achieving high school students not only completed college courses at UWG but got a sneak peek of the full college experience.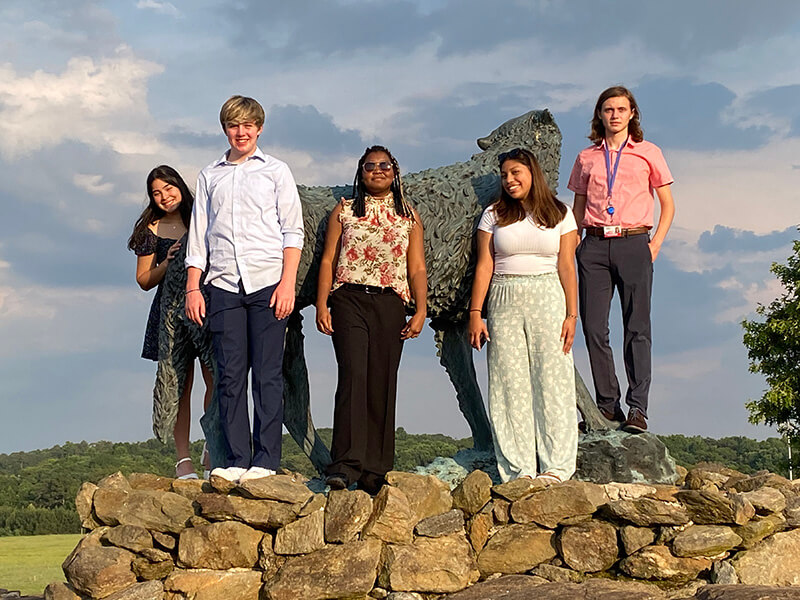 "The students were allowed to choose from a slate of classes early in the application process, and we narrowed our offerings based on their interests," said Dr. Janet Donohoe, dean of UWG's Honors College and professor of philosophy. "The aim of the program was to give students a sense of what it's like to be a residential college student. All students lived in The Oaks residence hall and ate at East Commons, as well as engaged in extracurricular activities and built connections with like-minded students."
This year seven students participated in GSI and took PHIL 2030, introduction to ethics, and FILM 2080, introduction to art and film. The program aims to grow significantly in future years.
"This is a fantastic opportunity for high-achieving students to connect with their like-minded peers, engage in academically rigorous courses for which they receive honors college and dual-enrollment credits, and get to know faculty and staff at UWG," expressed Donohoe. "Being able to have a taste of college life helps students envision themselves as college students, takes some of the mystery away and exposes them to lots of different areas of academic interest beyond the courses they're taking."
Outside of their coursework, students got to explore campus, network with UWG faculty, and engage in activities across campus, including sand volleyball in Greek Village, an anthropology and archaeology adventure, and hiking at Sweetwater Creek.
High school students interested in taking part in next year's Georgia Scholars Institute can find more information and apply online. Applications for summer 2023 will open in early September and close April 15, 2023.