Meaningful Impact: Newnan Kiwanis Club Continues Endowed Scholarship with UWG
Share this page
Jan. 5, 2023
Reading time: 2 minutes, 25 seconds
The University of West Georgia puts positioning students for success first, and thanks to help from community partners, the university is able to enhance its efforts to produce positive outcomes for them. The Newnan Kiwanis Club Scholarship continues to be a prime example of how partnerships can make substantial, lasting impacts in students' lives – key missions for both the club and the university.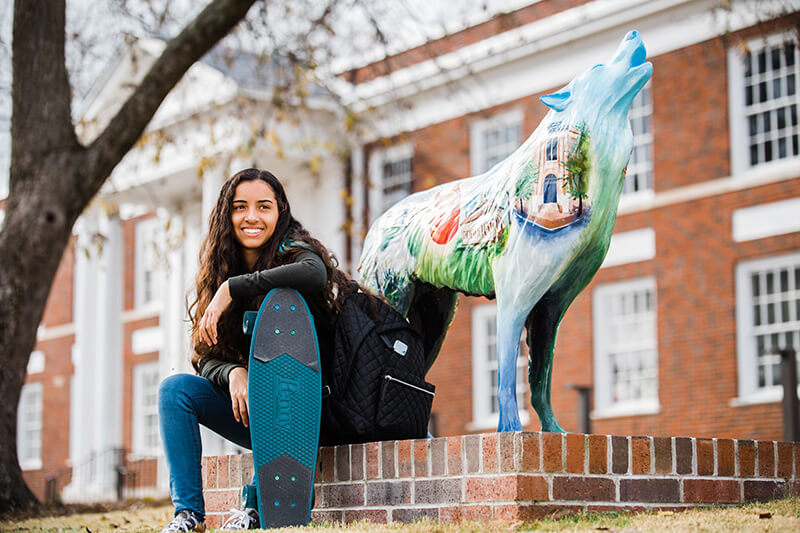 Founded in 1925, the Newnan Kiwanis Club has supported UWG Newnan since classes began there in 1988 with more than $80,000 in historical giving. The impact of their support is far-reaching, from a student scholarship to improvements of the UWG Newnan facility and support of SPARK, a youth intervention program in UWG's College of Education.
As chairman of the Newnan Kiwanis finance committee and a Kiwanian since 1983, Mike Barber said supporting students at UWG Newnan was a natural choice.
"We felt that since one of our focuses in our club is on local youth, a scholarship would be the perfect fit," Barber said. "Through the years, we've contributed funds to that scholarship, and it's to the point where now it's built up to a fairly significant amount."
The scholarship is awarded annually to recipient(s) who are incoming freshmen or undergraduate students and are enrolled in one or more classes at UWG Newnan with a minimum GPA of 2.8 and demonstration of financial need.
Barber said making a difference in the Newnan-Coweta County community is integral to the organization's mission. 
"We try to keep our money and support for our youth in the Coweta County area, and to my knowledge, we've always been able to work through a portion of our budget as a donation to UWG in support of local education," he said. "When UWG Newnan opened and offered a greater opportunity for our young people, we certainly wanted to be a part of that, as well."
C.R. Phillips, a Kiwanian for nearly 32 years, said he is proud to play a part in impacting the lives of students. 
"After I made my way through university on the GI Bill and was able to establish myself, I learned that there was a greater good," Phillips said. "I knew I wasn't going to live forever, and I wanted to leave my fingerprints on something that would benefit society in general and my community specifically."  
Barber said supporting students who may not normally have access to higher education is fundamental to making a notable difference in society. 
"It puts the availability for a young person who without that support might not be able to take that next step," he said. "We have seen many students who we've supported in the past come back into our community and contribute to our overall quality of life. Some of them have even joined the Kiwanis club."
For more information about how you can make an impact by supporting UWG through an endowment, scholarship or annual giving, please visit UWG's Give West page.