July 6, 2023
Reading time: 1 minute, 34 seconds
Leaders from the University of West Georgia and Georgia Highlands College recently signed a partnership agreement to provide a seamless pathway for nursing students between the two institutions.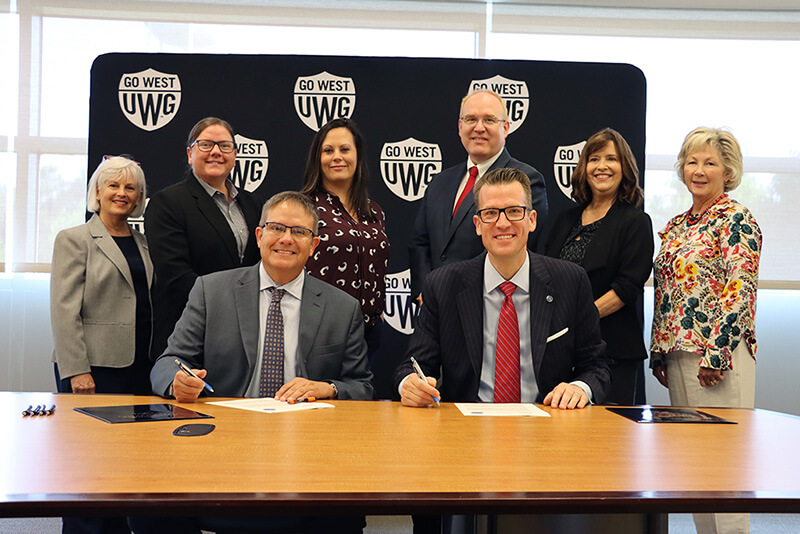 "As we endeavor to curate a first-choice university, we are proud to cultivate a community of professionals in the healthcare industry," said Dr. Brendan B. Kelly, UWG's president. "Through strategic partnerships like this, we are able to advance our students' portfolios with the opportunities they need to excel. By leveraging this mutually beneficial collaboration with Georgia Highlands College, we will enable aspiring nurses to thrive in their in-demand careers and make meaningful contributions to the healthcare system."
Through the partnership, students who complete the requirements of the Bachelor of Science in Nursing from Georgia Highlands College will benefit from a seamless transition into the Master of Science in Nursing offered at UWG's prestigious Tanner Health System School of Nursing, reducing the amount of time required for students to obtain their master's degrees. 
"The heart of our mission at GHC is to provide access to a high-quality college education from the University System of Georgia that prepares students for a career and to pursue higher college degree programs after GHC," said Dr. Mike Hobbs, president of Georgia Highlands College. "This partnership with UWG is yet another way our college jointly provides students access to high-demand careers in our region while elevating their role in the healthcare sector as they work."
As stated in the signed agreement, both institutions are dedicated to offering enhanced educational opportunities to students that complement programs at UWG and GHC. Students will have a streamlined path to enter UWG's MSN program upon graduating from GHC. Additionally, accelerated students will have the opportunity to enroll in UWG MSN courses during their final baccalaureate semester at GHC to further encourage their educational journey. 
To learn more about the partnering institutions, visit their websites at www.westga.edu and www.highlands.edu.