Honor, Integrity and Respect: UWG Graduates Inaugural Class of Law Enforcement Cadets
Share this page
Aug. 23, 2023
Reading time: 3 minutes, 51 seconds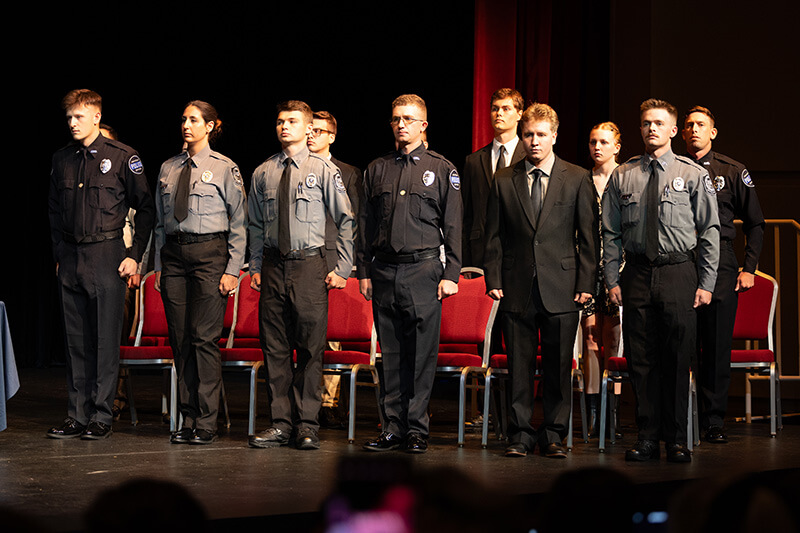 A first-of-its-kind police academy led by the University of West Georgia's University College in partnership with the Georgia Public Safety Training Center (GPSTC) honored its first cohort recently, as 13 graduates celebrated completion of the program in a ceremony at UWG's Townsend Center of the Performing Arts.
Members of the inaugural Academic Law Enforcement Training Exchange (ALETE) class included UWG students and cadets from the Villa Rica Police Department, the Carrollton Police Department and the Coweta County Sheriff's Office. Upon completion, participants are deemed Peace Officer Standards and Training (POST) certified officers, which is the basic qualification for anyone seeking to work in the field.
"One of the things we are asked to do as public universities is fill talent pipelines that are going to contribute to society and effect positive change by filling the needs that so many law enforcement agencies have," said UWG President Dr. Brendan Kelly, whose son Liam was among the graduates. "From my vantage point, we are supposed to make great contributions to the state, and I believe this program is representative of the University of West Georgia doing that in the best way possible."
The journey for the cohort began 12 weeks ago, with student cadets enduring physical training, classroom instruction, simulations and practice sessions – all with the goal of preparing them to be the best. The class triumphed over many obstacles, including passing rigorous Georgia law exams and successfully achieving a 100% pass rate in Emergency Vehicles Operator's Course and firearms.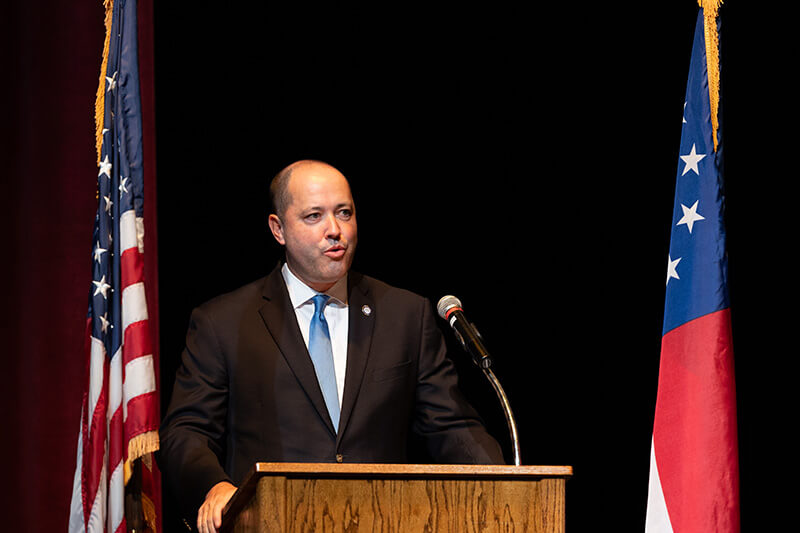 Class President Thomas Kennedy of the Carrollton Police Department acknowledged the hard-working members of the law enforcement community, of which his fellow classmates were now included.
"Being able to overcome, adapt and push forward has been the foundation of this class," he said. "Our citizens deserve nothing less. We've been given the tools to be successful, and many of the people sitting with us today have laid that foundation. It's our job to uphold that. Let's make them proud."
Georgia Attorney General Chris Carr delivered the keynote address during the ceremony. He spoke of the vital importance of public safety professionals and touted recent achievements, such as the creation of a human trafficking prosecution unit, which rescued and assisted more than 100 victims last year and has already obtained 26 convictions in 2023 alone; a gang prosecution unit, which indicted 85 alleged members over the past year; and preliminary grant awards totaling more than $83.5 million to improve community-level public safety measures and address staffing challenges, of which UWG recently received $1.05 million.
"The only way to defend our communities and the most vulnerable people in society is if there are people like you willing to serve," Carr said to the class. "Law enforcement across the state are actively recruiting and looking to add to their ranks. The knowledge and skills that you have obtained through this course will put you in high demand as you take the next step in your career. It's through initiatives and programs like ALETE that we work to ensure you and all our men and women in uniform are fully equipped to do your jobs safely and effectively."
In an earlier interview, UWG criminology professor Dr. Dave Ayers, who brokered the discussions between the university and GPSTC, explained how the program is a win-win situation for both employees and employers.
"If working in law enforcement is your goal, ALETE puts you far ahead of the rest of the population trying to begin their career," he explained. "Otherwise, you have to space the curriculum out over a four-year time period while you're obtaining a degree. Also, if prospective officers come into an agency with a certification and a degree, they can receive $5,000 sign-on bonuses and then get up to an 8 percent increase in base pay over someone who doesn't have those credentials."
Preston Marlowe – an ALETE cadet who also received his bachelor's degree in criminology during UWG's recent Summer Commencement ceremonies – said he chose to focus on law enforcement when a close friend was killed in 2021. He said the program is entirely different from the traditional college experience.
"There are things that you learn that cannot be taught in a classroom," he concluded. "The ALETE program put me in a great position when I graduated because now I have both a college degree and POST certification. Also being pre-service – not signed on with an agency – I was able to pay for the program with my scholarships and student loans. I have been applying to various law enforcement agencies since graduation, and I plan on putting myself in a position to prevent others from being victimized as much as I can."
photography by Brian Carmichael