'Special Relationships': UWG Alum Renovates Computing Center in Honor of Retired Professor and Mentor
Share this page
Jan. 3, 2023
Reading time: 3 minutes, 25 seconds
Thanks to the generosity of a successful alumnus, the University of West Georgia recently cut the ribbon on a new space that will enhance the educational experience of computing students and provide them with a place to hone their skills and connect with one another.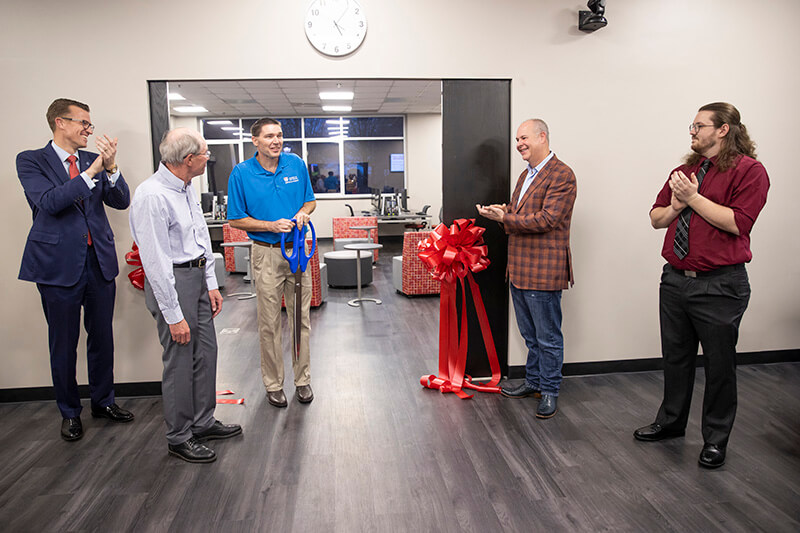 The Mitchell H. Clifton Computing Center – named by UWG alumnus Rusty West '88 in honor of his faculty mentor and professor emeritus Mitchell Clifton – opened in the Technology-enhanced Learning Center (TLC) in Fall 2022 with a modernized design and improved technological capabilities to provide students in the College of Arts, Culture and Scientific Inquiry with a first-choice university experience.
"The impact Mr. Clifton had on me was in teaching me to believe in myself and that I was capable of anything I set my mind to," said West. "I have been fortunate in my career, in large part because of the foundation I found at UWG, to work with some incredibly smart and talented people to solve big problems. That's why I wanted to come back and do something to help create a space where the faculty members of today can impact students' lives like Mr. Clifton impacted mine."
West graduated from UWG with degrees in mathematics, computer science and physics and went on to co-found Market Scan – an automotive leasing technology company – with his father the same year he graduated.
Market Scan's first product, Lease Prophet, became an overnight success and set a new standard in automotive leasing using electronic calculation technologies. Since the early days of Market Scan, West has led the firm to become a leading SAS Enterprise Solutions authority in the industry by combining science, technology and data. Today, Market Scan provides analytics, software, and technology solutions to thousands of dealerships and technology companies involved in automotive commerce.

"We are fortunate to have alumni like Rusty West, who came back to his alma mater to make a significant investment in the development of our students in honor of a faculty member who was a difference-maker for him," said Dr. Brendan Kelly, UWG's president. "This center will advance our ability to launch students' careers in the high-demand industry of computing upon graduation – if not before. It takes individuals like Mitchell Clifton to connect with individuals like Rusty West to make magic like this beautiful space happen."
The new space has been outfitted with industry-standard computers, flexible seating and an aesthetically pleasing design to encourage greater collaboration and connectivity among its users. One such user is Garrett Brenner, a junior studying computer science, who also spoke at the ribbon-cutting.
"What started as a simple classroom has transformed into a beautiful space where we can work, study and relax as peers," Brenner said. "On behalf of all students in the Department of Computing and Mathematics, we are grateful for Mr. West's generosity to help us advance our education at UWG."
Dr. Pauline Gagnon, dean of the College of Arts, Culture and Scientific Inquiry, said the new space embodies the "special relationships" students find with faculty mentors at UWG.
"The story of Rusty and Mitch is the epitome of what we accomplish at our university," Gagnon said. "Today, we celebrate student success in a holistic sense and in all its forms: when they're enrolled with us like Garrett, when they move on and up like Rusty, and when they come back to honor the special relationships they have with faculty mentors like Mitch."
Following remarks and a prosecco toast in one half of the Clifton Computing Center, the ribbon was cut to reveal the second half by Clifton and Dr. Duane Yoder, chair of UWG's Department of Computing and Mathematics.
"We are so grateful for Rusty's generous support to renovate and modernize this space," said Dr. Meredith Brunen, UWG's vice president for university advancement and the CEO of UWG's foundations. "Because of his commitment to benefit his alma mater, we are better positioned to serve students with a relevant educational experience that will help launch their careers in constantly evolving industries like computing."
For more information about how you can support UWG students through a naming, endowment or scholarship, please visit the UWG Give West webpage.
photography by Julia Mothersole