Key to Success: UWG Alumna Builds Prosperous Medical Practice, Employs Numerous Fellow Alumni
Share this page
Aug. 9. 2021
Reading time: 2 minutes, 45 seconds
Dr. Allison Key '02 – University of West Georgia alumna, philanthropist, doctor and owner of 3:16 Family Medicine – is a Wolf through and through. And by funding a scholarship and hiring several alumni, Key is making a continuing, positive impact on the UWG community.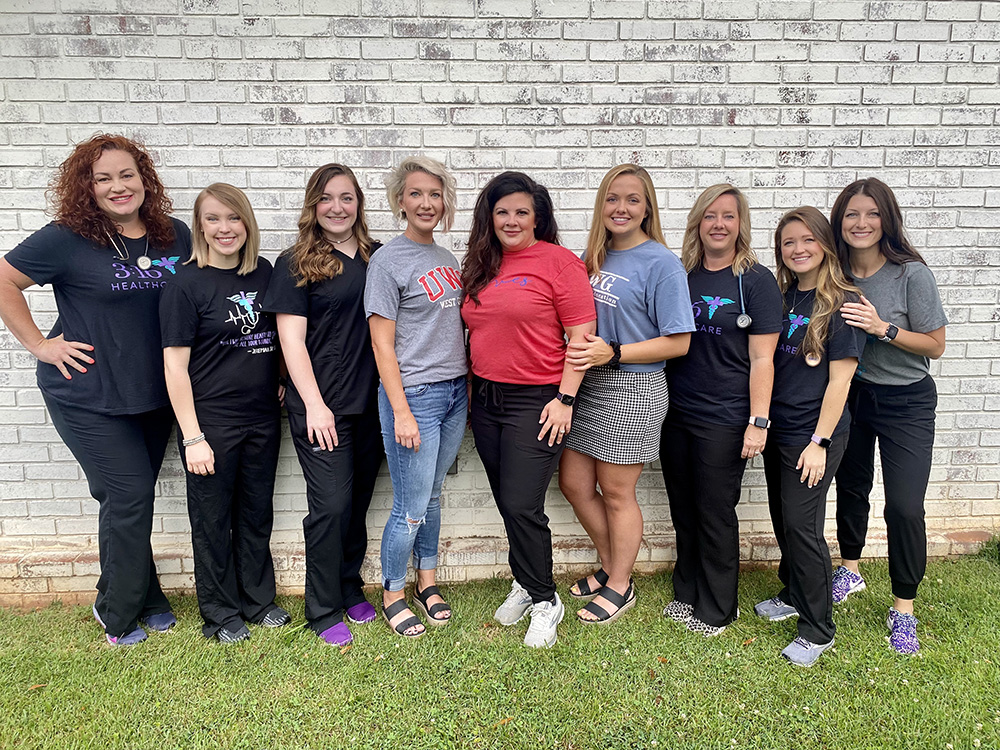 Key began taking classes at UWG during her junior year at Bremen High School. By age 20, she had completed her bachelor's degree in chemistry and went directly to medical school at Mercer University, where she became the youngest student to ever enter the program.
With many opportunities available to her along the way, like scholarships to Duke and Shorter universities, Key said the decision to stay West after graduating high school was an easy one. 
"I knew I wanted to be a doctor and knew that was going to be a long road, but I'm the type of person who thinks, 'If I'm gonna do it, let's do it yesterday,'" Key said. "UWG had the highest medical school acceptance rate in the state through their pre-med program. I loved being there, so I decided to stay and finish out."
Once she completed a residency in Rome, Georgia, Key began serving Tanner Health System's Primary Care of Bremen and remained there for nine years. Then, in 2017, she opened her own practice with friend and fellow UWG alumna, Erika Smith.
"I jumped out of the plane without a parachute and opened our own practice," Key said. "We wanted to marry this concept of feel good, look good, do good. It's been fun and definitely a wild adventure."
With 3:16 up and running, Key knew she wanted to give back to UWG, and she has done so by hiring multiple alumni and making generous donations to the university through the annual 3:16 Healthcare Scholarship for nursing students in the UWG Honors College. She has also contributed to various campus-wide initiatives, including UWG Athletics, the West Georgia Annual Fund and Scholarship Endowments. In addition, Key has served as a member of the UWG Alumni Association board of directors since 2019.
Over time, 3:16 has grown – and quickly. Spa 3:16, the spa service portion of the business, is now in the historic Hamilton House in Bremen, and Key has opened both a 3:16 family medical practice and spa in Carrollton. Including Key, there are now nine UWG alumni working throughout the 3:16 enterprise.
Key said her time at UWG was absolutely instrumental to her success. 
"The relationship within departments and with instructors was critical in the success I had going forward," she said. "One big difference-maker for me was the class size. Almost all of my classes were small enough where the professors knew my name and who I was. Feeling you had access to those instructors and professors was important."
Key said any student considering a career in the medical field should consider UWG first. 
"I have full confidence that any pre-med student or healthcare student who attends UWG will get an education, training and foundation that will prepare them for the healthcare world that we live in today," Key said.
For more information about how you can make an impact by supporting UWG through an endowment, scholarship or annual giving, please visit the UWG Give West page. To learn more about UWG's chemistry program, visit www.westga.edu/chemistry.