Power Chord: UWG Music Alumni Perform at NYC's Carnegie Hall
Share this page
July 6, 2022
Reading time: 2 minute, 33 seconds
The University of West Georgia's Dr. Kevin Hibbard has performed at the legendary Carnegie Hall on multiple occasions, but June 30 was the first time the professor emeritus of music has conducted on that historic stage – and he did so by leading a chorus that included 16 UWG alumni.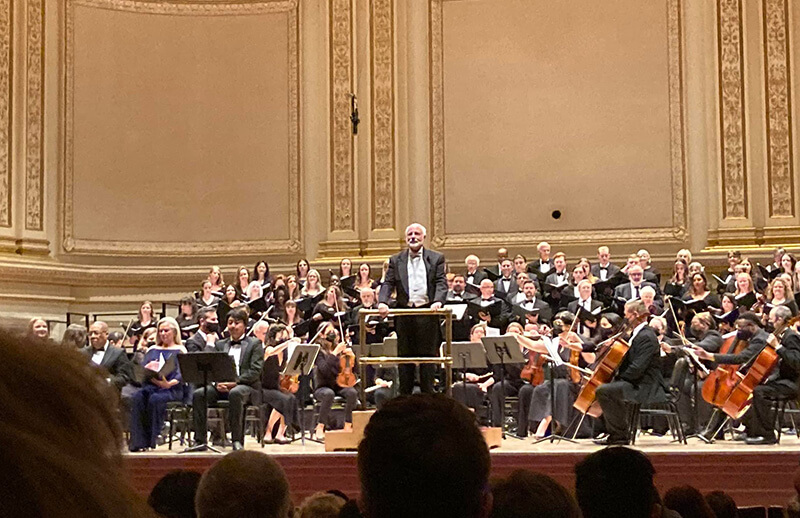 "Carnegie Hall is a legendary place," he said. "The list of people who have performed there since it opened in 1891 is staggering, including Tchaikovsky, Billie Holiday and The Beatles. I get star-struck thinking about it. I was fortunate to sing twice at Carnegie Hall with the Atlanta Symphony Orchestra Chamber Chorus with the Orchestra of St. Luke's under the baton of Robert Shaw. I always say it's less nerve-racking to conduct than to sing because I have my back to the audience."
Like most COVID-era events, this performance has been in the works since 2020. Hibbard received an invitation from MidAmerica Productions (MAP) to be a guest conductor at one of its concerts in Spring 2021. With so many unknowns surrounding the pandemic, the 2021 season was canceled and Hibbard accepted MAP's invitation for 2022.
Rounding up singers was no challenge for Hibbard, who directs the second-oldest community chorus in the Atlanta area, Collegium Vocale (CV). He started by inviting current UWG choral students, CV members, and more than 200 select UWG alumni from across Hibbard's 32 years as UWG's director of choirs.
"I also sent invitations to community choruses in Georgia and select high school choral programs," he explained. "There wouldn't be any tryouts, so I invited only directors I could trust to prepare their singers and send their best and to alumni who had excelled as student singers and had the wherewithal to prepare the music on their own."
Ultimately, the Carnegie group included 85 singers – students from Central High School in Carrollton, CV, the choir of Northwest Presbyterian Church in Atlanta, a choral alumni group from Kutztown University, and 16 UWG alumni. They were accompanied by the New England Symphonic Ensemble and several soloists.
One UWG choral alumnus was Julie Glommen Groom '92, who has a long history with Hibbard.
"I sang all four years of my collegiate experience under his direction," Groom shared. "We were the first class to perform for the official opening of the Townsend Center for the Performing Arts, and we toured Europe, singing all over Austria and Hungary. I owe so much to him and all he taught me."
After earning her degree in music performance, Groom spent 25 years in music ministry. Today, she owns and operates Bella G Studio, where she offers piano and voice instruction along with beginner guitar and ukulele lessons. 
Groom travels annually to New York City, most recently having participated in the National Association of Teachers of Singing in its winter workshop at the Manhattan School of Music. But she never performed at Carnegie Hall, and it meant everything to her. 
"I've attended many Broadway shows and have always dreamed of performing at one of the most prestigious venues in the world," Groom concluded. "To stand where some of the greatest musicians stood was humbling."