Pushing Boundaries: UWG Nursing Alumnus Thrives as RN, Educator
Share this page
Dec. 12, 2019
Reading time: 3 minutes, 37 seconds
When Raequon Jones graduated from the University of West Georgia's Tanner Health System School of Nursing (THSSON) in 2017, he had plans to work in Emory's Nurse Residency Program, focusing on the intensive and coronary care units.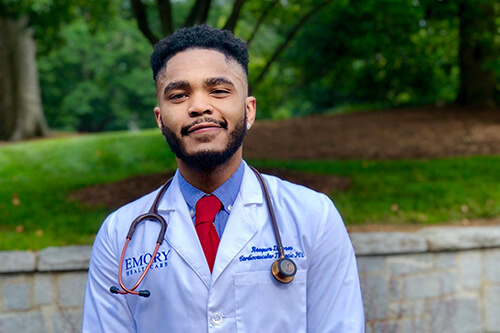 In two short years, the Fairburn native who Went West thanks to an academic scholarship has done just that – and accomplished so much more.
Jones was recently recognized by the UWG Alumni Association's Thriving Under 30 program. Recognizing young alumni who are under the age of 30 and are making an impact in their career industry, the program also highlights alumni who exhibit a dedication to UWG and represent the university well.
"As an alum, Raequon has represented UWG's Tanner Health System School of Nursing well," said Amy Farmer, associate professor and director of the school's bachelor's degree in nursing program. "He has been positive, supportive and inspirational to students and faculty alike. He respects his roots while reaching for the stars."
Since his graduation from UWG, Jones has been working at Emory in Atlanta as a registered nurse in the cardiovascular thoracic surgical ICU. In addition to conducting research for Emory, he also holds an educator role with the new graduate nursing program.
"My primary focus is providing care for open-heart surgery patients and post-cardiac surgeries," Jones explained. "This includes complex surgeries, such as heart and lung transplants, to more routine surgeries like coronary artery bypass grafts."
Aside from the clinical aspect his job requires, Jones educates newly graduated RNs, while also traveling to different institutions such as Mercer University to educate students about being an RN.
Crediting UWG's THSSON with providing him the fundamentals to become a nurse, Jones says patient communication, holistic health education, and an emphasis on patient safety and the importance of researching evidence-based practice are the most valuable aspects he obtained during his time at UWG.
"As I transitioned to Emory, I learned more specialized CVICU skills, but I credit my excellent core fundamentals and willingness to learn more to UWG's THSSON," Jones added.
In his research role, Jones, while he was a residency graduate at Emory, provided research on the importance of chlorhexidine (an antiseptic) preventing healthcare-acquired infections (HAI) and won first place in the New Graduate Research Program with the help of his team.
"This achievement reminded me of the countless hours I researched nursing pioneers such as Mary Seacole and Florence Nightingale while at UWG," Jones continued.  "To this day, I attend nursing conferences educating peers about the importance of preventing HAIs."
Dr. Jenny Schuesser, dean of the THSSON, says that Jones has been a loyal and supportive alum to UWG since his graduation.
"[Jones] was an outstanding student during his tenure here," she added. "We look forward to seeing the many ways he will continue to contribute to the profession in the years to come."
Jones feels that receiving this recognition is not a singular object of achievement for him. Upon his graduation from UWG, he was the only African American male in his cohort.
"I hope this serves as an inspiration to people who look like me – and to every other person who has dreams they wish to accomplish, regardless of race, gender, nationality or color," Jones said.
So what's next for Jones?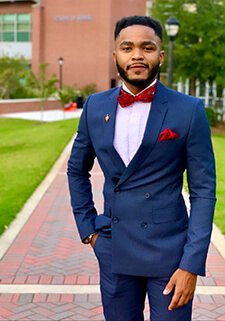 As a firm believer in "living in the future," Jones has been busy expounding his knowledge base by working at other top-tier hospitals, including Yale University and the University of Chicago Medicine.
"These experiences are pertinent to my holistic growth as an RN, but more importantly, as an advocate of human health," he explained. "Afterward, I will be attending anesthesia school while continuing to advance my volunteering services to the less fortunate. As these experiences compile, I will continue adding on to a book I am writing."
Jones believes the accolades and career advancements he has experienced stem from his dedication to a cause: treating all people with a sense of respect and always remaining thankful for the position he is currently in.
"There were times I was told to give up, times I felt like giving up and times where continuing seemed impossible," Jones concluded. "To be honest, this accolade is a byproduct of the work, not a goal. I would continue to propel forward even if these awards were not given. At sunset, when fading below the horizon, the sun teaches a valuable lesson – you don't always have to be on the scene in order to be seen."