June 22, 2023
Reading time: 3 minutes, 43 seconds
You never know when inspiration will strike and change your life. For University of West Georgia biology alumna Joanne Wasdin '19, it came in the form of a disabled gopher tortoise named Thomas. 
"When I first came to the Bear Creek Nature Center, I thought I'd be more interested in 'cute' animals, like birds," said Wasdin, who serves as BCNC's assistant naturalist. "When I started working with wildlife rehabilitation and training, I ended up finding my place with reptiles."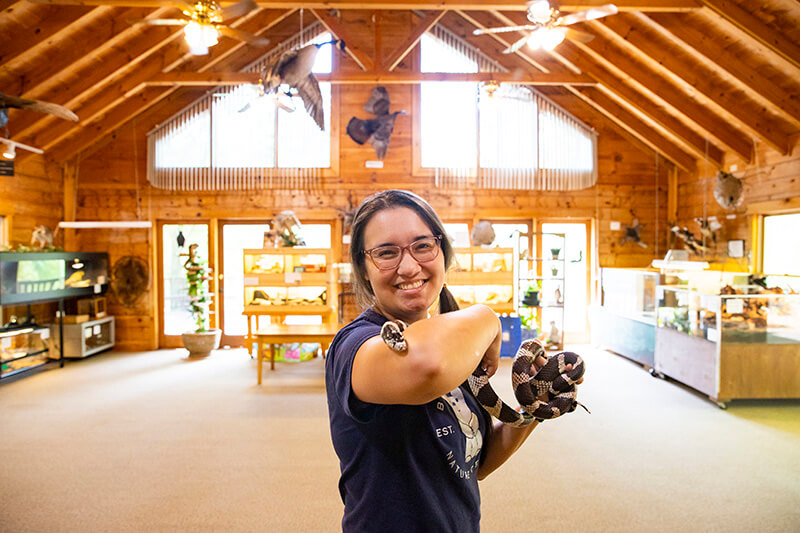 Thomas couldn't be released back into the wild, so he became an education animal. Wasdin aided in his recovery by taking him on walks. Today, thanks to Wasdin, Thomas is living his best life at the Tidelands Nature Center on Jekyll Island.
"That's what got me back in school to study biology – realizing there's a world of animals out there that are fascinating and need people to advocate for them," she shared. "I fell in love with the weird creatures. I want other people to know how wonderful the weird ones are so there will be kids who want to help them."
An Arizona native, Wasdin had recently moved to Georgia when she met Norma Lewis, current BCNC director and naturalist, through volunteering opportunities. With encouragement from Lewis and that special turtle, Wasdin became a post-traditional student at UWG. 
"I was never really great at science and math growing up, but I wanted to work with animals so I went for it," she said. "As an adult learner, one of the things I love most about UWG was its friendliness to people in different phases of their lives. Plus, many professors in the biology program specialize in wildlife and ecology. That was very exciting to me – it was affordable, nearby, and the professors were in similar fields I yearned to be in."
With no background knowledge, Wasdin looked for any opportunity regarding biology. Her first research assignment at UWG was with Dr. David Morgan, a plant biologist, which resulted in her first scientific publication. From there, she earned a position in Dr. Andrew Edelman's lab, where she participated in a project that analyzed wildlife images taken by hundreds of camera traps set up during a six-month span in Alabama. This allowed Wasdin to travel to conferences with Edelman, where she met future colleagues and leaders.
"I got to meet everyone I needed to know," she exclaimed. "After that, I just said yes to any opportunity that presented itself. Every experience was super invaluable."
Following graduation, Wasdin taught science full-time, her main occupation when BCNC opened in Spring 2020. Located at a site that housed another nature center until it closed in 2017, Wasdin was one of BCNC's founding members.
Nestled only about 20 minutes from Hartsfield-Jackson Airport in Chattahoochee Hills, the city is passionate about maintaining its rural character. Wasdin explained part of BCNC's charm is it's connected to an 800-acre city park that is one of the largest green spaces south of Atlanta – second only to the Chattahoochee Bend and Sweetwater Creek state parks.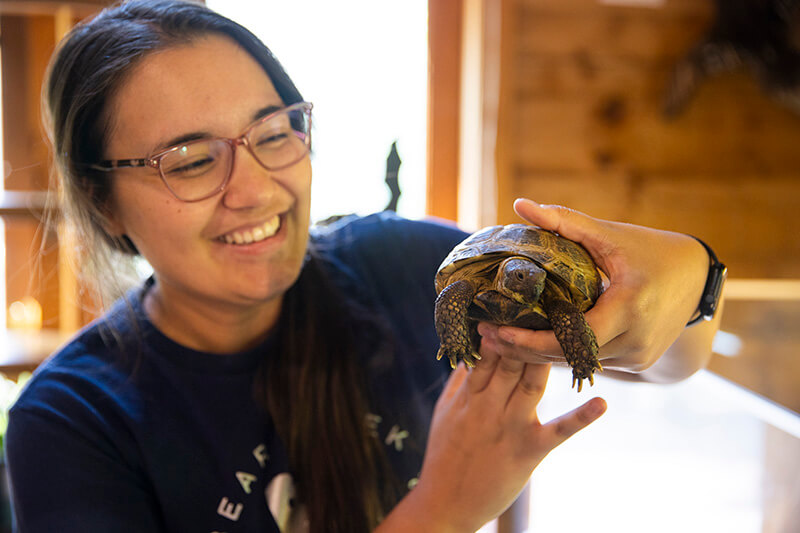 As assistant naturalist, Wasdin is in charge of education and outreach. Some of her community visits include UWG's Wildlife Club, where she introduces students to her line of work – including accompanying animals – and maintains connections with experts in the field.
"That's one of my favorite aspects of my job," Wasdin informed. "With community development, I work with people, both young and old. I've allowed them to touch snakes and experience wildlife up close. I love getting other people excited about nature."
Wasdin said BCNC is moving forward fast. In the last year, the number of visitors has skyrocketed from zero to 2,000, and the center has hosted more than 50 programs and three festivals. BCNC is expanding, thanks to a grant from Fulton County that allows them to increase the quality of life for some animals and hire more employees. 
For those who are interested in working with wildlife, Wasdin said there are many pathways.
"You never know where you'll go, especially in the field of wildlife," she concluded. "You could be curating in a museum or have an educational role, like me. You could do environmental policy or law. Some companies even want a STEM or science advocate because they want to be environmentally conscious. We need people who can translate what is actually making an impact. You don't have to be a professor or skilled scientist to be part of the narrative."
photography by Julia Mothersole