Guardian Angel: UWG Alumna Establishes Scholarship for Graduates
Share this page
July 18, 2023
Reading time: 1 minute, 39 seconds
An alumna of the University of West Georgia and staff member at Ingram Library is continuing her service to her alma mater by establishing the Wolf Grad Guardian Scholarship.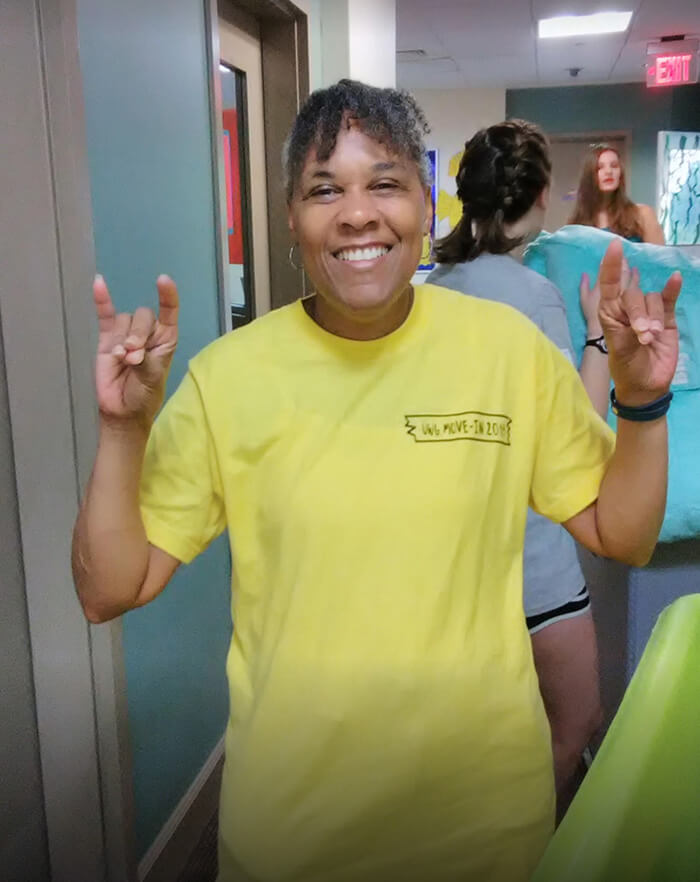 This scholarship, established by Julie Dobbs '06, will support graduating seniors to cover the cost of graduation fees and regalia with hopes to further expand the scholarship in years to come.
"When I graduated from UWG, I began to see this need because many students I worked with could not afford their academic regalia to wear during Commencement," explained Dobbs. "Once I started volunteering to help with graduation, I decided that I would cover the cost of regalia out-of-pocket for at least one student every semester, and that has continued since 2006. I am excited to establish a more formalized means of helping with this endowment." 
Walking across the graduation stage and receiving a diploma is a once-in-a-lifetime opportunity for most students. Dobbs emphasizes that the act of walking across the graduation stage holds immense significance to all students who participate. 
"Graduating is extremely important because it can open up so many wonderful opportunities," said Dobbs. "Every graduate should have the ability to fully celebrate their work and determination by participating in the graduation ceremony."
A volunteer at heart, Dobbs has served in many capacities on campus since her own graduation, including assisting at the Antonio J. Waring Jr. Lab, volunteering at nearly every UWG graduation since 2006, and helping new students move in for the past decade.
"I would volunteer anywhere on campus if it benefits our students," explained Dobbs. "Whenever a call goes out on campus for volunteers, I try to be part of this effort and show how much I care about this university and our students."
Dobbs will continue her Commencement service this Saturday during the Summer 2023 ceremonies, during which more than 700 Wolves will earn their degrees.
For more information about how you can make an impact by supporting UWG through an endowment, scholarship or annual giving, please visit UWG's Give West page.