Honor Role: UWG Education Alumna Named Outstanding Georgia Citizen
Share this page
April 25, 2023
Reading time: 3 minutes, 31 seconds
While awards are typically given to individuals, a true humble servant knows it takes a village to achieve the outcomes those awards reflect. Few professions exemplify this spirit like educators do, and University of West Georgia alumna Samantha Fuhrey '00 is no exception.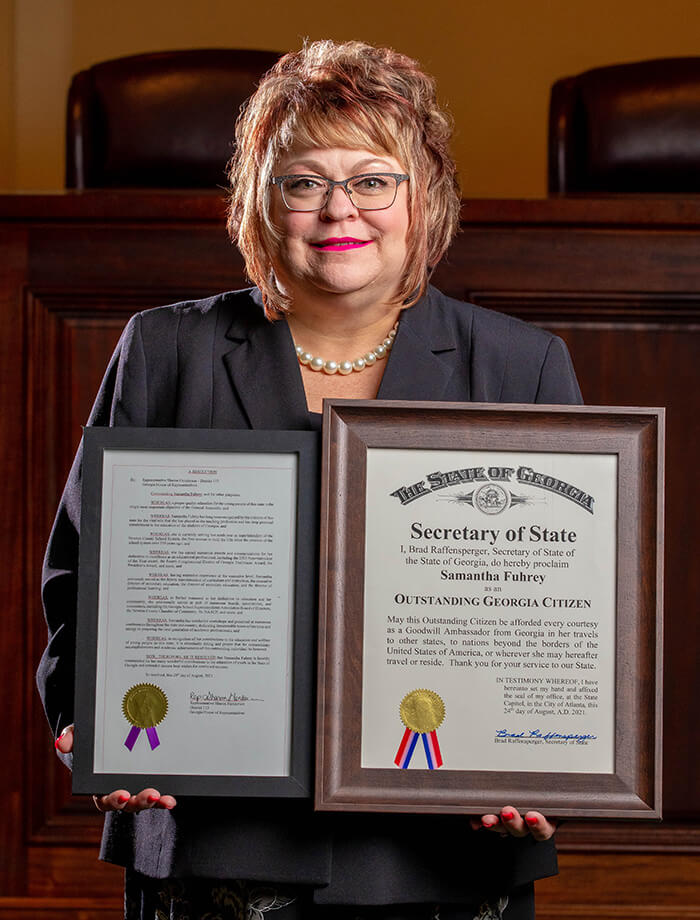 The Newton County School System superintendent – who happens to be the first female lead in the district's 150 year history – was recently presented with the Outstanding Georgia Citizen award by State Representative Sharon Henderson.
"I was honored and humbled that she saw me as someone worthy of this recognition," Fuhrey expressed. "She recognized the hard work my team and I conducted over the course of the last several years and through the pandemic: the shifting and changing that needed to take place and the continuity of services, not only educationally but also to ensure our families were accommodated as far as nutrition and resources. She observed this work and said she was impressed we had undertaken it and responded to the need in a way that benefited our community."
Serving on a myriad of committee boards, Fuhrey believes it's important to stay engaged to keep all partners informed about what's happening in the school system. This is one area she feels makes her community unique: working together to move forward for the common good. Through these connections, Fuhrey hears from business and industry leaders about what's working and not working for them, and together they strategize on how to make these relationships stronger so the young in Newton County are the first choice, whether they're going to college or entering the workforce after graduating high school.
"My role as an outstanding citizen is to do what I can to protect public education and ensure our students are equipped to participate in a diverse, changing world, ready to participate as contributing members of their communities, state, nation and world," she explained. "It's my role to carry the message that public education is incredibly important. In its absence, our country would struggle."
The lessons Fuhrey learned as a student in the UWG College of Education's educational leadership and administration master's program provided a solid foundation for the principles behind public education and advocacy for children and families. While enrolled, Fuhrey was encouraged to be creative and think outside the box and challenged to anticipate the different opportunities she would experience throughout her career.
"My professors made sure we understood that being a leader was about serving other people, specifically students," she recalled. "They often said, 'The higher you go in the hierarchy of leadership, the more you must fade into the dark.' Someone told me recently that people don't really know what I do because I move so quietly and ask for nothing in return. That's the way I was taught at UWG, and I've lived by that creed ever since."
Fuhrey said she feels fortunate to have participated in the program and is unsure where her career would've led her in the absence of experiences at UWG.
"They equipped me with the skills and knowledge I needed," she shared. "For me, it also meant opportunity and equity. I'm a female in a predominantly male profession. In the classroom, women dominate, but in the leadership world, men do. My professors saw that even back then and were pushing me to be prepared."
In addition to receiving the Outstanding Georgia Citizen accolade, Fuhrey was named one of four finalists for state Superintendent of the Year in 2017, 2018 and 2019. In 2020, she was named Georgia's Superintendent of the Year and one of four national finalists for National Superintendent of the Year. She was also recently recognized by Congressman Hank Johnson with the Fourth Congressional District of Georgia Trailblazer Award and received the Georgia Association of Educational Leaders' 2021 Vision Award. 
Now, after three decades in the field – 10 of which occurred as Newton County School System superintendent – Fuhrey is retiring this summer. But although she may not be in the office everyday, her legacy will live on as a champion for public education.
"I've empowered my team to continue their journeys of paving the path so our students can go wherever their dreams take them," Fuhrey concluded. "That was my primary goal and will be for the rest of my career."