'A Cultural Exchange': Recent UWG Grad to Travel to Ireland as Fulbright Alternate
Share this page
June 8, 2021
Reading time: 2 minutes, 30 seconds
Tinaye Gibbons, a recent University of West Georgia graduate, will continue her study of public history and cultural heritage in one of the most storied institutions, cities, and nations in the world as an alternate in the coveted Fulbright Program's most competitive scholarship, the Ireland Study/Research grant.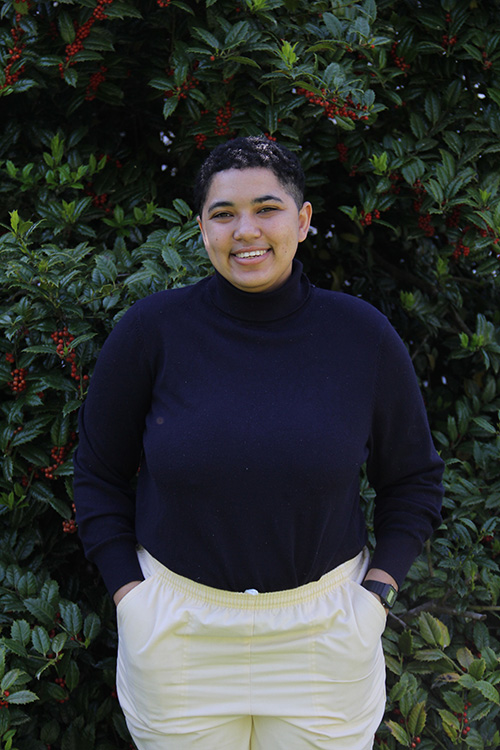 "The Fulbright program is essentially like a cultural exchange," said Gibbons, who will earn her master's degree at Trinity College in Dublin, Ireland. "You're immersed in the community while you're there, so they look for leaders who have the initiative to go to another country and start new projects."
The Fulbright program is aimed at graduating seniors and recent bachelor's degree recipients, graduate-level candidates, and young professionals, with around 1,900 grants awarded annually. 
Since its inception in 1946, the Fulbright Program has provided more than 390,000 participants — chosen for their academic merit and leadership potential — with the opportunity to exchange ideas and contribute to finding solutions to shared international concerns. Gibbons' topic focuses on the rich diversity in Dublin.
"I wanted to combine my major in history and my minor in geographic information systems to study the history and geography of LGBTQ people in Ireland, especially Dublin," she explained. "I hope to show that people of all orientations were also here and had spaces for themselves."
Traveling internationally is nothing new for Gibbons. She has traveled to multiple countries, including Greece, Switzerland, and England. Her mother is from Zambia, so Gibbons has visited there, as well, with her family. 
"In our family, my mother instilled the importance of traveling to experience other cultures," she shared. "I've never studied abroad or stayed longer than a vacation, so I think this will be different and allow me to fully immerse myself in other traditions and customs."
Gibbons, who leaves for Dublin in late August, said she received a tremendous amount of support from UWG faculty and staff. She credits history professors Drs. Stephanie Chalifoux and Ann McCleary for encouraging her to continue her education by going to graduate school.
"They were big proponents of me continuing on to grad school and really pushed for my advancement in history and academia," Gibbons recalled.
Kate Theobald, manager of UWG's Office of Undergraduate Research, assisted Gibbons in the application to Trinity. 
"Tinaye took full advantage of her academic opportunities at UWG," Theobald said. "She researched historical events in ways that were most intriguing to her and completed several undergraduate research projects that ultimately led her to Trinity. Studying at Trinity College Dublin will be life-changing for Tinaye, and I could not be more excited for her."
Gibbons also has high hopes for the future. She plans to continue to live in Ireland for two years after she gets her master's degree and hopes to find a career in museums or city planning. Plus, she wants to go even further and earn a Ph.D. in historical preservation. 
"I expect this trip to definitely challenge me – just living in a different country with its own customs and traditions," Gibbons concluded. "This will help me grow as a historian."