Coming Home: UWG's Annual Alumni Weekend Festivities Set for April 28-30
Share this page
March 9, 2023
Reading time: 2 minutes, 35 seconds
The University of West Georgia loves to celebrate its more than 73,000 alumni all over the world in an effort to enhance the sense of belonging and connectedness among the alumni community. During the upcoming Alumni Weekend (April 28-30), the UWG Alumni Association will proudly recognize some of its outstanding graduates during the 46th annual Alumni Awards.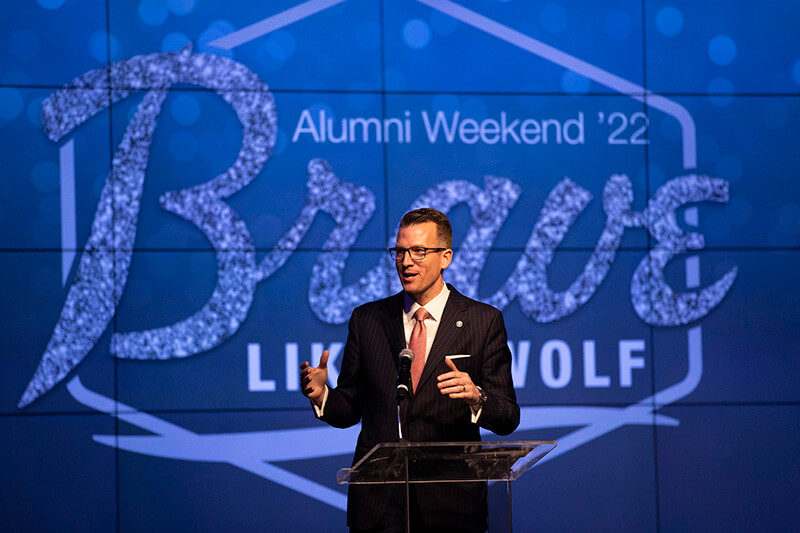 Allyson Bretch, executive director of alumni and constituent engagement for UWG, said she is excited to welcome and honor so many alumni with so many incredible accomplishments in alignment with UWG's strategic plan. 
"Alumni Weekend is an amazing opportunity to engage and network with friends – old and new," Bretch said. "We have a robust schedule of events this year, and I hope to see many alumni back on campus this spring, creating core memories with fellow alumni and friends."
Highlighting the weekend will be the Alumni Awards presentation, a program that began in 1977 that recognizes UWG alumni who have achieved marked success in their fields. The awards include Alumni Achievement Awards; the H. Franklin Pritchett Jr. Service to Humanity Award; the Honorary Alumna/Alumnus Award; the J. Owen Moore Faculty/Staff Award; the Lillian Williams Champion of Diversity Award; and the Spotlight Award.
The event will also include presentations of the coveted Thriving Under 30 awards, which recognize young alumni who have made a significant impact in their career industry while exhibiting dedication to UWG and positively representing the university. 
To kick off Alumni Weekend, UWG alumni will gather at The Amp in Carrollton on Friday, April 28, with an evening of fun that includes a concert with live music. On Saturday, the Alumni Awards Celebration Dinner will take place in the "UWG Jazz Lounge" at the Campus Center Ballroom and will feature the Alumni Awards and Thriving Under 30 presentations.
Following dinner and awards, there will be a special "Alumni Night at the Observatory." To round out the weekend of fun and comradery, the "Peach Basket Brunch" will be held Sunday morning featuring Key Farms, an alumni-owned business.
Learn more about Alumni Weekend and register here.
See below for the full list of 2023 Alumni Award winners: