40 Years, Eight Degrees, One Family: Walker Family's Connection to UWG Spans Generations
Share this page
June 8, 2022
Reading time: 3 minutes
It's because of families like the Walkers that the heritage of the University of West Georgia passes from generation to generation.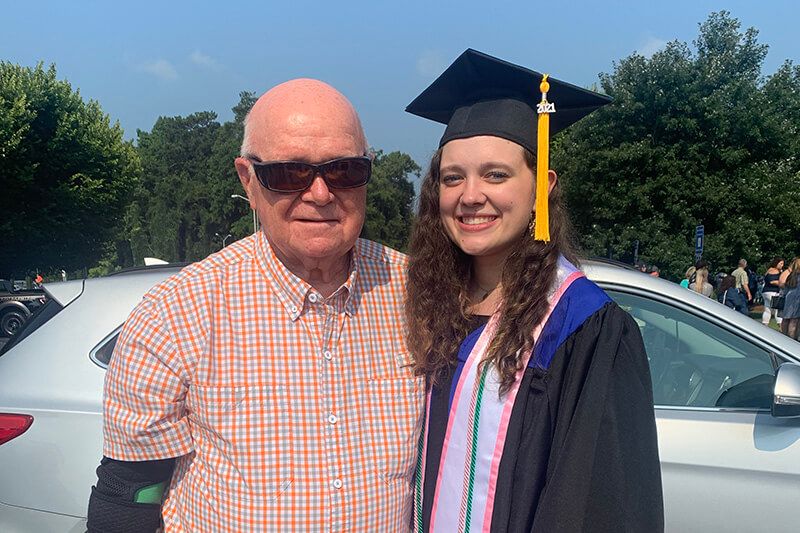 Some families bestow jewelry or fine china to future generations. Fred Walker passed down his love for UWG. One of his proudest lifetime accomplishments was being able to provide a college education for his children.
It all started when Donald Walker '89 was a high school student in 1983. His father, Fred, had seen firsthand the difference a college education could make and wanted his family to become successful through life. He knew a college education was their ticket to following their passions and worked tirelessly to have that option available for them.
"My dad graduated high school and noticed that people who went on to college were able to have opportunities he didn't have," said Donald, now a member of the UWG Alumni Association Board of Directors. "He told us he wasn't going to say where to go, but he wanted us to go to college somewhere."
In 1983, the then-West Georgia College's football team had just won the championship in Division III football and Donald was eager to join the team. In 1985, after joining the U.S. Army Reserves, Donald began his journey into higher education, with his father proudly encouraging him every step of the way. However, in 1986, Donald learned Fred had lost his job of over 23 years. To help the family cover bills, Donald volunteered to join the workforce.
"Dad looked me in the eyes and said he'd work three jobs if he needed to," Donald recalled. "He was adamant about staying in school and getting your education because no one can take that degree away from you."
Fred had been a supervisor and saw the challenges his employees faced without having a college degree to support them. He wanted nothing more than to see his family better themselves and become successful. 
It worked out for the best. Fred went on to get an even better job, and Donald graduated in 1989 with his bachelor's degree in mathematics.
After graduation, Donald's sister-in-law attended UWG to pursue her master's degree. Later, her twin daughters enrolled at UWG to earn their degrees in education. Another niece and her husband chose to Go West and earned their nursing degrees, and later Donald's daughter Danielle earned her biology degree from the university, as well.
In total, eight members of the Walker family have called UWG home and earned their degrees over the course of 40 years – all with Fred as their biggest supporter.
"My father was always encouraging everyone to check out UWG," Donald said. "He'd say 'Hey, West Georgia is right up the road. You need to go check it out. You'll fall in love with it!'"
Fred was also a major Wolves fan and loved visiting for football games and to see how the university had changed over the years.
"When I was playing football here, we still used the Carrollton High School stadium," Donald explained. "A lot of change has taken place at the university over these 40 years with a lot more great things to come."
Fred's passion for his family and his friend's families to attend UWG inspired him to continue his education. After Fred's passing, Donald found his father's handwritten resume, detailing all of the classes and tech school credits his dad had been working on.
"He said the world was changing, and he wanted to get smarter and keep up so it didn't pass him by," Donald concluded. "He inspired our whole family to continue our education and better ourselves and in turn inspired himself to do the same. He initiated a great legacy."