UWG Recognized as 'College of Distinction' for Fourth Consecutive Year
Share this page
July 28, 2020
Reading time: 3 minutes, 6 seconds
The University of West Georgia has once again been named to the Colleges of Distinction, an organization that recognizes institutions committed to individualized and engaging education. This year marks the fourth consecutive year UWG has earned the esteemed status.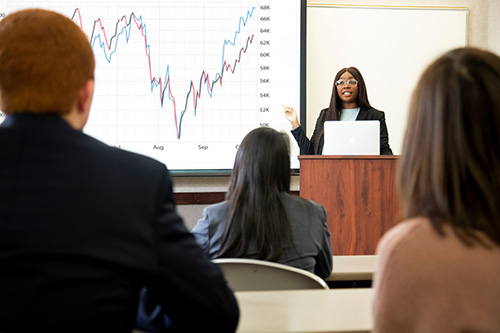 UWG's College of Education, Richards College of Business and Tanner Health System School of Nursing are each honored for the 2020-2021 academic year. UWG also was recognized for its work in career development, military support, and equity and inclusion.
"UWG is honored to be continuously recognized by Colleges of Distinction," said UWG President Dr. Brendan Kelly. "It is a testament to how hard our university community works to ensure every student is positioned for success at UWG, in their careers, and beyond."
Founded in 2000, Colleges of Distinction has advocated for schools whose undergraduate experiences are grounded in a philosophy of engagement, teaching, community, and outcomes. Schools are accepted on the basis that they adhere to the Four Distinctions: Engaged Students, Great Teaching, Vibrant Community, and Successful Outcomes. UWG is a natural fit for the recognition.
For the first time, UWG was recognized for its commitment to equity and inclusion. UWG has distinguished itself as a community dedicated to equal opportunity for all students, faculty, and staff. As an Equity & Inclusion College of Distinction, UWG understands inclusion is just as important as diversity, ensuring all students are given equal opportunity to thrive academically, personally, and professionally.
"This distinction is the result of students, staff, faculty, and administrators dedicated to making UWG a 21st-century university," said Dr. Stacy Boyd, interim chief diversity officer and associate dean of University College. "Receiving this award gives us an even stronger motivation to renew our commitment to excellence through inclusion and to provide both student and professional staff with needed support to attain ever increasing-levels of success."
UWG's support of military-connected students was also recognized for the first time this year. As the number of veterans pursuing higher education increases, so too does the demand for their personal and academic support. That is why UWG, through its Center for Adult Learners and Veterans (CALV), has been selected as a stand-out institution dedicated to helping military-connected students and veterans overcome their obstacles and achieve success.
UWG's CALV ensures that military-connected students are supported through comprehensive education benefits, a committed military and veterans affairs team, flexible options, trained faculty, and dedicated campus activities and community support.
For the second consecutive year, UWG received recognition for efforts in Career Development. Schools recognized have shown they are well-equipped to help their students graduate with confidence through comprehensive four-year plans, advising, and more. UWG offers such resources as career counseling, resume review, job and internship search support, experiential learning, and more, providing unparalleled support throughout every stage of career exploration, development, and application.
Additionally, three of UWG's academic units were recognized: the College of Education (COE), the Richards College of Business, and the Tanner Health System School of Nursing (THSSON).
In the COE, UWG is proud to graduate future educators who are not only knowledgeable, but also effective mentors who provide empathetic support and novel teaching methods.
Globalization and the intricacies of modern business operations require effective communication and apt problem-solving strategies. Programs in the Richards College of Business – including accounting and finance, economics, management, and marketing and real estate – keep future leaders adaptable as they grow alongside industry.
THSSON enables its students to take calculated action even in high-pressure situations. With four full years at UWG, these students are challenged to remain curious and compassionate throughout their rigorous practice. In the face of the COVID-19 pandemic, healthcare professionals are on the front lines, and THSSON boasts 100 percent employment rates in all its programs.
To view UWG's profile or to find more information about the innovative learning experiences it offers, visit www.collegesofdistinction.com/school/university-of-west-georgia/.