A Helping Hand: Enterprise Partnership Prepares UWG Students for the Future
Share this page
Oct. 31, 2023
Reading time: 2 minutes, 42 seconds
Graduating from college can be a daunting experience for many students as they take their first steps into their professions. With Enterprise as a dedicated partner to the University of West Georgia, Wolves can seamlessly take these steps from academic to professional careers through the Enterprise Management Internship Program.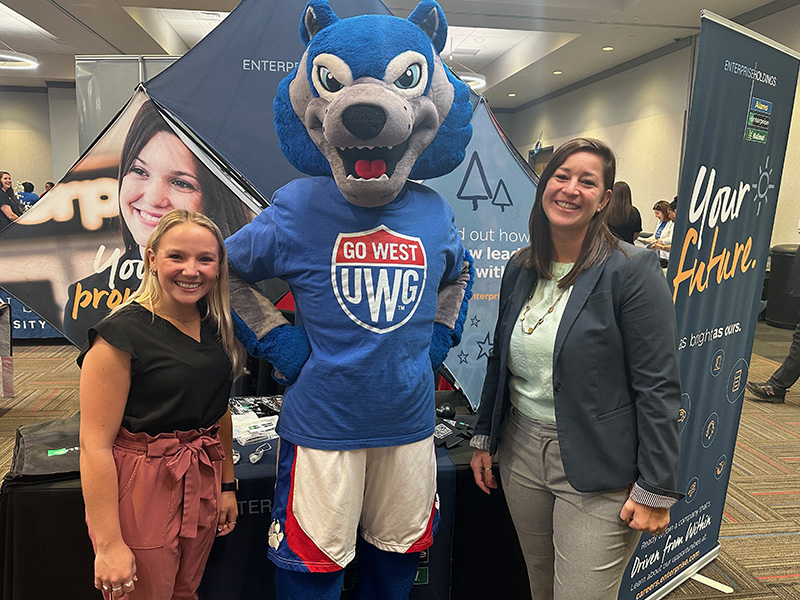 "Throughout the duration of this internship, you're going to grow and see what it is like to work in a professional environment before actually graduating," explained Enterprise Talent Acquisition Manager Ashley Clarke. "You learn a lot in school, but through experiences like this, you learn how things operate differently in the real world. This internship is an opportunity to learn what you might want to do long term, how you work, and your strengths and weaknesses – essential things to consider when looking into what you want to do for the rest of your life."
An advantageous aspect of participating in the program is the opportunity to gain work experience with a company that offers flexible hours to comply with class schedules and school obligations. 
"The Spring and Fall internships are part time, 20-25 hours a week, working around students' school schedules," explained Clarke. "We keep it close to home with many locations, making it easy whether you commute or live near campus. Our summer internships are full-time, 40 hours a week."
During a student's time with Enterprise, they learn essential skills to operate in the workplace post-graduation. 
"The program is very hands-on with training and development to understand what it takes to run your own business," said Clarke. "It revolves around customer service, sales, leadership, marketing and management. It's a holistic approach to running your own business, so students are learning the same skills as full-time management trainees but getting to learn these skills early as an intern."
The Office of Career Services urges students to take advantage of the benefits provided by the long-standing partnership with Enterprise. 
"Enterprise provides a wonderful opportunity for students to get a chance to work and gain experience for their resume and develop as leaders in their chosen career path," said Director of Career Services Dr. Dawn Tatum. "We encourage all students to seek out the best experiential learning opportunities to help them excel and give them an advantage in the job market when they graduate."
UWG has yielded great success with previous students who participated in the program while in school. 
"I began my journey with the company in May 2019," said UWG alumnus and Enterprise Branch Manager Nnamdi Onwumere '19. "Students should apply for the program because it will give them the tools they need, such as time management and organizational skills, to be a future leader. For any students who are interested in leadership and rising through the ranks of a large company like Enterprise, this opportunity was an invaluable start to my career. I learned to work on a team and understand different aspects of how their enterprise works." 
The internship not only provides these invaluable tools while in school and moving forward but also offers career opportunities directly with Enterprise after graduation. 
"Our goal with the internship is that once you come in, you love it, and we can ultimately offer you a full-time position once you graduate," said Clarke. "We're looking for our future leaders."