Professional Learning Experiences Reach New Heights at UWG
March 10, 2022
Reading time: 2 minutes, 48 seconds
Three University of West Georgia students are reaching new heights with a professional learning experience to create a three-dimensional model of a helicopter that recently landed on UWG's Carrollton campus.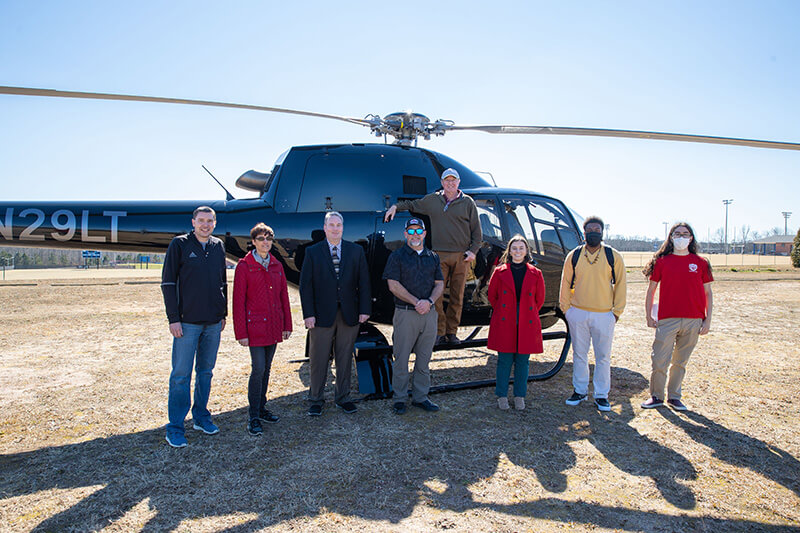 The students from UWG's programs in computer science, art and communications teamed up to design a new process to assist in the complicated maintenance of aircraft by developing an interactive 3D model that will act as a digital maintenance manual for technicians.
"This is experiential learning that combines computing, 3D art and communication in a new, compelling way," said Dr. Jon Preston, provost and senior vice president for academic affairs at UWG. "What these students bring to the project collectively is better than what they could each do independently. We're bringing the technical documents alive virtually through a 3D model on the art side and a technical process where we can hyperlink to individual parts and view the 3D model from any angle."
The aircraft maintenance industry is comprised of talented technicians and tedious technical documents, which must be thumbed through meticulously to ensure safe flying and operations. Through the thousands of pages of documentation for each aircraft, one discrepancy or missing check box can prevent an aircraft from leaving the ground for an extended period.
Over an aircraft's life, many technicians from all over the world may complete work, replace parts, and add to or edit the aircraft's documentation to keep all paperwork up to date. Unfortunately, this process can sometimes create issues for the aircraft, such as when paperwork is incorrectly filled out or missing.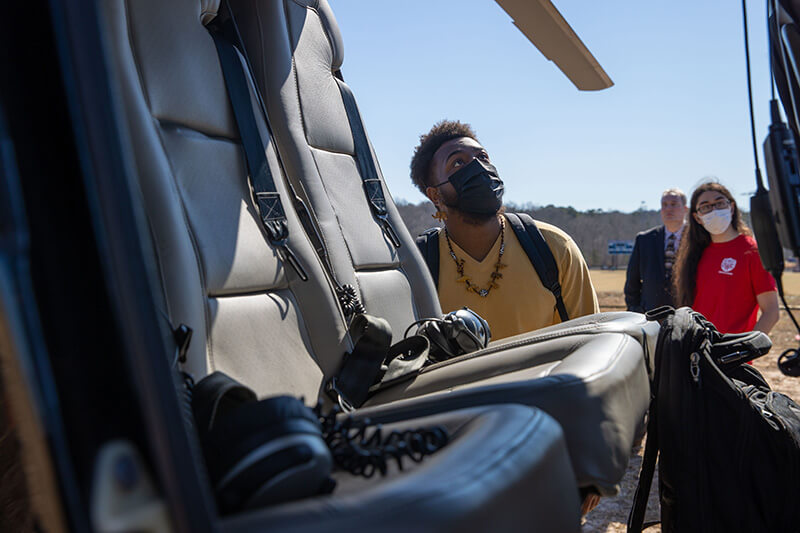 The students taking part in this project had the opportunity to meet with Lance Toland '74, Rob Peurifoy and Bo Cavender of Lance Toland Associates – an aviation insurance firm founded by UWG alumnus Toland – as they touched down at UWG just outside University Stadium in one of Toland's helicopters to discuss the project and the technical processes for replacing a windshield on a helicopter.
Students Amber Rogers, Quintibius Johnson and Shawn Carter observed the aircraft, asked questions and made notes to assist with their individual tasks.
"My next step for this project after looking at the helicopter will be to create a program so that our communications student can begin writing up documentation," said Carter, a computer science student at UWG.
Johnson, an art student, made notes while observing the helicopter in order to create his 3D model.
"Getting a chance to see the helicopter and gain hands-on experience gave me a better vision of the details I need to capture in my design," he said.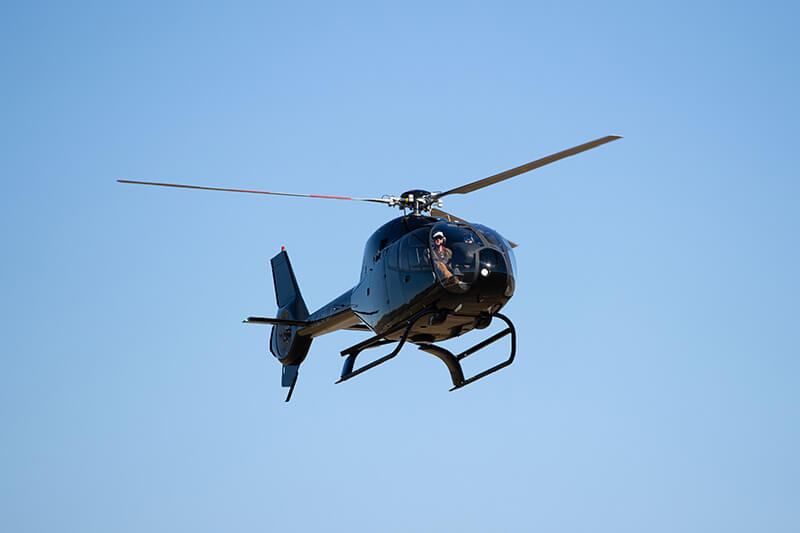 Once the software is put together, the details from the technical manuals and documents will need to be transferred in and set up to be interactive for users.
"I'll take the manual for the aircraft and apply it to the software that our computer science student is putting together," said Rogers, a mass communications major at UWG. "I'll need to make sure all the information is readable and accessible for anyone accessing the software."
Peurifoy said the finished product will make the process of maintaining aircraft like Toland's aircraft easier for years to come.
"The professionals who have been doing this type of work for a while have tricks of the trade that make their workflow run smoothly," he said. "This project will allow us to take those tricks and incorporate them into a process to make things easier from start to finish for anyone working on these aircraft."
photography by Miranda Daniel