University of West Georgia Surprises All Graduation Attendees with Free Basketball Tickets
Share this page
Dec. 12, 2022
Reading time: 2 minutes, 10 seconds
The University of West Georgia provides memorable experiences for those who attend one of the institution's graduation ceremonies: from awarding honorary degrees to canine companions to students graduating remotely via robot.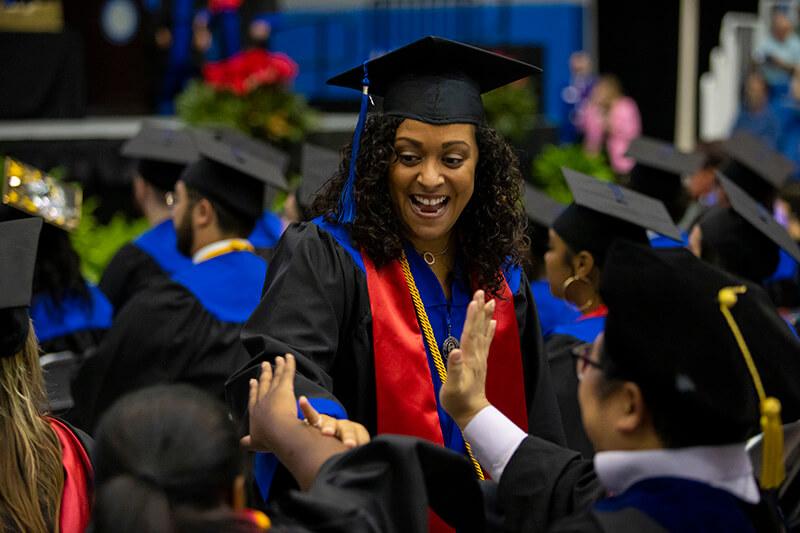 That tradition continued Saturday, as all attendees of one Commencement ceremony – more than 3,000 people – left with a free ticket to a UWG Men's or Women's basketball game of their choice during the remainder of the 2022-23 season. At the time of the Commencement ceremony, the men's team was undefeated and the top-ranked team in the Gulf South Conference.
"At the University of West Georgia, we strive to elevate the experience of everyone who sets foot on our campus, and for many, that involves an experience with UWG Athletics," said Dr. Brendan Kelly, UWG's president. "We wanted to create a moment during this Commencement ceremony that celebrated that elevation and invited our graduates – and all of the friends and family who cheered for them when they walked across the stage – to come back to UWG and enjoy a game as alumni."
In addition to all attendees receiving free tickets, three lucky graduates received VIP packages under their chairs, including four courtside tickets to a double-header, a $100 gift voucher to the UWG Bookstore to get decked out in UWG gear before the game and a $25 voucher to use at Dine West concessions during the game.
The moment was also designed to celebrate one graduate in particular: Erica Moore, the wife of UWG Men's Basketball Coach Dave Moore, who graduated Saturday with a degree in health and community wellness.
"I was so surprised," said Moore, who was unaware of the giveaway until Kelly announced it. "Throughout our time here at UWG, we have found such a great sense of community and belonging, and this was just the icing on the cake. From the connections we have with student athletes to the support I've received from instructors during my time as a student, UWG really is family."


With her bachelor's degree in hand, Moore – who also serves UWG as a staff member in the College of Education – will now join the inaugural class of students seeking a master's degree in integrative health and wellness, a new program at UWG that launches next month.
"Basketball has always been an important piece of our story, with Dave and I actually meeting at a basketball game," said Moore, who on Saturday became the first member of her family to graduate with a college degree. "I'm so excited that now, thanks to this special giveaway, more people have the opportunity to experience what we provide at a UWG basketball game."
photography by Julia Mothersole