Oct. 28, 2021
Reading time: 1 minute, 32 seconds
Homecoming was back – and better than ever – at the University of West Georgia last week. 
UWG students, alumni, faculty and staff, and friends came together to celebrate and paint the campus red and blue with a variety of time-honored and new traditions.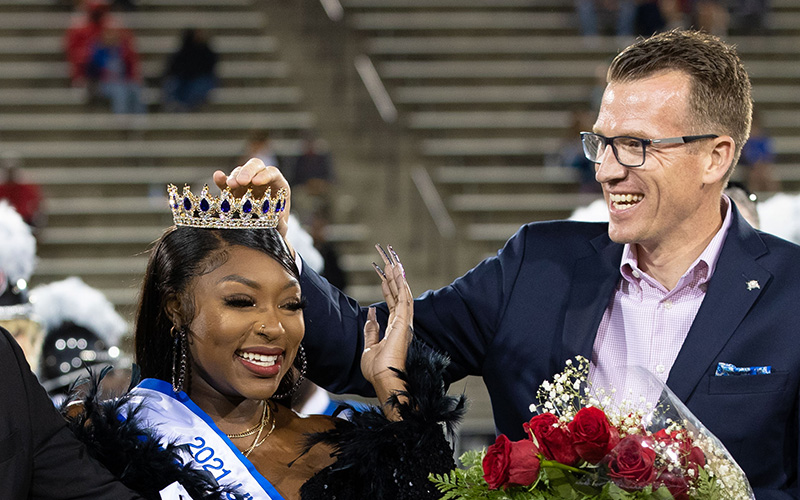 "The energy we felt on campus last week as we celebrated Homecoming was electric, with students past, present and future connecting in their passion for the University of West Georgia," said Dr. Brendan Kelly, UWG's president. "Offering opportunities for our university community to know they are part of something here – that this their university – and doing so against the backdrop of the best gameday atmosphere in the state was a momentous occasion."
On Wednesday, Oct. 20, the Greek Grind gave fraternities and sororities an opportunity to showcase their choreography and dance skills in the hopes of winning a trophy and bragging rights.
Howlapalooza, held Friday in the iconic Love Valley, entertained celebrants with a bonfire, food trucks, inflatables, a live DJ and fireworks. 
The UWG Alumni Association hosted a beer and wine tasting during Howlapalooza and a chicken-and-waffles tailgate the following day leading up to the big football game at RA-LIN Field.
At halftime on Saturday, students Destinee Swain and Karson Cabe were crowned Homecoming Royalty, and the Wolves followed up by dominating the North Greenville University Crusaders 34-12. 
In addition to the Homecoming festivities, UWG also celebrated its 39th annual A Day on Thursday, Oct. 21.
This year, students on UWG's Homecoming Court collectively raised more than $35,000 for A Day, with each dollar raised counting as a vote for their candidacy for Homecoming Royalty. The winner of the A Day Ambassador title and one of the two students named Homecoming Royalty was Destinee Swain, who raised more than $4,600 for the General Scholarship Fund.
Check out photos and a video from the week below!