Living the Dream: Annual MLK Event at UWG Features Jawana Jackson
Share this page
Jan. 19, 2022
Reading time: 3 minutes, 15 seconds
To the world, he was a civil rights icon. To Jawana Jackson, he was Uncle Martin.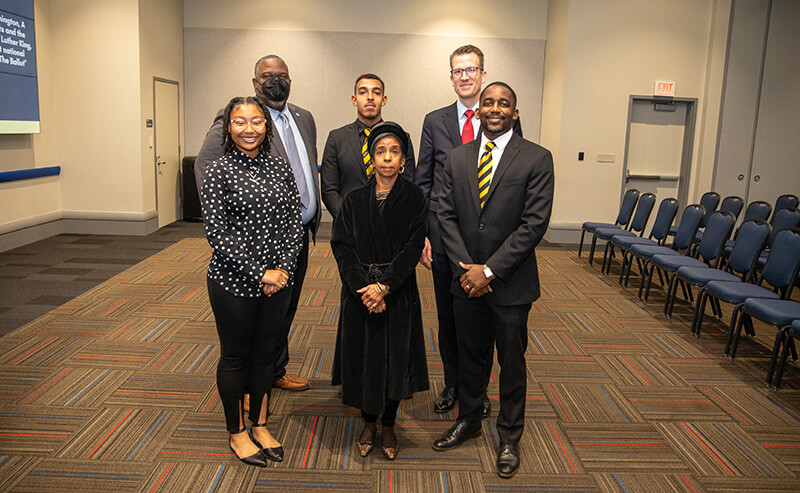 As part of the University of West Georgia's 13th annual Dr. Martin Luther King Jr. Celebration yesterday, Jackson recalled the historical events that occurred at her family home during a pivotal time in American history. It is a history UWG is intimately connected to as well. 
"One of UWG's superpowers is being part of the Atlanta metropolitan area, the birthplace of Dr. King," Dr. Brendan Kelly, university president, said in his opening remarks. "Place matters oftentimes because of the people who are associated with the place. And when you learn about the people who are associated with the place, you start to connect with it differently. That's what we celebrate tonight."
UWG Student Government Association President Sydney Severin said it was important for people to come together and see the value of history.
"It speaks volumes to be in the same room as Jawana Jackson," Severin commented. "The events that happened in her home and her parents' close association with world leaders like Dr. King formed her commitment to the principles of justice, peace and freedom."
Jackson was born in Selma, Alabama, as the only child of Dr. Sullivan and Richie Jean Sherrod Jackson. In 1964, when she was 4 years old, her home became the headquarters for King and other leaders to plan a historic march to Montgomery.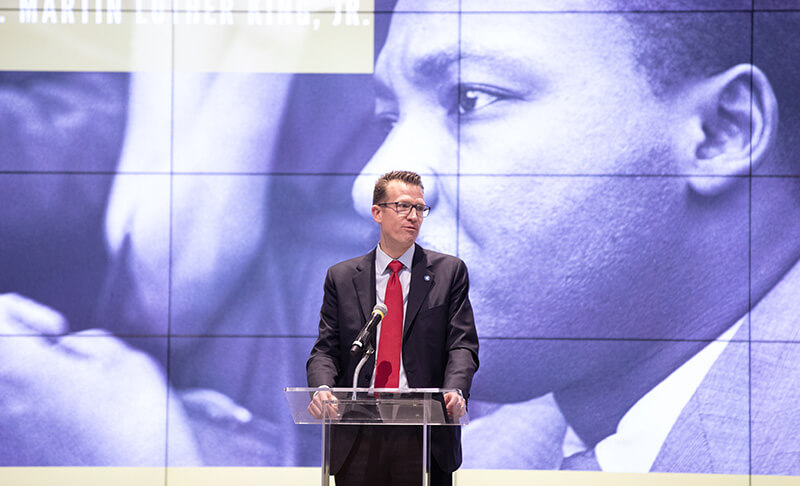 The little house on Lapsley Street was a safe haven for those committed to social justice since its construction in 1912. Within its walls, W. E. B. Du Bois and Booker T. Washington would have fireside chats with anyone who wanted to learn about the value of education, culture and the arts, and community and family. 
Fifty years later – amidst the Montgomery bus boycott and his Birmingham imprisonment – King called on his friend "Sully" Jackson, a Black dentist, to talk about a march for voting rights.
"The world came into the Jackson home," Jackson explained. "People entered that house, sat at my parents' table and took in the nourishment of what this man was trying to do."
She continued and said many people came to the Black Belt of the South to bring this country a little bit closer toward what it could and should be as a nation. 
"President Lyndon B. Johnson would call the house and have conversations with Uncle Martin about his feelings on democracy, justice, peace and freedom," Jackson recalled. "As America was seeing the hoses of Birmingham and the billy clubs of Selma, Uncle Martin was able to lead a successful march to Montgomery in four days. That march led Johnson to sign the 1965 Voting Rights Act."
She doesn't remember much about King, but she does remember her Uncle Martin and one special memory in particular.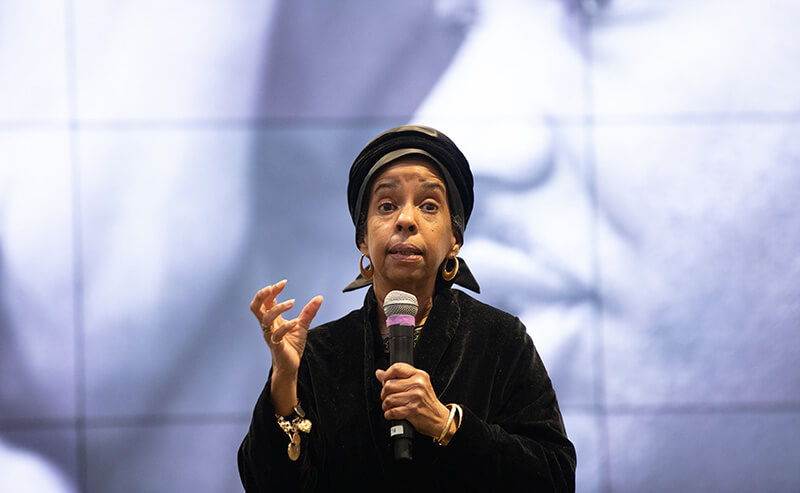 "As my mother was bringing people into the house to meet with him, he stopped and said, 'No, I'm having tea and cookies with baby,'" she shared. "We sat in the living room, and I remember he said to me, 'Jawana, promise Uncle Martin that as you grow you will touch others so that you will be touched. Go around the world and touch, feel, grow, learn, love and be loved.'"
Jackson has kept her promise. She serves as CEO of the Sullivan and Richie Jean Sherrod Jackson Foundation and Museum Inc., a nonprofit dedicated to preserving historical artifacts relating to the American voting rights campaign. The Jackson Foundation also provides educational programs and workshops for the public on social and human rights issues. 
And there is still more work to be done.
"The preservation of America's soul should be paramount for everybody," Jackson concluded. "The divisions we have in our country and our world do not have to be divisions. Uncle Martin knew that. Please consider taking a stand to make our nation a better place. Love will always win over hate, and peace will always win over war."
photography by Brian Carmichael