'Our Newest Chapter': 1,350 Graduate in UWG's Spring Commencement Ceremonies
Share this page
May 13, 2023
Reading time: 1 minute, 57 seconds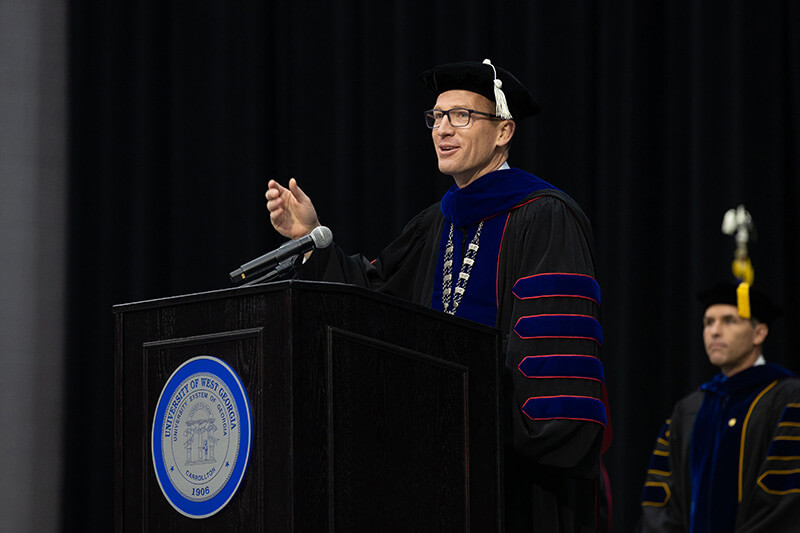 The University of West Georgia conferred 1,350 degrees today – including an honorary doctorate to Zac Brown, musician and singer-songwriter – during its Spring 2023 Commencement as a new class of Wolves turned their tassels.
In his Commencement remarks, UWG President Dr. Brendan Kelly encouraged graduates to continue in their personal development as they become who they want to be.
"Our world – our communities, schools, businesses and organizations – are led by people who have the type of deep learning you now possess," Kelly told graduates. "The difference between who you are and who you want to be depends on the courage and the work you put into yourself and this world every day. Graduation is not the end. It is the renewal of you."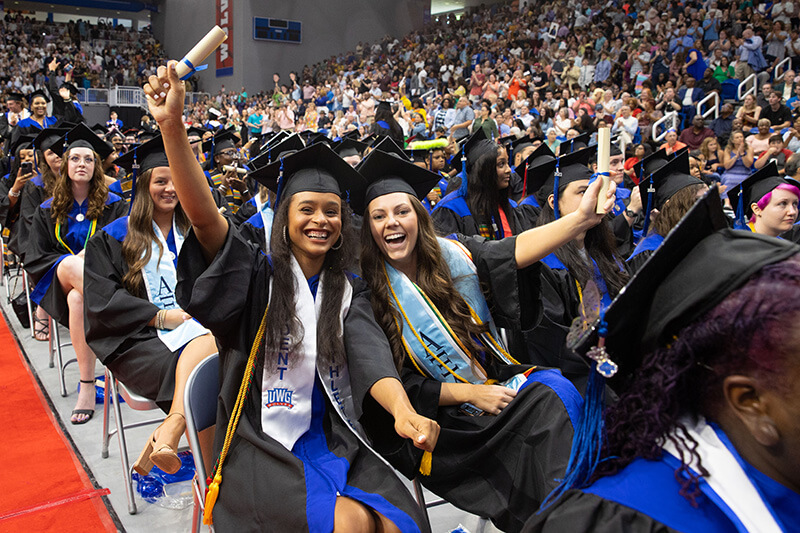 Of the degrees conferred, 846 were at the undergraduate level, with the remaining 504 degrees being earned at the graduate level. All three ceremonies were live-streamed around the globe and are archived online.
UWG Student Government Association President Sydney Severin, who received her bachelor's degree from the Richards College of Business during the ceremonies, encouraged graduates to continue reaching for their highest potential. 
"I encourage you to remember all the lessons UWG taught you, and make sure – no matter what – that you are the master of your fate," explained Severin. "However you envision your life, make sure it is accomplished to your highest potential. This is not goodbye, but rather an introduction to our newest chapter."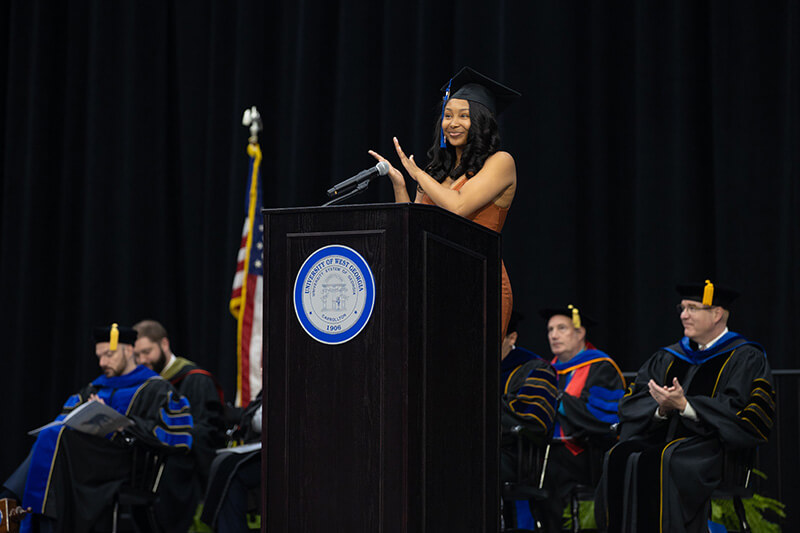 Commencement ceremonies began at 10 a.m. for undergraduates from the College of Arts, Culture, and Scientific Inquiry and the College of Education. The 2 p.m. ceremony included undergraduates from the Richards College of Business, School of Communication, Film, and Media, Tanner Health System School of Nursing, and University College. All graduate students were recognized at 5:30 p.m. from their schools and colleges. 
Welcoming graduates to a community of over 73,000 alumni was Brad Mock, chair of the UWG Alumni Association Board of Directors. 
"Today is the day you have been pursuing," Mock said. "The day you stayed up late working in the Ingram Library, the day you took extra shifts at work to pay for, the day you took fewer shifts to study for. Today is your legacy day, and we are thankful that you chose to pursue this day at the University of West Georgia. Now, you are Forever West."
photography by Miranda Daniel