Positioned for Success: UWG Confers 771 Degrees in Summer 2021 Commencement
Share this page
July 24, 2021
Reading time: 2 minutes, 25 seconds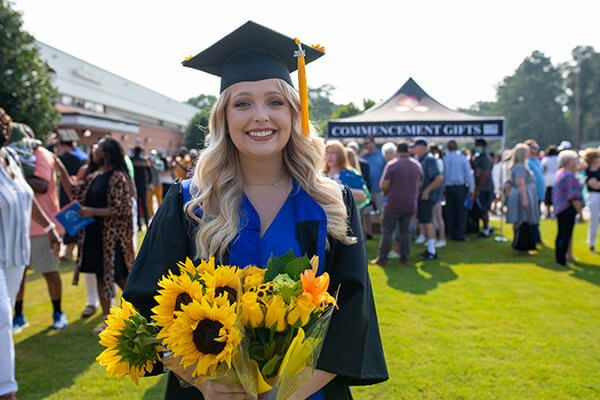 Nearly 800 University of West Georgia graduates walked across the stage toward the next step of their lives at the university's Summer 2021 Commencement Saturday.
UWG President Dr. Brendan Kelly shared with graduates that they should feel an incredible sense of accomplishment and have more to be proud of than ever before.
"As members of the class of 2021, you will have special memories attached to this year," Kelly said. "Through it all, though, you have persevered, and through that adversity, you have proven you can overcome."
Of the 771 degrees conferred to graduates, 429 were at the graduate level, with the remaining 342 degrees being earned at the undergraduate level. All students' names were called as they crossed the stage, being initiated to the UWG Alumni Association by the association's board of directors chair, Brad Mock. Both ceremonies were live-streamed and recorded for later viewing.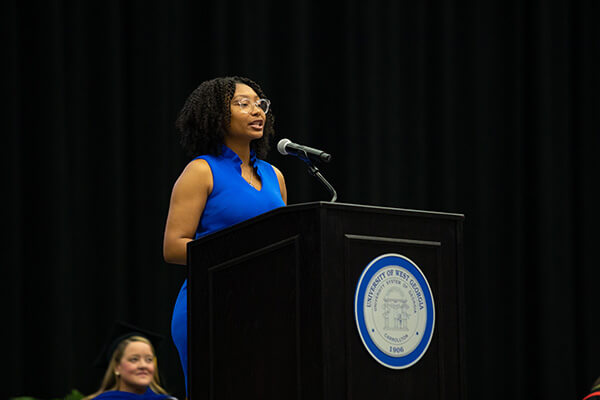 Commencement ceremonies were held at 9 a.m. for students graduating from the College of Arts, Culture and Scientific Inquiry; the Richards College of Business; and the Tanner Health System School of Nursing. At 1 p.m., those graduating from the College of Education; the newly established School of Communication, Film, and Media; and University College were honored. Guests of graduates were not required to have tickets, allowing graduates to invite as many friends and family members as they wished.
"As we commit to the curation of a first-choice university, we strive to foster a sense of belonging and connectedness among all our stakeholders, chiefly our students and new alumni," Kelly said. "By hosting two smaller ceremonies, we are intentionally offering a more personalized experience for our graduates that they will remember for the rest of their lives."
Kelly's remarks served to embolden students and centered on the strength, courage and resilience each demonstrated while navigating their higher education experience during unprecedented times.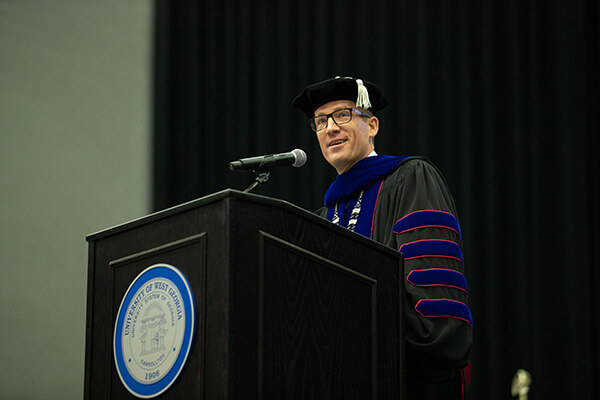 "As we learned over the past year, life does not have a dress rehearsal, so you have to be brave and create the life you have dreamt of because no one else is going to create it for you," said Kelly. "At graduations, we often say we are celebrating the end of one chapter and the beginning of something new. And that is true. Most importantly, we are celebrating a transformation in people's lives. Your transformation. Your 'becoming.' "
Sydney Severin, president of the UWG Student Government Association, encouraged students to continue to evolve and endeavor for prosperity and growth throughout their lives.
"Just remember to keep pushing forward because you will never get anywhere being stagnant or complacent with mediocrity," Severin said. "I want everyone to set a goal to always strive to be a better version of yourself than you were yesterday. Do not measure your life in comparison to someone else's. If you're in a better position today than you were yesterday, you're succeeding at whatever goal you've set for yourself."