March 29, 2022
Reading time: 2 minutes, 42 seconds
Surrounded by symbolic reminders of live oaks, more than 300 members of the University of West Georgia community celebrated the institution's live impact at the 2022 Presidential Black Tie Gala over the weekend, raising a record of more than $153,000 to support student outcomes.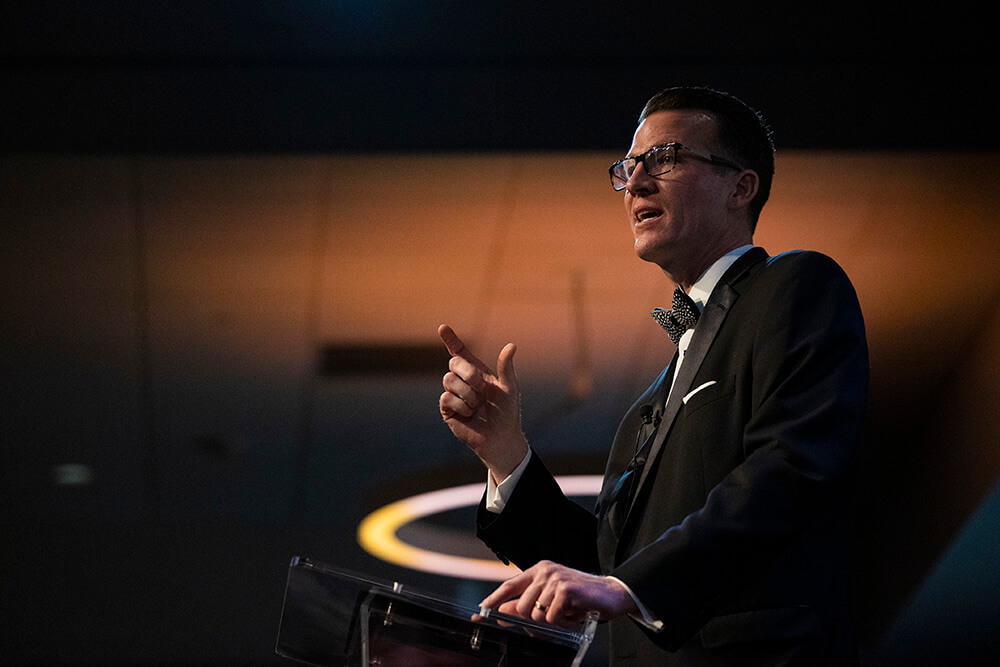 The sold-out event (which also had record attendance) was the first presidential gala hosted since Dr. Brendan B. Kelly began as UWG president in 2020.
"We are at the beginning of a new age for UWG and for higher education as a whole," said Kelly during his address. "Growth and maturity cannot occur unless we plant the seeds for the future. Your gifts to the university plant seeds that create opportunities for students today and for those who have not yet chosen to make UWG part of their life."
The event's proceeds will be utilized to support outcomes for students in growing academic programs, advancing professional learning opportunities for students and positioning the institution as a whole to evolve in its sophistication and complexity.
Kelly was joined by a cadre of other speakers for the event: masters of ceremonies Dr. Nancy Irwin '77, who recently endowed UWG's Inge Manski Lundeen Opera Scholarship, and Darryl Forges '14, CNN correspondent; UWG alumnus and composer Katahj Copley '21, whose orchestral piece "Sunshine" played over the outset of dinner; and Ann Newman, chair of the University of West Georgia Foundation board of trustees.
"Hosted in partnership with the UWG Foundation, this is our largest fundraising event of the year," said Newman. "Through scholarships and program support, the UWG Foundation continues to strategically invest in building a strong talent pipeline of students to better serve regional business and industry. We also invest in capital projects like the new, beautiful Roy Richards Sr. Hall and Biology Building to elevate physical spaces as part of our institution's strategic priority of placemaking."
Alumni Copley, Forges and Irwin shared their UWG stories during the program, highlighting the transformative professional learning opportunities they leveraged both while enrolled and after graduation. Copley's musical piece, composed while he was a student at UWG, played while attendees enjoyed dinner designed by Chef Jacqueline Fenton-Miller and catered by Dine West.
The story continues following the photo gallery ...