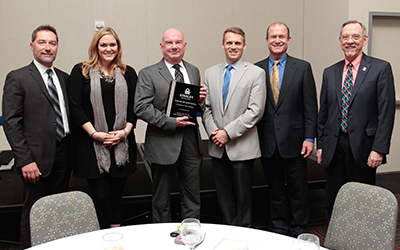 "The community members surrounding the University of West Georgia have proven to be incredible advocates for the safety and security of its students since day one of this contest. We are thrilled to announce UWG as the winner of a $150,000 grant," said Kyle Gordon, director, higher education – North America for STANLEY Security. "At STANLEY Security, we are committed to establishing a culture of safety and peace of mind for students, faculty, and staff on every higher education campus throughout the nation. In presenting this award to the UWG campus, we are honored to be able to help further the immeasurable efforts of the school's administration, security officials and university police to secure this long-standing institution for decades to come."
Nominations for the grant program were open to any U.S. higher education institution through mid-November of last year. Then, from January 19 through February 13, 2015, students, faculty, administrators, parents, alumni, and members of over 200 qualifying campus communities were encouraged to vote daily online for their chosen school at www.stanleysaferschools.com, via SMS text messaging or on Twitter via a hashtag specific to each qualifying institution. The colleges and universities won by accumulating the most votes in the contest, separated into three tiers of student population size – under 8,000 students, between 8,000-19,999 students, and more than 20,000 students – for a total of six winners.
During the voting, UWG was in a heated contest with Eastern Illinois, but in the end the Wolves were victorious and will be receiving $150,000 in equipment and services from STANLEY that will benefit student safety. UWG Police Chief Tom Mackel says he thinks the competitive nature of the contest helped drive votes.
"We had people in Alabama and even western Illinois voting for us," Mackel said. "And, of course, so many people locally voted for us – it really showed a tremendous level of pride in UWG, which is great [because …] this is going to allow us to have a higher level of security for our students on campus."
The grant will pay for the first phase in a multi-pronged plan that Mackel has laid out for the future of campus safety. That first step is getting all the campus security cameras on the same closed-circuit network, which will allow dispatch to view all cameras on campus without having to log in and out of different software programs. The STANLEY grant will give UWG Police a "common platform" from which to view all cameras, facilitating more efficient safety services to students.
"Not only will dispatch be able to go more easily from camera to camera," Mackel said, "but these cameras will also be recording. So if there is an incident, we can look at the footage and see evidence of who was in the area at what time. Also, dispatch will be able to see what is going on at any location at any time and can better advise officers who are on their way to a call what is happening before they even arrive."
The grant will also pay for new security cameras to be installed from Center Point, to the UCC and then to the TLC, along a route heavily trafficked by students. These new installs will occur in conjunction with upgrades at the University Suites and the Greek Village.
According to Director of Housing and Residence Life Steve Whitlock, his department is simultaneously installing cameras around the residence halls and Greek Village. These cameras will be on the same campus-wide, closed-circuit system that STANLEY will install.
"We want to work together to get as close as we can to 100 percent [video] coverage of all the common areas inside the residence halls and have IDs on everyone entering the residence halls," Whitlock said. "This collaborative effort with [Mackel] will help us facilitate that."
The new cameras at the Greek Village are scheduled for installation over spring break, and the other cameras, which will be installed by STANLEY, are set to be in by fall semester. For more information about STANLEY, go to www.stanleycss.com. To see the full list of grant recipients, please visit www.stanleysaferschools.com.
Posted on