The University of West Georgia is pleased to announce the appointment of Mr. David J. Fraboni II as Vice President for University Advancement and Executive Director of the UWG Foundation effective July 6, 2015.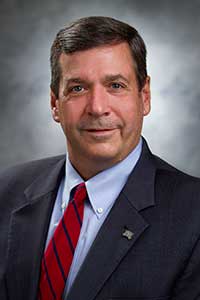 Fraboni will be responsible to the President for overseeing the Advancement Division, which includes Alumni Relations, Development, Advancement Services, Special Events, and University Communications and Marketing.
"We're excited to have Dave on the team," said President Kyle Marrero. "He has a proven track record of success, has demonstrated an ability to develop effective advancement processes, and his energy and passion for making UWG the best place to work, learn, and succeed match mine. I am confident he will help take UWG to the next level in fundraising, marketing and communications, and alumni relations."
Fraboni brings a wealth of development and advancement experience. He comes to UWG from Georgia State University in Atlanta, where he served for four years as Associate Vice President for Development/Constituent Programs guiding major gift fundraising for 10 colleges and programs of the university and increasing total funds raised by over 50 percent to sustained record levels.
Prior to joining Georgia State University, Fraboni served as Vice President for Institutional Advancement at his alma mater Springfield College in Massachusetts where he planned and led the college's first successful comprehensive campaign since 1972, raising $44.5 million. He has served in leadership roles in advancement for Hartwick College in New York and Austin College in Texas.
In his first few months at UWG, Fraboni said he looks forward to learning as much as he can about the aspirations and goals of the university and the communities of Carrollton and Newnan and what is needed to achieve those goals.
"I am very excited to be joining the UWG community," said Fraboni. "In my short visits to UWG it became clear that we have great leadership with Dr. Marrero. There is a true sense of pride of ownership at every level, from the beautiful grounds to the hardworking students. I am looking forward to adding a meaningful contribution to the strategic imperatives set by UWG, highlighting the academic achievements and diverse opportunities for both students and the surrounding community. The University of West Georgia is poised to become the best comprehensive university in the nation, and I couldn't be more excited to help achieve that mission."
Fraboni succeeds Dr. Bill Estes, who has served as the Vice President for University Advancement since 2012.
"I thank Dr. Estes for his leadership and for setting us on a path of record fundraising," said Marrero. "We are happy to announce that he will be staying with us to fundraise for our athletics programs."
Fraboni earned a B.S. in psychology from Springfield College. He and his wife, Linda, will relocate to Carrollton this summer and look forward to hosting visits from their two adult sons, David and Nicholas.
Posted on