The University of West Georgia announced today that Academy of Country Music New Artist of the Year Cole Swindell is set to headline the fall concert. The concert will be held on Thursday, November 19, 2015 at 7:30 p.m. in the UWG Coliseum and includes special guests Adam Sanders and Jon Langston.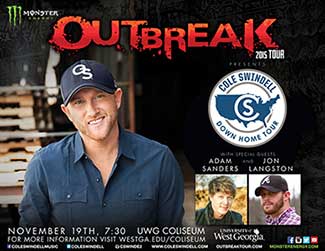 Tickets go on sale Friday, Sept. 18, 2015. Costs include:
Pit: $50 plus tax and fees
Reserved: $40 plus tax and fees
General Admission: $30 plus tax and fees
For more information about the fall concert and ticket purchase, visit www.westga.edu/coliseum/.
More About the Tour
Presented by Monster Energy's Outbreak Tour*, a tastemaker platform that showcases artists as they ascend to stardom, Swindell was selected as the inaugural artist to launch the country edition of the series beginning November 11 at New York City's Best Buy Theater. Continuing through December, the Warner Bros. / Warner Music Nashville recording artist will celebrate the five-week run with the release of his latest Down Home Sessions EP this fall. The tour will feature opener Adam Sanders, who is currently working on his latest album and scored his first No. 1 as a songwriter with Swindell's single "Ain't Worth The Whiskey."
Swindell announced the tour via a personal video direct to his fans earlier today, after announcing his new five-song Down Home Sessions EP that's coming along with it: "I've been in the studio recording some brand new music for you that I am fired up for you to hear." He added, "Last year we did an EP and did a club tour and we just had such a blast, I said we had to do it again."
Swindell continued, "We just recorded 'em, I'm excited about it and if we're going to put out music, we gotta have a tour to go around that. This year, the Monster Energy Outbreak Tour will be having me and the Down Home Tour along on the road and it's going to be a blast. This is the first time Monster's ever done a country tour, and I'm so proud to be partnered up with them."
"We're not only extremely excited to be launching into the Country genre this year, but having Cole Swindell as the inaugural country artist really feels like we hit a home run," said tour producer Steve Glazer. "Cole perfectly embodies the Outbreak Tour brand, evolving from performing local opening slot gigs to then opening for Country music heavy hitter Luke Bryan and winning 'New Artist of the Year' at this year's ACM Awards. He's had unbelievable success with the debut of his album and we can't wait to see him thrive on tour."
One of country music's hottest young stars, Swindell's latest single "Let Me See Ya Girl" is currently climbing the charts and he's once again approaching Top 15, following three previous consecutive No. 1 singles off his self-titled debut album. Released just over a year ago, the Georgia native won CMA's Triple Play Award this year for having (at least) three No. 1 hits in a 12-month period as the only performing artist to accomplish the feat. Swindell, who has racked-up a total of six No. 1 singles since his debut, has sold over 3.3 million singles and 430,000 albums, with over 130 million streams to date.
For more information and tour dates, please visit www.coleswindell.com and follow @coleswindell on Twitter, Instagram and Facebook.
Cole Swindell's Down Home Tour Presented by Monster Energy Outbreak Tour Dates (more to be announced):
November 11 New York, NY Best Buy Theatre
November 12 Patchogue, NY The Emporium
November 13 Uncasville, CT Mohegan Sun - Wolf Den
November 18 Knoxville, TN Cotton Eyed Joe's
November 19 Carrollton, GA The Coliseum
November 20 Athens, GA The Classic Center
November 27 Fort Worth, TX Billy Bob's Texas
November 28 San Antonio, TX Cowboys Dance Hall
December 2 Chicago, IL Joe's Sports Bar
December 3 Minneapolis, MN Mill City Nights
December 4 Milwaukee, WI The Rave
December 5 Indianapolis, IN 8 Seconds Saloon
December 9 Philadelphia, PA Electric Factory
December 11 Sayreville, NJ Starland Ballroom
December 17 Winston-Salem, NC Johnny And Junes Ultra Saloon
December 19 Greenville, SC Blind Horse Saloon
About Cole Swindell:
ACM's New Artist of The Year Award winner Cole Swindell released his self-titled debut album on Warner Bros. / Warner Music Nashville just over a year ago. With 3.3 million tracks and over 430,000 albums sold to date, along with over 130 million streams, Swindell's debut LP features his latest single, "Let Me See Ya Girl," along with his first three consecutive No. 1 Gold-certified singles as a solo artist: "Ain't Worth The Whiskey," "Hope You Get Lonely Tonight," and (his platinum certified mega hit) "Chillin' It." Named to Billboard's Top New Country Artists, Swindell was awarded CMA's "Triple Play Award" earlier this year for having (at least) three No. 1 songs in the past twelve months, and was the only performer to claim the title in 2015. He was also nominated for CMA Awards' "New Artist of the Year" and named Music Row's Breakthrough Songwriter of the Year, with celebrated songwriting credits which include "This Is How We Roll" by Florida Georgia Line, "Get Me Some of That" by Thomas Rhett, and several songs with Luke Bryan such as his No. 1 single "Roller Coaster," among others. Swindell is currently out on Jason Aldean's "Burn It Down" tour and Kenny Chesney's "Big Revival Tour" through the fall.
About Adam Sanders:
Florida native Adam Sanders got his start when he landed his first publishing deal with Big Yellow Dog Music in 2009, began writing songs for Country super stars such as Luke Bryan, whose album Crash My Party (featuring Sanders' on the smash hit "Out Like That") had the third highest debut of any record in 2013. Since then, Adam has gone onto write tracks for (friend and fellow collaborator) Cole Swindell ("Ain't Worth The Whiskey" & "Dozen Roses and A Six Pack"), Dierks Bentley ("Sounds of Summer"), Dustin Lynch ("Hell of a Night") and Scotty McCreery. Adam has shared stages with the likes of Luke Bryan, Eric Church, Cole Swindell, Thomas Rhett, Randy Houser, Dustin Lynch, Josh Thompson, Easton Corbin, The Cadillac Three, Gary Allan, Eric Paslay and more. Adam's debut single, "Nothin' To Do But Drink," was released in 2014 and has had over 26,000 downloads and 3 million streams on Spotify. In early 2015, Spotify also chose Adam as of Country's "One's To Watch." In March of 2015, Adam scored his first #1 single as a songwriter when "Ain't Worth The Whiskey" hit #1 on the US Country Billboard charts. His current single "Somewhere That You Don't Go" was released this spring to SiriusXM and all digital partners (current Spotify streams of over 1.3 million).
*About Outbreak Tour:
The Monster Energy Outbreak Tour has become a consistent tastemaker in music since 2011, discovering and showcasing emerging artists across the College, EDM, Hip-Hop and Rock genres. Eclectic artists such as Iggy Azalea, Macklemore, Kendrick Lamar, Carnage, The Chainsmokers, Asking Alexandria and Of Mice and Men have all been featured on the Monster Energy Outbreak Tour platform and subsequently ascended to stardom. Rapidly expanding to a multitude of music genres, Outbreak went on to add a Country tour and an event at SXSW this past year. Looking ahead, the Outbreak Tour will continue its evolution of this concept by diversifying into various genres and sub-cultures beyond music to maintain providing aspirational fans the opportunity to discover what's next.
www.outbreaktour.com | www.facebook.com/OutbreakTour
*About Monster Energy:
Most companies spend their money on ad agencies, TV commercials, radio spots and billboards to tell you how good their products are. At Monster Energy, we chose none of the above. Instead we support the scene, our bands, our athletes and our fans. We back athletes so they can make a career out of their passion. We promote concert tours so our favorite bands can visit your hometown. We celebrate with our fans and riders by throwing parties and making the coolest events we can think of a reality.
Posted on