by Taylor Bryant
The University of West Georgia and UWG President Dr. Kyle Marrero were honored by Chancellor Hank Huckaby of the University System of Georgia with the Service Excellence Award as Institution and President of the Year on Wednesday, Oct. 21 during a ceremony at Georgia Perimeter College. The award is the highest honor given at the chancellor's award ceremony.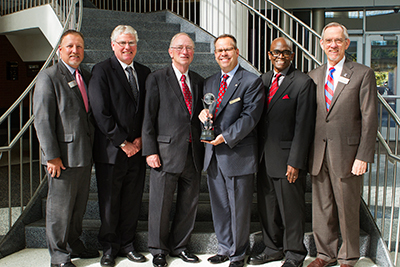 "I am delighted that UWG has been recognized with the outstanding institution of the year award," said Marrero. "Our commitment to the ongoing development of institutional leadership continues to positively impact student success and guide us in becoming the best comprehensive university in America, sought after as the best place to work, learn, and succeed!"
The Chancellor's Service Excellence Awards were created to honor employees, departments and universities that have gone "above and beyond" to achieve excellence for their institutions. The nominees for Institution of the Year were required to meet five of the customer service attributes, including being responsive, a process agent, an implementer, a technology enhancer, and knowledgeable.
UWG and Dr. Marrero were recognized for commitment to excellence by fostering a culture of strategic planning and institutional effectiveness that allows the university to be collaborative and driven by data, assessment, continual improvement and prioritization of resources at all level.
The Engage West! initiative was also highlighted for its indirect impact on increasing retention by 3.4 percent, improving morale through the Best of the West employee recognition program and success of the the barrier team through recommendations for improving operational processes, policies and practices with the goal of eliminating barriers of inefficiency.
"At UWG, we have a bold vision that is brought to life on a daily basis as dedicated faculty and staff seek to fulfill the goals in our strategic plan," said Marrero. "The Engage West! initiative, through its comprehensive suite of programs, works to equip, develop and support our faculty and staff to create a culture of high performance and evidence-based leadership. It transforms culture and focuses individual efforts to accomplish the goals of the institution and, in doing so, creates an environment of engagement and employee satisfaction."
"Dr. Marrero and his employees have demonstrated a uniquely committed service excellence environment, and their survey results and feedback tell the story," the nomination read.
This is the second year that UWG has been recognized through the Chancellor's Service Excellence Awards. Last year, the university received the bronze recognition for Outstanding Institution of the Year.
Posted on