by Julie Lineback
The University of West Georgia is pleased to announce the appointment of Dr. John Green as director of the Carrollton/Carroll County Education Collaborative (CCEC) effective November 1, 2015.
The CCEC is a community-wide education initiative comprised of representatives from UWG, West Georgia Technical College, Carroll County and City of Carrollton school systems, and chamber and community leaders. It was formed in December of 2014 bringing together education leadership in Carrollton and throughout Carroll County to establish a common vision for K-16 success. Defining success as the communication, preparedness, access, opportunity, and completion of post-secondary education, the CCEC is guided by the goals of ensuring academic success, creating career pathways and access to post-secondary education, ensuring all students graduate from high school prepared to enter the workforce or a post-secondary institution, and closing the achievement gap among students.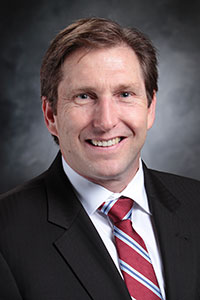 "I am inspired by the vision for this effort and the partnership that has been established among the educational entities involved," Green said. "I look forward to being part of the team as we support and create opportunities for all students in their pursuit of high school graduation and college and career preparation."
In his new role, Green is primarily responsible for the vision, mission, defining and refining of goals, implementation and operations of CCEC, As liaison and administrator, he will direct and oversee the work of the subcommittees, their assignments, implementation of programming and reporting. He will also provide organizational coordination, documentation, reporting and assessment for the member institutions and will serve as spokesperson and representative to regional, state and local school boards and educational support organizations.
"At the heart of CCEC efforts rests the belief that while talent and intellectual capacity exists throughout area school systems and post-secondary institutions, opportunity may not," UWG President Kyle Marrero said. "I am delighted to announce the appointment of Dr. Green as the director of the CCEC. Dr. Green brings a mastery of proven expertise to our leadership team through his ability to shape impactful and pivotal programs for educational access and student opportunity. I look forward to being a part of the rising success of this collaborative under his skillful direction."
Green brings with him a wealth of experience in the education field. As an independent consultant, he has provided training and development for various organizations including Georgia State University and North Gwinnett Schools Foundation.
Previously, Green held the position of superintendent of Jackson County Schools in Jefferson, Ga., a district comprised of 12 schools with a total enrollment of over 7,000 students. While there, he implemented a system-wide student leadership program and teacher improvement process. With him at the helm, student performance data reflected record numbers in times of budget challenges.
Prior to serving as superintendent, he served as principal of North Gwinnett High School and began his career as a math teacher for the DeKalb and Gwinnett County Public School systems.
"Through the empowerment and inspiration of others, I have been fortunate to successfully lead at a variety of levels in education," Green said. "I am a 'coach' at heart and in action. Therefore, performance and improvement forms the core of my focus. With an emphasis on team development and the building of personal and organizational capacity, I have witnessed many groups and individuals flourish in both accomplishments and contributions. I feel blessed to have had so many opportunities to work with great people and great organizations."
Green earned a B.S. in math education from the University of Tennessee-Chattanooga, a M.Ed. in mathematics education from Georgia State University and an Ed.D. in educational administration from the University of Georgia.
Posted on