The University of West Georgia and The Athletic Shop announced today an agreement in which adidas will become the exclusive supplier of UWG's athletics uniforms, apparel, footwear and accessories for the Wolves' 13 varsity sports programs. UWG will debut its new look next fall for the 2018-19 athletic year.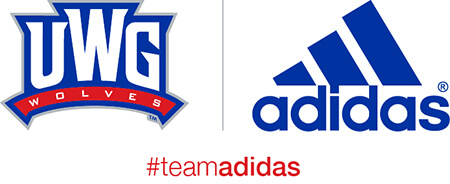 "As we continue to build a championship culture at West Georgia, we are committed to strengthening our brand and the experience of our student athletes across all sports," said UWG Athletic Director Daryl Dickey. "For 40 years, The Athletic Shop has served athletic teams from across the South. We look forward to being a part of that history as our teams and coaches take the field in adidas uniforms, shoes and accessories that feature the latest in athletic apparel technology."
Under the agreement, UWG becomes the fifth Georgia school to wear the adidas brand. Others include Georgia Tech, Georgia Southern, Kennesaw State and Mercer. The partnership also puts UWG among an elite group of adidas-sponsored universities in the Power 5 schools, including Georgia Tech, Arizona State, N.C. State, Indiana, Kansas, Louisville, Nebraska, Mississippi State, Texas A&M and Miami.
"That's good company to be in," Dickey said, adding that the agreement will provide significant value for UWG Athletics in the first year alone. "West Georgia is a competitive program both regionally and nationally, so having an apparel supplier that is known around the world is a good fit for both entities."
"The Athletic Shop is proud to be given the opportunity to serve the University of West Georgia. We are already impressed with the people and facilities that make up this first-class institution," said Nathan Brooks, owner of The Athletic Shop. "A partnership with adidas will only expand and enhance its existing programs. We look forward to building meaningful relationships with the coaches and staff for years to come."
Posted on