by Colton Campbell
Two current University of West Georgia students, as well as two recent alumni, are serving as interns in the state government during the 2018 session of the Georgia General Assembly.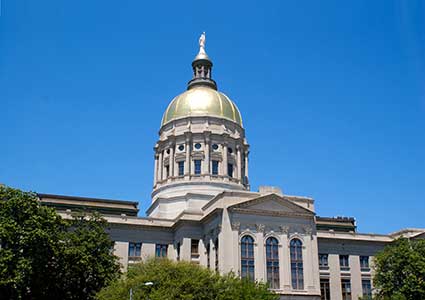 Bailey Bryant and Xavier Jennings are enrolled at UWG. Bryant, an undergraduate majoring in political science, works for Sens. Ellis Black (Valdosta) and Brandon Beech (Alpharetta) as an aide. Jennings, who's working to earn his master's degree in public administration after graduating from UWG last May, is a policy and legislative intern in Gov. Nathan Deal's office.
Additionally, two alumni who graduated from UWG in December 2017 are working at the Capitol: Katie Cardin, who earned a bachelor's degree in English, and Ethan Stiles, who majored in biology. Cardin is serving as an aide for Sen. Mike Dugan of Carrollton, and Stiles is working as a legislative aide for Georgia Senate president pro tempore Sen. Butch Miller of Gainesville.
All four interns credit their experience at UWG with landing them their current job.
"I'm a transfer student, so even though I'm a junior, I've only been at UWG for about a year now," said Bryant, a Newnan native who transferred to UWG from a small college in Mississippi to play football. "UWG has done a great job of making me feel welcome and making me feel at home as a new student. Working in the state Capitol as a junior is an opportunity I wouldn't get to have at any other school."
Stiles, from Bremen, said he had every intention of transferring from UWG to go to a larger school after attending a couple of years.
"I really tried to jump-start my involvement when I started at UWG," Stiles said. "I got involved with the Student Government Association and was fortunate enough to serve as president of that organization my senior year. It wasn't until I got involved that I saw the value of the education at UWG. There are so many opportunities the university can afford a student, and I just took advantage of a few of them."
All four interns have also found their passion to be public service.
"I'd love to spend the rest of my life trying to make people's lives better," said Jennings, who's working in Deal's office to track legislation with a focus on educational policy. "The experiences I've gained have given me a different outlook on so many different cultures. I want to focus on those international relations, which can help open the door to learning new things and help change the world into a better place."
Cardin worked numerous jobs while she attended UWG to pay for groceries and gas. She said each position she held added value to her resume.
"I was also in SGA, and that helped mold me into the right person for this job," said Cardin. "Because of the connections I made while at UWG, I became who I am today and now I get to continue representing the school I love, which is awesome. I'm so grateful for having the ability to learn in an environment where I was appreciated for being a student, not just a number."
Bryant plans to attend law school in hopes of one day becoming a lobbyist.
"I just think it's remarkable how senators hear from their constituents and voters in their home districts, and they come to Atlanta for a few months out of the year to communicate with businesses, organizations and their fellow legislators how they want to help the citizens who put them here," Bryant said. "It's really cool to see how the help people need gets its start here."