by Katie Stepp
A panel of the AIDS Memorial Quilt, known as the largest piece of community folk art in the world, will be on display at the University of West Georgia. The display will be up through Sept. 19 from 10 a.m.- 7 p.m. in the third floor atrium in the Humanities Building.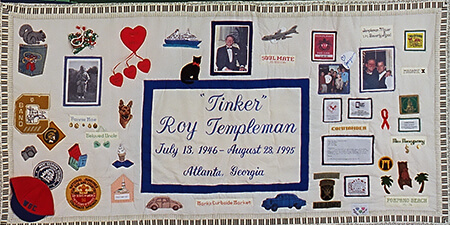 The panel is brought to UWG by The NAMES Project and sponsored by the Responsible Sexuality Committee. A closing reception will be Tuesday, Sept. 19 at 5:30 p.m., also in the third floor atrium in the Humanities.
The quilt was originally created by AIDS activist Cleve Jones in 1985 during a march in remembrance of the 1978 assassination of San Francisco Supervisor Harvey Milk and Mayor George Moscone. This memorial serves as a way to remember the individuals who have died of AIDS as well as a symbol to help people understand the heavy impact that this disease can have.
Deirdre Rouse, director of Diversity Education and Community Initiatives explains, "The AIDS Memorial Quilt is a wonderful opportunity to learn and support persons and their families living with HIV and be a changing agent in our community regarding AIDS."
Often times, people who have died of AIDS did not receive a funeral or a memorial service. In order to highlight those who lost their lives to this horrible disease, the 3x6 panels on the quilt are typically created by the loved ones of those who died of AIDS-related causes.
"I hope all contemplate the meaning behind the AIDS Memorial Quilt and truly understand the courageous spirit, tremendous love and undeniable value of each beloved life represented by their family and friends," said Rouse.
Students, faculty and members of the Carrollton community are encouraged to see this remarkable piece of art. Especially meaningful to UWG, one of the sections on display represents an alum, Roy Templeman Jr.
"We are thrilled with the effort of our sponsors–RX committee, Center for Diversity and Inclusion, the UWG Art Department and Health Education Services–as well as our supporters–the Counseling Center, Ingram Library and Positive Response–to bring this powerful visual reminder of AIDS to UWG," Rouse added. "Since knowledge is transformative, we hope the stigma still somewhat associated with AIDS will be erased."
Posted on