by Taylor Kilgore
The University of West Georgia Auxiliary Services has a new department bike on campus. The department routinely makes trips around the campus to service vending machines, remote equipment, and change out signage. With the increased bike lane use, members of the office wanted to have transportation with storage while promoting wellness around campus.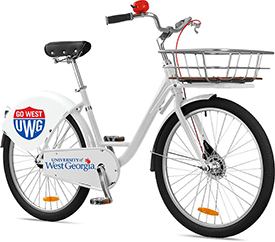 "There was need for a bike that allowed for customization along with built in signage for university use," said Associate Director of Auxiliary Services Elizabeth Smith. "Many items were taken into consideration including the ease of use by people of varying skill levels and heights along with the desire for a look that would be appealing and integrate well with the campus while promoting healthier transportation."

The Republic Bike brand was chosen as the best choice to accommodate all the needs and wants for the department. The "Bike Share" model allowed for the customization options along with built in signage on multiple parts of the bicycle. Perpetual Motion was able to get the bike quickly with all of the necessary additions in assembly.

"The ultimate goal was to make performing routine tasks around campus easier and more efficient," Elizabeth said. "But, the greater goal is to promote our bicycle friendly facilities and give an alternative to carts as a mode of transportation around campus.

This initiative makes a cleaner and healthier environment for all, so be sure you make way when you see the bike around.
Posted on