by Gary Leftwich
With fresh bike lanes and a role in Carrollton's bike share program, the University of West Georgia has been named a bike-friendly university by the League of American Bicyclists.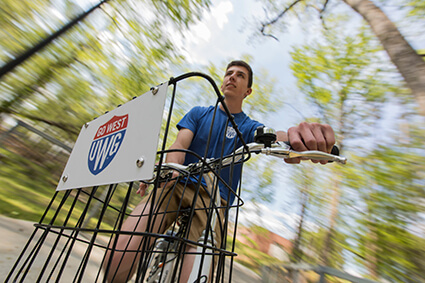 UWG was recognized at the bronze level of the program, which also includes silver, gold and platinum tiers, allowing organizations to improve from year to year. Last year, the City of Carrollton was highlighted with a bronze seal as a bike-friendly community.
"We always strive to provide students, faculty and staff with new possibilities for leading healthier and more sustainable lives," said UWG President Kyle Marrero. "Our bike-friendly campus and innovative bike share partnership with the city, Tanner Health System and Southwire gives students another option to travel across town while getting in some exercise and shrinking their environmental footprints."
UWG began developing a safe and efficient biking system three years ago.
"The committee's objective is to decrease single-occupant vehicle use by promoting alternate modes of transportation such as walking, bicycling and public transit," said Mark Reeves, associate vice president of Auxiliary Services.
The plan, a joint effort by UWG's Campus Planning and Facilities, Campus Sustainability Council and Auxiliary Services, included designating and painting bike lanes and remodeling certain areas as bike and pedestrian friendly corridors. The bike lanes connect with the GreenBelt, a privately funded 18-mile paved trail that loops the city and connects different neighborhoods. Cyclists and pedestrians can travel from campus to restaurants or retail centers.
"It's a very unique amenity for a community our size," Marrero said. "The GreenBelt is evidence of what a forward-looking community can do by coming together to pursue sustainable options for travel and recreation. That partnership spurred us on in our own sustainability efforts."
Through the recognition, UWG and 45 other new and renewing bike-friendly schools joined a cutting-edge group of colleges and universities across the United States that are transforming their campuses and the communities around them. There are now 182 designated institutions in 45 states and Washington, D.C. The League of American Bicyclists also recognizes bike friendly communities, states and businesses.
"In its sixth year, we've seen the Bicycle Friendly University (BFU) program's momentum continue to grow and reach even more campuses across the country," said Bill Nesper, the league's programs director.
The program evaluates applicants' efforts to promote bicycling in five primary areas—engineering, encouragement, education, enforcement and evaluation and planning.
"Colleges and university campuses are unique environments for their high density, stimulating atmosphere and defined boundaries. These factors make them ideal environments to incorporate bikes," Nesper said. "Many colleges and universities have built upon these good conditions and embraced the enthusiasm for more bicycle-friendly campuses. We applaud this round of BFUs for raising the standard and being innovative in making bicycling a safe, convenient and enjoyable option for students, staff and visitors alike."
Posted on