by Sheryl Marlar
The University of West Georgia is moving forward in its efforts to not only serve its students, faculty, and staff, but to also integrate with Carrollton's pedestrian and bike infrastructure. Crews are working on the perimeter of West Georgia Drive to install bike lanes.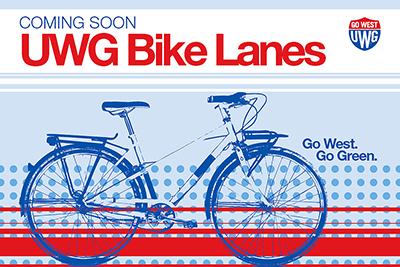 A campus committee was formed in the fall of 2014 to look into the possibility of a bike program at UWG. The committee is co-chaired by Brendan Bowen, assistant vice president for Campus Planning and Facilities and Mark Reeves, assistant vice president for Auxiliary Services.
Mark also reached out to the local community for participation on the committee. Representatives from the city school system, Tanner Health System, city government, and the GreenBelt joined in.
"As part of its current strategic plan, the University of West Georgia has committed to developing sustainable modes of transportation for those who live, work, and learn on our campus," said Brendan. "Our objective is to decrease single-occupant vehicle use by promoting alternate modes of transportation – walking, biking, and public transit."
Campus Planning and Facilities partnered with Parking and Transportation Services, the community stakeholders, and design partners to develop a safe and efficient infrastructure for biking on the campus.
The committee retained the Toole Group, a traffic engineering firm, to study traffic on the campus in order to develop a master bike plan. The design firm of Kaizen Collaborative then developed drawings for bike lanes around the perimeter of West Georgia Drive.
The plan will replace parallel parking on West Georgia Drive with dedicated bike lanes, to be completed for the beginning of the fall 2015 semester.
"This perimeter bike lane will ultimately connect to the 16 mile Carrollton GreenBelt, as well as downtown Carrollton and the athletic complex," Brendan added. "As part of the strategy the promote clean transportation, UWG also rebuilt Back Campus Drive into a beautiful pedestrian and bike safe plaza in the summer of 2015. These initiatives are part of UWG's plan to create a sustainable campus that will serve the higher education needs of the region for generations to come."
When traveling around the campus perimeter, please use caution in the roadside work areas.
Posted on