by Sheryl Marlar
Chief Thomas Mackel of the University Police Department (UPD) has always considered an educated officer to be a better officer. The same can be said for his department, now that it has obtained national accreditation from the Commission on Accreditation for Law Enforcement Agencies (CALEA).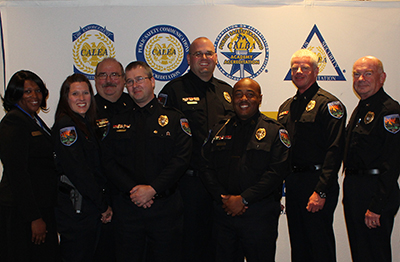 Mackel, who has led UPD for 27 years, recently traveled to Baltimore with several officers to complete the last step in the accreditation process, sitting before a board of CALEA assessors to answer questions on UPD statistics and policies. Upon satisfying the assessors' final questions, UPD was officially granted their accreditation.
CALEA is an organization that is charged with creating nationwide standards for law enforcement agencies and then ensuring compliance with those standards. The purpose of the accreditation program is to improve the delivery of public safety services. This is achieved by maintaining a body of standards developed by public safety practitioners, covering a range of up-to-date public safety initiatives, establishing and administering the accreditation process, and recognizing professional excellence.
According to Mackel, law enforcement has always believed itself to be a profession, but in reality, lacked the standards with which to provide a convincing argument.
"There simply was no central group of nationally recognized best practices and principles," he said.
When leading national police organizations, the International Association of Chiefs of Police (IACP), National Organization of Black Law Enforcement Executives (NOBLE), National Sheriff's Association (NSA) and the Police Executive Research Forum created CALEA in 1979, it was with the goal of creating those standards and setting them very high.
Because the standards are so high and not easily obtainable, many police agencies are not interested in attempting accreditation. UPD is only the third agency in the University System of Georgia and the 50th agency in the state of Georgia to receive the accreditation.
Lieutenant G.E. "Ned" Watson now leads the Office of Professional Standards within UPD and was primarily responsible for obtaining and now maintaining the CALEA accreditation.
The process began in March 2014, when Mackel executed an agreement with CALEA.
Watson did an internal study of UPD's policies and procedures to assess the relationship between CALEA national standards and existing department policies, procedures and operations. Once completed, he then made a recommendation to Mackel to have the department's accreditation program assessed by a group of CALEA assessors to check the validity of the relationship between their policies, procedures and operations with CALEA national standards.
In February 2016, assessors came to UWG to conduct an onsite assessment where President Kyle Marrero, Vice President for Business and Finance Jim Sutherland and other members of the university community were interviewed to gather information on UPD's performance.
At the end of the assessment, only six out of 188 standards needed to be addressed. Most of those were brought to compliance before the assessors completed their visit.
"The reason I chose to obtain Georgia accreditation, which we received through the Georgia Chiefs of Police in 2013 and now national accreditation through CALEA, is to ensure that UPD is providing the highest level of police services to the university possible," Mackel said. "Just as other departments and colleges across campus have been through their own accreditation processes, we sought his recognition so we could do our part to make UWG the best comprehensive university in America – sought after as the best place to work, learn and succeed."
Posted on