Ingram Library's Special Collections at the University of West Georgia and the Carroll County Genealogical Society announce the free online availability of key genealogical resources providing information about the history of Carroll County and its population.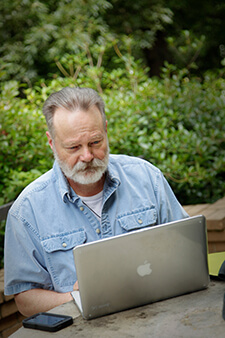 This collaborative project, generously funded by a grant through the Digital Library of Georgia, makes the two volumes of the "Carroll County Georgia Cemeteries" and issues of the "Carroll County Genealogical Quarterly" (1980-1994) easily usable by the public.
"This is an exciting accomplishment for genealogical researchers, as they will now be able find their relatives along with the details of the cemetery," said Robert Blakemore, president of the Carroll County Genealogical Society. "The 'Quarterly' journals hold a goldmine of family information and life in Carroll County. The Carroll County Genealogical Society Executive Board, along with volunteers, are very thankful for this collaboration."
"Carroll County Georgia Cemeteries" provides transcriptions of names as they appear on tombstones within the 292 cemeteries located in Carroll County. It can be found at dlg.usg.edu/collection/uwg_ccgc.
"Carroll County Genealogical Quarterly" (1980-1994) contains articles on various aspects of the county's history, including information on early settlers and marriages, rural churches, family histories, wills and family records transcribed from bibles, census records, military history, and more. The digitized issues can be found online at dlg.usg.edu/collection/uwg_ccgq.
Blynne Olivieri, head of Special Collections, shared that this collaborative effort is part of an initiative called West Georgia Regional Archives: Collaborative Cultural Stewardship.
"In the West Georgia region, there are a number of historical societies, genealogical societies, and other organizations that hold historically and culturally significant materials," she said.
Olivieri added that UWG Ingram Library's Special Collections recognizes the value of these organizations and their importance in collecting and preserving materials and producing publications.
"The purpose of these partnerships is to preserve and promote the history of this region and to help the public discover and access these materials," she explained.
Dr. Keith Bohannan, professor in UWG's Department of History, was a supporter of this digitization project.
"The books and periodicals were only published in small numbers and were not easily available to the public," he said. "Putting these resources online will be very helpful to people both inside and outside the community who are doing genealogical or historical research."
For further information, contact Olivieri at bolivier@westga.edu or 678-839-5455.
Posted on