by Gary Leftwich
High school student Carolina Butler offered what was perhaps the strongest validation of the Carrollton-Carroll County Education Collaborative (CCEC) as she addressed its members during a recent summit sponsored by the group.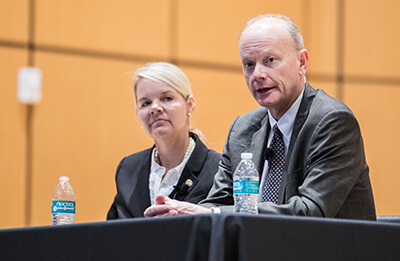 A senior at Central High School in the county system, Butler enrolled in Georgia's Move on When Ready program as one of the first sophomores. Getting college credit free as a high school student has been a life changer, she said.
"It eliminated a great financial burden," Butler told CCEC members during a session at the two-day summit. "It has been the financial backbone between starting college early and not starting in the first place.
"I have this ability because all of our education officials—school systems, post-secondary and technical colleges—understand working together in a collaborative spirit to help students succeed," she added.
The summit brought together educators, business and government leaders, and community members for seminars and information sessions featuring expert speakers and break-out panels. Among its many initiatives, the collaborative supports Move on When Ready, which helps high school students earn college credit by taking college-level classes.
Founded in 2015, CCEC includes leadership representatives from the University of West Georgia (UWG), West Georgia Technical College (WGTC), the Carroll County School System, the Carrollton City Schools, Oak Mountain Academy, the Carroll County Chamber of Commerce, and other groups and businesses. Its mission is to build Georgia's workforce by ensuring every high school student graduates ready for enrollment in higher education, employment or enlisting in the military.
State leaders, including Georgia Gov. Nathan Deal, have praised the program as an example of how collaboration among education officials can help ensure student success.
"It used to be about location, location, location," Technical College System of Georgia (TCSG) Commissioner Gretchen Corbin told summit attendees. "The most important discussion today is about workforce development. What does your community have to offer?"
Economic development representatives once could satisfy prospective companies searching for industrial sites by promising the schools in the area were an exception. Now, they have to show they have plans for filling workforce needs 10 years into the future.
"What you have done through the CCEC, you have proven to yourselves, to your existing companies and saying to those companies looking to locate here, 'We're already working on that. We want your business here and we have your workforce covered,'" Corbin said. "Every single one of you is touching the lives of the students who will be our leaders tomorrow."
Corbin highlighted the TSCG's top priorities for the coming fiscal year - the Hope Tuition Grant, Move on When Ready, and articulation and transfer agreements with the state's universities. WGTC already has several articulation agreements in place with UWG. The two institutions also have created West in 30 that allows students with difficulty meeting the university's entrance requirements to take 30 hours of classes, then transfer to UWG if they perform well in those classes.
"These are game-changers," Corbin said.
Collaborative efforts also are helping the University System of Georgia (USG) achieve its goals of graduating students, making college more affordable and improving efficiency, according to USG Chancellor Steve Wrigley.
"We have changed our focus from increasing the number of students we enroll to increasing the number of students complete our programs," Wrigley said.
Two-thirds of the nation's jobs today require some post-secondary education, Wrigley said. That has increased from 25 percent in the 1970s. Today, nearly half of the jobs in Georgia require some college education.
"Attainment matters because it's a competitive world out there," the chancellor said. "Time is the enemy of completion. We're working to shorten that time."
Programs like Move on When Ready and West in 30 are helping be giving students head starts and helping them stay on track. Advisors are helping by encouraging students to take full loads of 15 hours a semester to graduate earlier. Remedial coursework has been added to introductory classes so students don't have to complete extra classes.
The state also has put other steps in place—including microgrants and free textbooks—to make college more affordable. USG officials are working to create degree programs with open source textbooks.
"We're working to put together bachelor's degree without buying a book," Wrigley said. "With the Internet and open source books, knowledge is so easily dispersed. Clinging to an old textbook model is something we're moving away from."
Posted on